New Zest® Fruitboost™ Revitalizing Shower Gels
I love me some BATH GEL! Now when I got the chance to try the New Zest Fruitboost™ Revitalizing Shower Gels, I was super excited.
Being able to feel Zestfully Clean™ with all the fruits smells, I hard time picking which one I wanted to try first! The shower gels boost the power of every shower delivering luscious, invigorating fruit scents and amazing lather. I can honestly say I'm a Zest Fruitboosts fan. I like everything about this product- packaging spot on with all the vibrant colors, the flavors, the fruity smells, how well they get you clean and how refreshing you feel afterward! LOVE LOVE this product.
Oh yeah, the Zest Fruitboost™ Revitalizing Shower Gels have a 2x-concentrated formula. Guess what that means….every tube provides up to at least 40 showers. The tube packaging is first of its kind in the body wash category. I love the tube, fits perfectly in my shower caddy. I grabbed my washcloth and squeezed out about a quarter size, and that lasted my whole shower. The shower gel also has moisturizers and antioxidant-rich Vitamin C plus smells so darn good! Zest Fruitboost Shower Gels are free of parabens and phthalates.
Here are the flavors: Available in four luscious, fruit-bursting scents — Citrus Splash, Very Berry, Peach Mango, and Pomegranate Acai
The Zest Fruitboost products stimulate the senses for a skin-nourishing clean and fresh feeling that lasts all day. Oh yes, I kept smelling myself all day (LOL) and I smelled GOOD! Every bright, bold, eye-catching Zest Fruitboost product delivers outstanding performance and value, with a retail price between $3.00 to $5.00 Zest Fruitboost provides a huge boost for wallets everywhere. What a deal, that I can buy one for everyone in the family!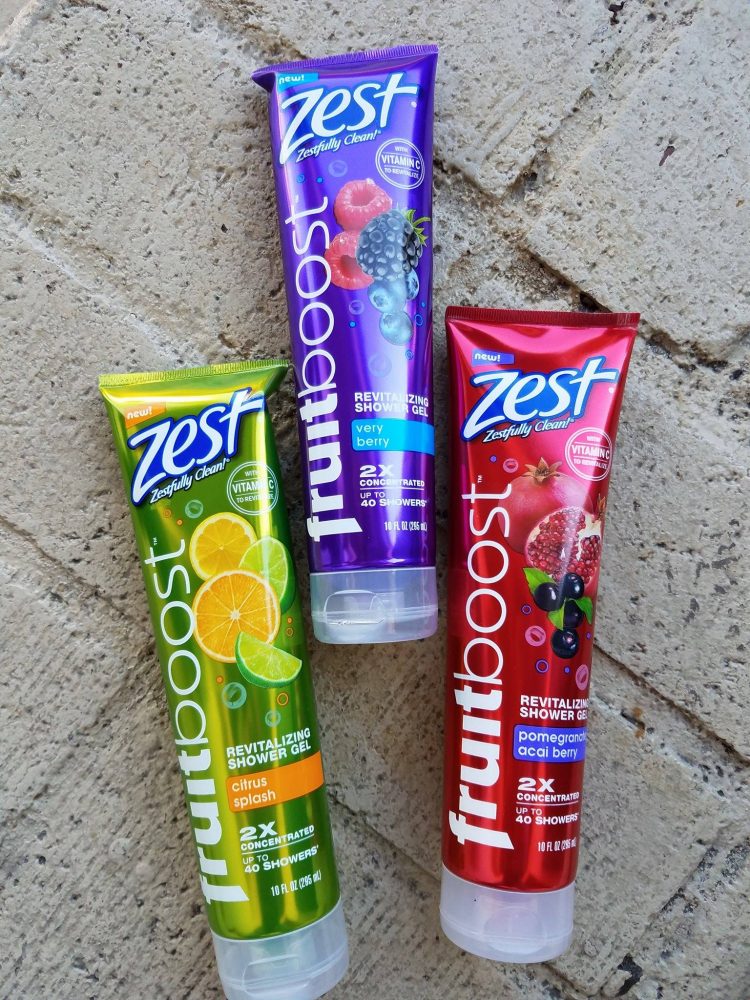 Zest Fruitboost Revitalizing Shower Gels are available nationwide at most quality retailers.
All of them smell so good though but I think I like the Wild Berry the best. My daughter well she liked the Citrus Splash so much she took it out of the shower and put it in her room so that no one else will use it. Crazy kid but I get it, I don't really want anyone using the Wild Berry either but Sharing is Caring!!!
Now, remember to visit ZEST.COM to read more. You can also purchase on Amazon