Beautiful Books About Adventures In The Magical Place On Earth – By Kids!
Kids have the best imaginations but somehow we lose that as we get older. I guess that could be why these books are so great! I received 3 books that are written by 10-year-old Austin Reich and illustrated by 12-year-old Tyler Reich. These boys have created "The Adventures of the Rabbits in the Most Magical Place on Earth", "The Adventures of the Squirrels in the Most Magical Place on Earth", and "The Adventures of the Lions in the Most Magical Place on Earth". If you couldn't figure it out, they're all based around animals living at the Disney theme parks. I think it's a very unique and interesting point of view that only a child could think of.
I also received 2 other books, but these are written by a mom and illustrated by another child, well, I'd better say teen. These books are "Come Travel With Me: Philadelphia!" by Michele Fisher and illustrated by 15-year-old Joy Kulp. Another book they created is "Come Travel With Me: Chicago!". These are fun to read and even have a hidden puppy in each picture. Not only are these a fun read, but they also have travel tips.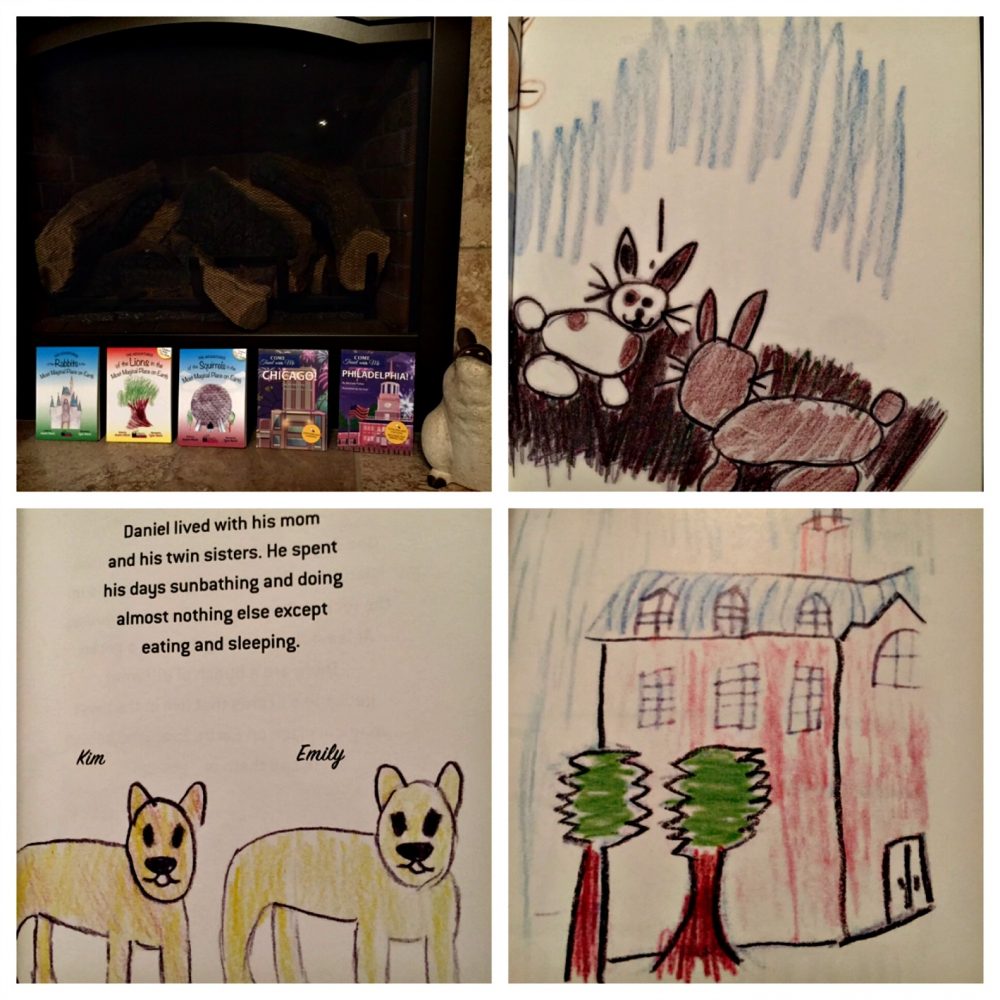 These Books Are Short, Sweet, and to the Point
The Lion Story: This is a sweet story about a lion that has no idea the magical home he lives in. He (Daniel) can't leave the rocky area and wonder about, but he finds a friend willing to help. Chris the gecko befriends Daniel and offers to go sightseeing and report back. This makes Daniel so very happy! At least he can learn a little more about his surroundings. A little craziness ensues but I love the way it's written and I absolutely love the illustrations!
The Squirrel Story: This sweet story is about a squirrel named Sammy. He lives in a place called Morocco pavilion. Sammy loves to run around and play with his friends and sisters. He happens to come upon a boy in a wheelchair and is confused. After following him around he gives him a special gift.
The Rabbit Story: This cute little story is about Rebecca the rabbit who is on summer vacation. She actually lives where she can see the beautiful castle! After roaming around, she finds herself a little lost. With the help of her friends, will she find her way home?
The Philadelphia and Chicago Stories: These books are simply about traveling. They teach the reader about planes, trains, or other means of travel. Of course, you also get to learn about Philadelphia and Chicago! Again, these books are short and to the point. I love a book that I can finish quickly, it makes me feel accomplished.
Connect with Momosa Publishing/ Facebook/