I love everything Bohemian themed! I love that I can mismatch things, and yet they will go together. I adore the free, happy, and wandering thought of the lifestyle. So let's have a Bohemian Christmas.
Have a Bohemian Style Christmas
If you're like me and want to have a Bohemian styled Christmas, then this post is for you. We're going to talk about some DIY decor, and the perfect dress to wear for the holidays! Let's gets started!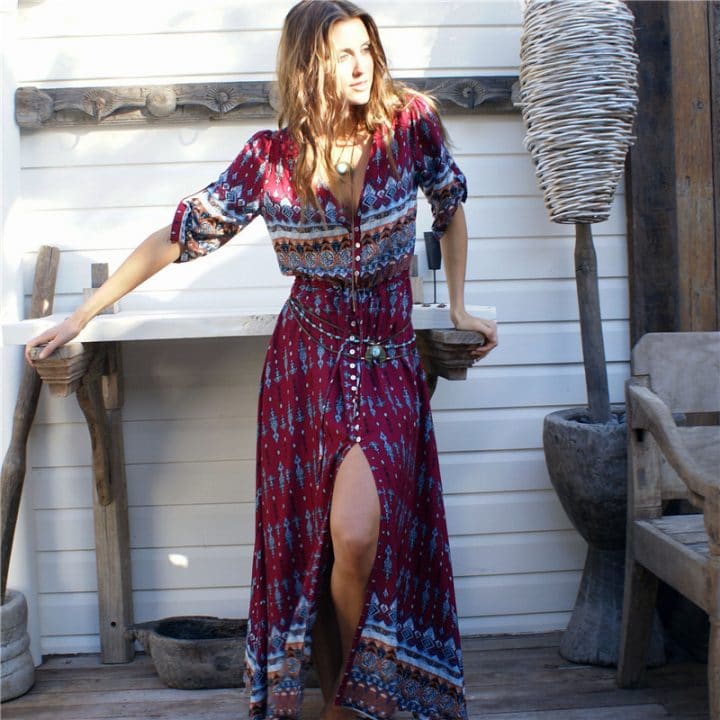 DIY Boho decor
I love anything DIY. The feeling of having created something yourself is so rewarding. There's only one craft that I have yet to master. Crochet. I really need to buckle down and learn. I saw the cutest crocheted snowflakes on Pinterest, and they would look fantastic on a Boho themed tree.
What I do excel at is hand sewing. All I need is some felt, fabric scraps, thread and a needle. I'm big into creating felt ornaments because even though they're new, they look vintage. These are a great addition to a Bohemian Christmas. The options are endless and only limited to your imagination. (Making them is cheap too, because plain felt is about 20 cents per sheet.) While you're at it, whip up some matching stockings too! Or grab a plain stocking, and decorate it to match your theme. Here are some of my boho ornaments.
Boho Snow Globes?
This one is fun and easy. Do you have vintage jars, cheese shakers, or even large salt and pepper shakers laying around? If so, you can make a boho snow globe. Grab some fake trees and some Epsom salt. Put some salt in the bottom of your glass, add your tree, and glue on the lid. That's it! If your lid has holes in the top, glue some plastic or tape it from the inside to keep your "snow" from falling out. Easy Peasy.
Boho Holiday Dress
To make your Boho Holiday complete, grab this gorgeous V-neck Vintage Long Dress from Top Tier Style. I got mine in red but they have other colors too! Pair it with some boots (or like me, some Chuck Taylor sneaks,) and you've got the perfect Bohemian Christmas outfit! While you're ordering your dress, check out the others that Top Tier Style has to offer.
The
Top Tier Style boho dress
in this review were provided by
Top Tier Style
. If you would like to purchase your own use the coupon code BLOG15 for 15% OFF everything on their store!