If you want to be in style, and be comfortable, then you need to check out Zoozie LA.
Be in Style, and Be Comfortable
Being in style is great, however, being comfortable is super important. I won't wear clothing unless it's comfy, as I sure many of you won't either. That's why I'm glad I discovered Zoozie LA. They have a full selection of clothing that's not only gorgeous, in the moment, but comfortable as well!
Brush Off Those Bells
Growing up, one of our family portraits had my daddy, with longer hair, and HUGE white bell bottoms. As kids we used to tease him for those pants. fast forward to the late nineties when they came back into style. One Saturday I walked into my parent's house wearing bells that could have been the very same ones, and my dad was hysterical. Needless to say, he didn't let me live it down, and to this day teases me for wearing pants that I picked on him about. Well ladies, the bells are back! I for one am stoked because to be honest, they really were my favorite style of pants.
Zoozie LA has a full selection of bell bottoms. They look fresh and on point, but they're also cozy too! That's because they took our beloved yoga pants, and turned them into bell bottoms! So you'll be on par with the style, but you'll still have the comfort of your favorite yoga pants!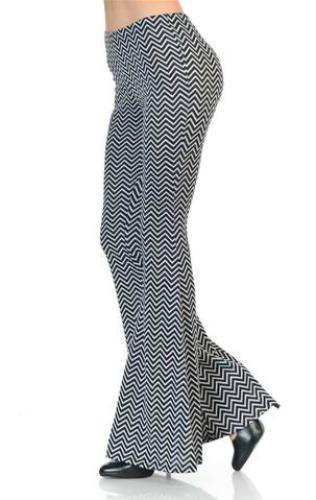 Palazzos Are Back Too!
To be honest, I never owned a pair of palazzos when they were in style. I always thought they were cool, but just never got a pair. Recently I decided to try them out, and grabbed a pair from Zoozie LA. I am in love! They are so comfy! They're made of polyester and spandex so they feel amazing. I like that they're not too thick too, because the older I get, the more I over heat. (Those hot flashes are no joke ladies!) Plus, they look kind of like a skirt, and I've been getting into skirts and dresses a lot more as I get older. I love that I can dress them up, or toss them on with my favorite rock tee. It doesn't matter.
These are just two examples of Zoozie LA's clothes. To see the rest, you'll have to head to their website. You can follow them via Facebook, Twitter, and Instagram too.