Turn your basic bath from drab to fab this Halloween, or year round. Honeycat Cosmetics body wash Blood Sudz are not only fun, but nourishing too.
Up Your Basic Bath Game with Blood Sudz
Okay, so packaging is pretty important, especially when you're giving the gift. I have to say, when I opened the box from Honeycat Cosmetics, I was immediately enamored. If you're like me and love all things macabre, then I know you will love how Blood Sudz is packaged.
It comes in a black coffin! Seriously! Not only that, but the inside of the coffin box is covered in red velvet, complete with a pillow that the top of the body wash lies on. It's all finished off with a nice ribbon, and red silk rose. I have never been so taken back with the packaging of something before. So a huge kudos to Honeycat on this.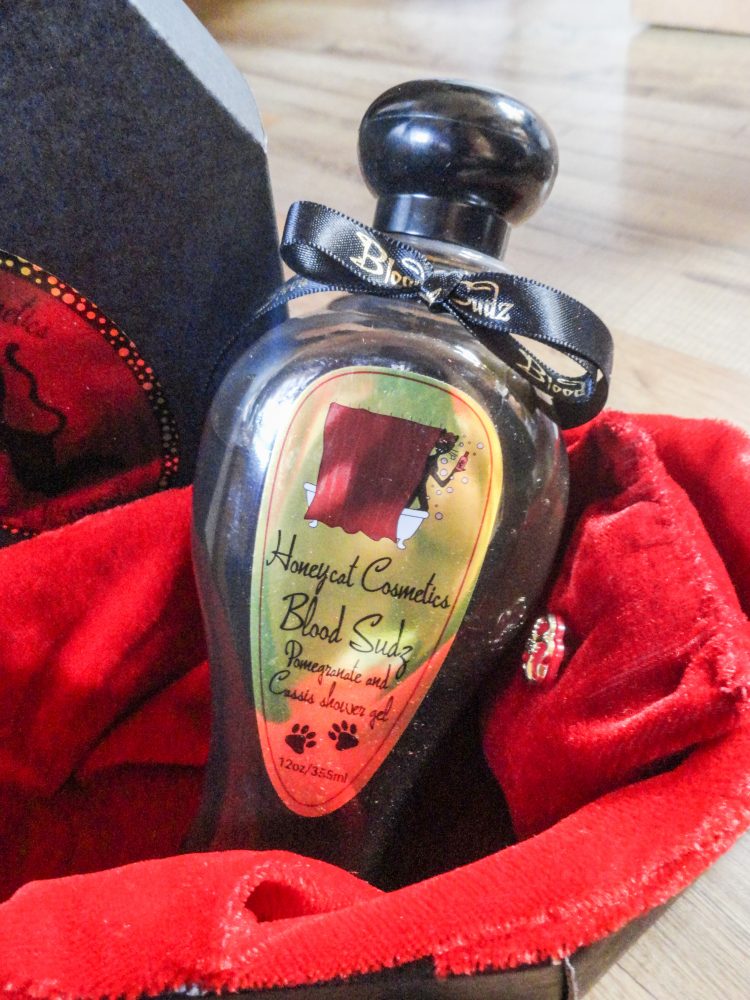 So how do I like Blood Sudz?
I couldn't wait to take a bath and try it out. Blood Sudz is a body wash with pomegranate and cassis. It's also chock full of moisturizing ingredients. Blood Sudz has shea butter to quench your skin with moisture. It also has sweet almond oil. This is one of my favorite oils for bath products. It's naturally full of vitamins A, B1, B2, and E.
This body wash not only feels fantastic, but the fragrance is to die for! (<– See what I did there?) In all seriousness though, it really does smell wonderful. You get the exotic smell of the pomegranate, followed by the fruity black currant scent in the cassis.
Perfect Gift
Halloween is only sixty-two days away, so if you're looking for a gift for the All Hallow's Eve lover in your life, then look no further than Honeycat Cosmetics Blood Sudz. Christmas isn't that far off either, so if you know someone who loves the macabre, this will make a great holiday gift too. While you're there make sure you check out all of their other natural products. They never test on animals either, so their stuff is good for everyone!
You can see more here. You can also follow them via Facebook and Twitter.
I received this product to facilitate my post. All opinions are my own!