As we continue with our lives, we realize that we are still in the month of April. So far we have celebrated some of the holidays we know too well. Now that Easter has passed us, it may seem like April is slowly coming to an end. That is just not the case, though.
In case you didn't know, April is Autism Awareness Month! According to the CDC's Autism and Developmental Disabilities Monitoring (ADDM) Network about 1 in 68 children has been identified with autism spectrum disorder (ASD). Autism can make normal daily activities challenging and stressful for children and their parents. I have a few products that can help lighten the stress, so check out what I have for you below.
Toys Can Help Support The Cause
There are indeed several ways for you as a parent to go about taking care of your that has ASD. You always want to make sure they are comfortable. Surprising them with some special toy selections would be a great idea too. So check out the following items below:
Clutching Toy Caterpillar – the caterpillar symbolizes both potential and the promise of a new life. Therefore it's only fitting that this clutching toy for babies is a friendly little caterpillar. It's curled up and resting peacefully upon a leaf, plus its multi-textured for sensory development too. Other details include:

Made of safe, silicone
Perfect for grasping and teething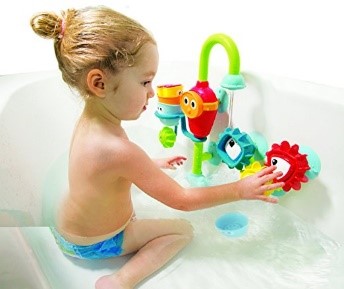 Spin 'N' Sort Spout Pro – this Is an automatic spout that attaches to the tub which allows your kids to play and have fun with the water. It features three interchangeable bath cups that each have different spouting actions. Plus, it has a spinning gear for added fun. Other details include:

Supports STEM by introducing children to sorting, constructing and putting physics into play with spinning gear movement.
Boosts fine motor skills and hand-eye coordination while promoting reasoning and problem solving as children create moving experiments with spinning, colorful action.
More than 10 different water activities engage little ones in learning while playing in the tub!
Bead Buddy Giraffe – is the ideal size for little hands to grip, shake, and have a blast with. It has colorful rattling beads along with a click-clack spinning handle. With various textured surfaces, it's ideal for little hands to develop their tactile skills. Some other key details you should know about include:

Soft plush fabric
Rattle beads and click-clack sounds for auditory stimulation
These are items that you should consider if your child has ASD, it would be great to surprise them too! So go ahead and check out all the information I have for you above.