Don't show up to your first funeral wake with the fear of offending others or preventing yourself from being present. Use this guide to know what to expect.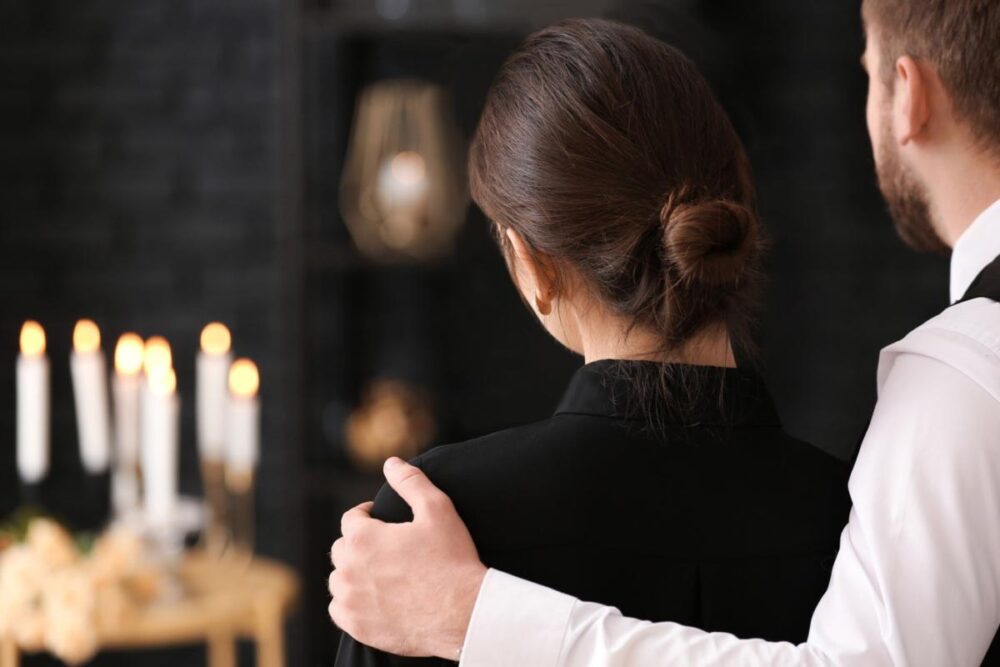 Since the beginning of civilization, we've always had funerals. It's a fact of life that we lose people, and saying goodbye to them properly has always been important.
We also all know how to behave at funerals. Don't talk too loudly, wear black, and sing along to the hymns – but quietly, of course. Funeral etiquette is easy for most of us.
But what about at a funeral wake? Are the rules different here? Being unsure of how to behave at a wake can make you feel very uneasy; you definitely don't want to do something wrong.
To help you get it right, we've put together some tips of how to behave at wakes.
What Is a Wake?
A wake is an event that occurs before, immediately after a funeral, or in the following days. It can be held at the home of close family or at an event space.
There's usually food, some drinks, and plenty of people. A wake can be both a celebration of life and a time to mourn, depending on what the close family wants. It's also a time for people to give their sympathy to family members and share tales of the deceased. You can't talk during funerals, so this is the opportunity to say all you want to.
The rules here are very different from a funeral and it can be hard to know how to act, so follow this advice to make sure you get it right.
What to Wear to a Funeral Wake
We all know what to wear to a funeral. Unless the family has requested otherwise, you should opt for formal wear in black. Sometimes the family will ask for bright colors, so make sure you read the invite carefully.
For the wake, take the same advice. If you're going straight from the funeral then wear the same outfit. If not, then follow this guide for what to wear:
Dark colors – it doesn't have to be black but stick to dark tones rather than bright yellows and neon greens
Formal dress – Ditch jeans and t-shirts for a suit and trousers, or a formal dress
Avoid anything revealing – Short dresses or low, buttoned-down shirts are a definite no
You don't have to wear a tie or gown, but just don't go too casual. If you're struggling, dress as though you're going for a formal job interview—it's the same kind of look. Stay conservative and respectful.
What to Talk About
You should definitely be careful with what you talk about at a wake, particularly to close family. Try to stick to a conversation that revolves around the deceased. Definitely don't start asking everyone what they thought of the soccer game or what they're up to after.
Some good topics include memories you have of the deceased (but don't recite a eulogy), how you knew them, and what they meant to you. Remember to give your condolences to the grieving too.
Avoid talking to the family about important people you've lost in an attempt to relate. This really isn't the time. Definitely don't say anything like 'They're in a better place now.' That's a big no-no!
Take Cues From Close Family
One of the easiest ways to understand wake etiquette is by taking cues from the close family. How they're behaving should lead the way for the rest of the guests.
If they're being quiet and somber, follow their lead. But not all wakes are full of grief—some are more of a celebration of life. Listen to the music—if it's funeral music then it's likely the family wants to mourn. If it's upbeat, then they want to celebrate the life of their loved one.
You should also follow their drinking. If they're exchanging happy stories of the deceased over wine and beers, you can too. If they're not drinking, avoid it. No one wants to be the only drunk person at a wake.
Should You Bring a Gift?
Giving sympathy gifts to close family can be a lovely idea to give your condolences and show support. But, you need to get the gift right. Avoid presents you get them for their birthday, like a book or t-shirt, and opt for something more appropriate.
Flowers are usually a safe choice. Take a look at different funeral flowers and what they mean to make sure you pick the right one. Lilies are a safe choice if you're not sure what to buy.
You can also give them practical gifts. If you're going to their home, for example, bring them a homemade pie so they don't have to cook.
Or, you can just give them a sympathy card. Sometimes this is better than getting a gift (which can become a pain when you're receiving 10 bouquets every day). Write a meaningful, heartfelt message inside and express your sympathy.
You're Ready to Go
You probably won't be the only one worrying about how to act at a funeral wake. It can be difficult, especially if you don't know many people there.
But as long as you follow these tips and act appropriately, you'll be absolutely fine. No one will be paying much attention to how you're behaving anyway. The main points are to show your sympathy and follow what the close family members are doing; you won't be able to go wrong if you match their behavior.
To learn more helpful life tips, take a look at other posts on the blog.