Athleisure is an interesting buzz word that's been going around for a while now.
Basically, it just means wearing your gym clothes for non-gym activities like hanging out with friends or even shopping in the mall.
It sounds so simple, right?
Well, only if all our gym clothes were appropriate enough to be worn when we're not working out — but that's not always the case.
Therefore, rocking the athleisure style is actually easier said than done.
However, if you're positive that you want to start looking like you just left yoga 24/7, here is a handy guide on how to do athleisure right:
1. Start slow
As with most things, you're not supposed to jump all the way in without testing the waters first.
Before committing yourself to wearing full tracksuits to lunches with friends, make sure you're fully comfortable with athleisure first.
The way to do it is to incorporate sports accessories to your regular OOTDs first.
For instance, you can mix up your usual blouse-and-skirt combo with subtle yet stylish gym accessories like sweatbands and headbands.
This way, you can totally ease into this new fashion sense and get an actual feel for it before you go all the way.
2. Keep colors neutral
The gym is one of the few places where clashing neon colors are considered normal, instead of something people can collectively frown upon.
This means you have to be more careful with mixing and matching loud colors when using your gym clothes for leisure.
While striped, neon leggings are very much welcome in your local gym, you might want to stick with monochromatic themes and plain leggings for your athleisure needs.
This lack of loud design and toned down color schemes can spell the difference between chic and tacky, so tread carefully.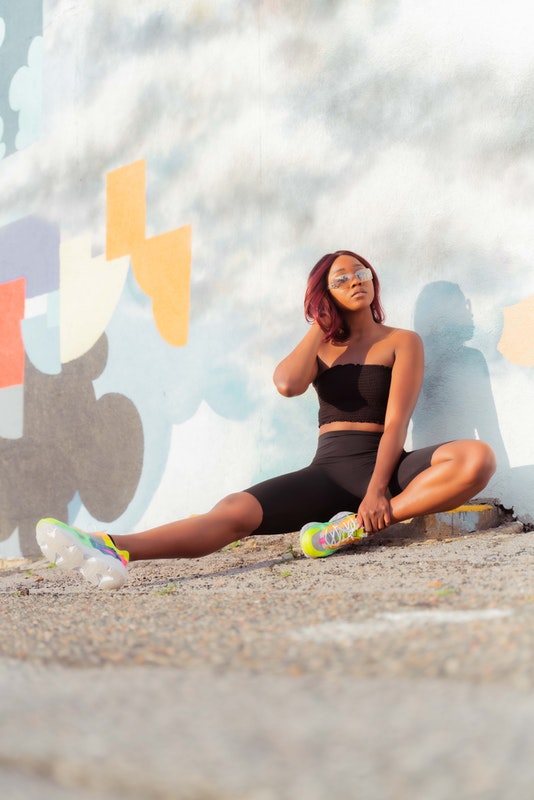 3. Wear your truth
If you are a surfer, chances are you're already comfortably familiar with how surfers can look good on and off the waves.
This means you have little business trying out tennis shoes or jerseys as fashion statements, since you will simply feel uncomfortable and out of your element.
So when practicing athleisure, it's important to wear your truth, and stick to pieces that actually make you feel yourself, in relation to the physical activities and sports that you actually like doing.
To put it simply wear something that speaks your truth.
4. Think outside the spandex
While spandex is great, it's not the only material you can import from the gym to your daily life.
Think mesh and faux leather — and you can surely come up with a dozen different ways to wear them on the daily.
Keep in mind that athleisure is not all tracksuits and tennis skirts — sometimes it's also styling your dresses with playing shoes or throwing a bomber jacket over a business casual.
5. Keep everything appropriate
As mentioned earlier, not every piece of gym clothing you have can actually be worn outside the taraflex.
First, you have to weed out the see-through pieces, since you wouldn't really want to get caught in those in any other place that is not the gym.
Next, retire your old college dri-fits and stretchy pants that have holes in them.
These are not to be considered athleisure, but comfy pieces of clothes you must only wear when working out at home — or when doing chores.
Additionally, sneakers that have literally been worn to muddy football fields and the like deserve to be cleaned before you elevate them as pieces for your athleisure look.
The goal here is to look absolutely chic in your gym clothes, not to look worn out and as if you've just single handedly brought your home team to the state championships.
Wrapping Up
Fashion is all about achieving comfort while looking your best, and rocking your oh-so-comfy workout clothes everywhere you go is the best practical application of fashion.
So make sure you follow the steps discussed in this article so you can properly rock that timeless athleisure look.