Emirates Airlines operates a flight between Dubai and Auckland, New Zealand, which, at 8,833 miles, is currently the longest route in operation. However, Qatar Airlines recently announced it would begin non-stop flights between Doha and Auckland. Once the flights commence, it will become the longest commercial flight in the world by roughly 200 miles. Surviving a 16-hour plus flight or any other long-haul flight takes a bit of planning and know-how if you want to enjoy the ride and arrive at your destination refreshed with minimal jet lag. Here are a few tips that will help give you the best shot at accomplishing that.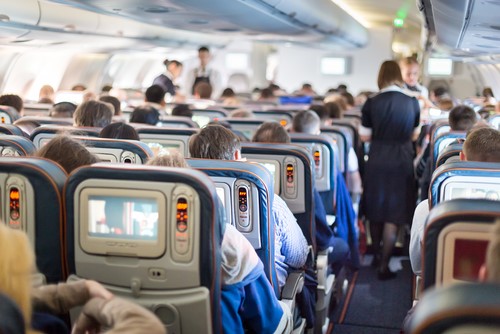 Get Comfortable
Assuming you are not flying on a private jet or in first class or business class, you need to do your homework before claiming a seat. Don't take this task lightly as not all airline seats are created equal. For instance, if you are on Qatar's long-haul to Auckland, which will utilize a Boeing 777, you may want to avoid seat 27H. This seat has limited recline and is close to the lavatory, two factors that are going to decrease your comfort level.
Another way to stay comfortable is to bring along creature comforts like a neck pillow, your own blanket, noise-canceling headphones, a change of socks and toiletries to use along the way. Baby wipes are an oft-overlooked necessity that allows you to take a military-style "bird bath" while in the air.
Watch What You Eat and Drink
Unlike domestic flights, most foreign carriers, like Singapore Airlines and Abu Dhabi's Etihad, pamper international travelers with tasty menus and free beverages. For this reason, many people treat long-haul flights like an all-you-can-eat buffet in the clouds, a move that could ruin your travels. Researchers at Beth Israel Deaconess Medical Center found that, along with a human's circadian clock, human's may also have a "meal clock." According to their studies, fasting can help ward off jet lag. If you can achieve that, then your time on the ground will be more enjoyable.
Also, to arrive to your destination in tip-top shape, it is best not to consume too much alcohol, if any at all. Alcohol dehydrates you and leaves you feeling groggy when you land. However, if you like to have an alcoholic beverage to help you fall asleep or settle your nerves while in the air, it is best to stick to a top-shelf spirit like Ketel One vodka paired with a non-caffeinated mixer.
Avoid "Seat Lock"
Deep vein thrombosis (DVT), aka "economy-class syndrome," is a very real threat to people on long flights. And it can be deadly. It is caused, in part, by prolonged sitting and is exacerbated by the sardine-like conditions in economy class. Travelers over the age of 41 are at the highest risk to getting these blood clots, which can lead to a deadly pulmonary embolism. DVT can be avoided by doing light exercises while in the air. This can be as simple as walking the aisles every couple of hours. Other exercises, like tightening/releasing calf muscles and raising your heels while keeping the balls of your feet flat on the deck, can be done from your seat. Passengers at a higher risk of DVT should consult their doctor before traveling since there is medication and clothing that can help reduce the risk of DVT.