I'd like you to meet my new friend, Amadeus, the Virtuoso Bear that plays beautiful, classical music by Mozart. He's adorably dressed in period clothing and can play over 40 minutes of sonatas, concertos, and symphonies, many of which you may recognize.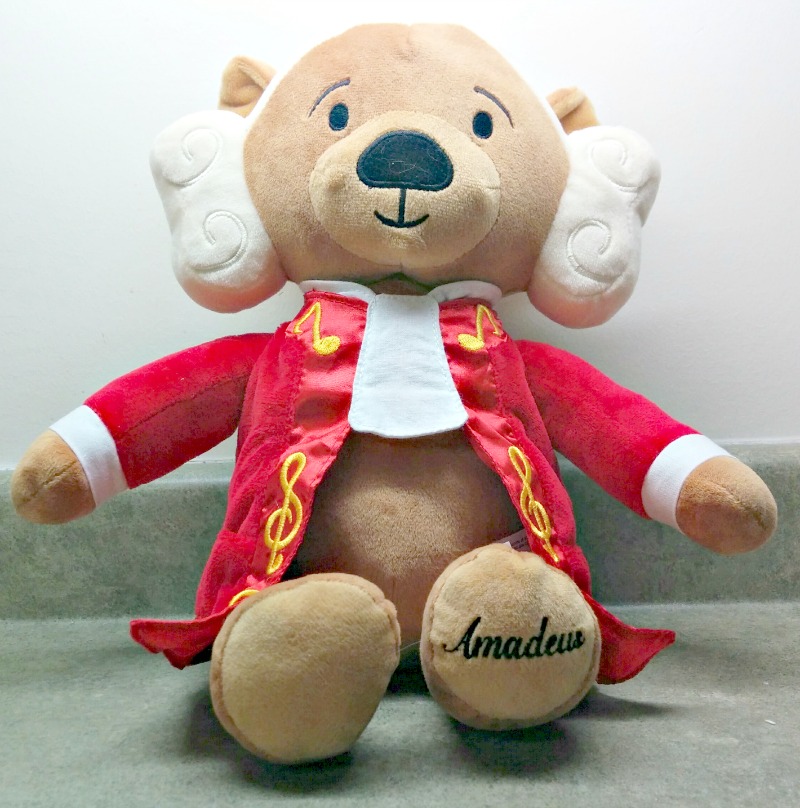 According to Vosego, classical music is soothing and relaxing and it can spark creativity. And, by listening to it, Vosego says one can develop a lifetime love of classical music. Their website also has the following quote taken from the BBC News: ". . . many experts think that classical music may stimulate the brain in a way that helps educational and emotional development." So, as you can see, classical music is very beneficial. Then, add the classical music to the adorable bear, and you've got a wonderful toy that mom and baby may appreciate and benefit from.
Amadeus and Ludwig – Simple To Operate And A Surprise In the Pocket!
The bear is very simple to operate. It has a little red battery box that is safely kept in a pocket that keeps it hidden. The battery box has a power switch and a big button. You can easily press the big button through the bear's back and it will play music. That same button also controls the volume and allows you to switch music tracks. You can play the music softly for nap time and a little louder when it's playtime.
You can go to www.vosego.org to view the bear playing sample pieces of classical music and watch the baby interact with the bear–it's actually quite amazing and heart-warming to watch.
Another neat feature about the bear is that, if you pull the inner pocket out, it reveals a short autobiography of the musical artist that the bear is named after. It also contains a list of the titles of music the bear plays.
Can you clean the bear? Yes, you can! You simply remove the music device/battery box and then you can hand-wash the bear.
Virtuoso Bears are available for $49.99 on Amazon and you can get free 2-day Prime shipping if you are a Prime member. The Virtuoso Bears come as Amadeus Mozart and Ludwig van Beethoven. Both bears feature 7 tracks of classical music.
And, from now until 7/20/18, you can get 20% off either bear (Ludwig or Amadeus) on Amazon.com by using the code RPRXE63T. This would make a wonderful baby shower gift! If you don't know of any expectant moms now, you could order to stock up on baby shower gifts. This gift would work for either a boy or girl, which makes baby gift shopping simple. I gave the bear to a 6-year-old child, and she loves it. You're never too old (or young) to listen to classical music!
Connect with Virtuoso Bears: Amazon | Website | Facebook | Blog