Me and the grandbabies love to stare at the stars of a night. And now we can stargaze inside. While playing the sweet nursery rhyme, "Twinkle, twinkle, little star, how I wonder what you are; Up above the world so high, like a diamond in the sky…" We turn the lights out and turn on the stars and moon. And then we talk, make shadow puppets, giggle and make up stories about flying to the moon. While making priceless memories. To me that is a perfect starry night.
But it isn't just for kids. Because sometimes us adults need some fun too. Can you imagine the surprise when your special someone comes home for dinner. You have their favorite meal fixed and your favorite song playing softly in the background. Then when you sit down to eat, you turn the lights off and turn on the nighttime. Let the fun begin.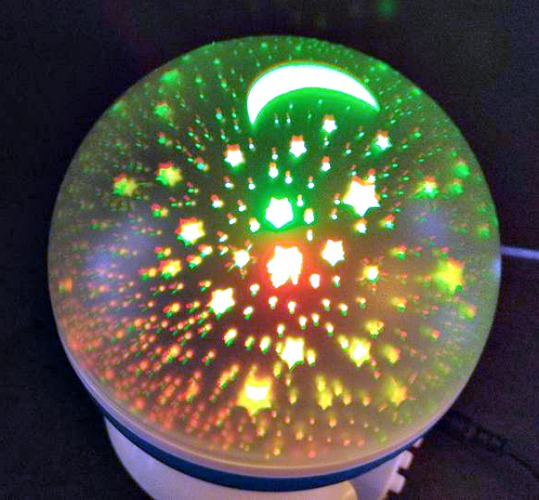 Perfect for weddings, birthday parties or just a relaxing night with the family and friends. Because the stars will cast onto your ceiling and on the wall. Works great for a night-light or projection onto the walls. My grandchildren use this as a nightlight.
3 Button Control
A: Steady on night-light (Press again to turn off)
B: Different color changing (Blue, red, green, red blue, red green, blue-green, RGB, RGB gradient, and off)
C: Rotation switch (Press aging to turn off)
It has 4 LED bulbs that offer multiple color options. And 8 modes with RGB colors. No auto shut off function. And if you remove the white dome you can see the stars more clearly. And it is recommended to use in a small room for better projection.
**Do not use the batteries and USB cables at the same time. It can cause damage to your unit.
Follow Adoric for brand news and updates on their social media sites: Website – Youtube and Instagram.