Everyone has to do some type of chore at some point in their lives. Growing up, we all had different things we had to get done when the time came. Washing the dishes, cleaning our rooms, and other stuff like that. Now that we're older we focus on keeping the more significant matters under control.
Think about all of the things you didn't have to work on all the time on the chore tower. Like taking care of the lawn, which turned out to be quite the time-consuming job. Getting out there to make sure your lawn doesn't look bad or overgrown. We all have our own ideas of the perfect lawn care routine. Although, without the right equipment you can't really do anything about it. That's why we look for the best possible options in the lawn care department. Now, there are more than enough options to work with out there. Overall you are going to want to want something that's dependable in your time of need.
Only You Have The Power
Let's face the facts; you don't want to head out a nice weekend to take care of your yard without the proper help. Sure you can grab your standard equipment, but cranking up the level is always better. If you had something dependable, worthy, and easy to use then things may go smoother. With the new WORX 20V GT Revolution Combo Pack, you'll have nothing to worry about.
In order to have that perfect manicured yard, you need tools that are powerful, versatile, and can perform. That's exactly what the WORX 20V GT Revolution Combo Pack has to offer. These two beauties will give you everything you need in order to make sure your yard is taken care of. Here are details on the two tools: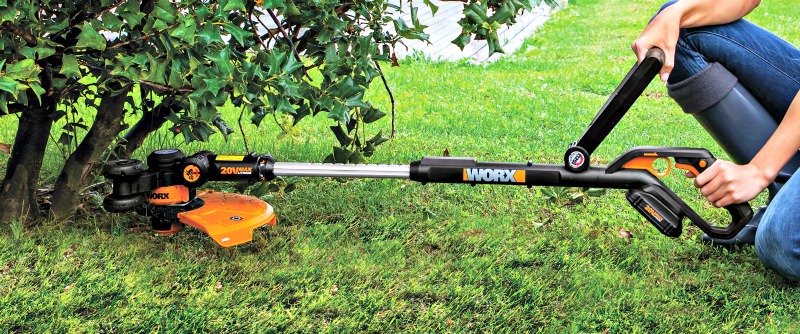 GT Revolution Trimmer/Edger/Mini-Mower

This is the most fully-featured trimmer WORX has ever offered. It offers super easy access to replacement line resulting in a pre-wound cartridge spool and holder attached to the trimmer's shaft for onboard storage. The shaft of the GT trimmer ratchets from 0 to 90° with ease as well. More details include:

Command Feed™
12 in. Cutting Swath
Adjustable Metal Spacer Guard
Quick-Change, Snap-In Spool System
And More!
TURBINE Blower

Has an axial fan motor that pulls air directly into the fan and immediately forces it out through the large diameter blower tube. The tube contains a hyper-stream nozzle that concentrates and intensifies the air stream. It also features a two-speed control provides air velocities ranging from 225 to 340 CFM.
Having a combination like this in your lawn care arsenal can be beneficial in more ways than one! Plus, there's nothing more satisfying than a beautiful lawn to come home too. So make sure you check out all of the information I have for you above.