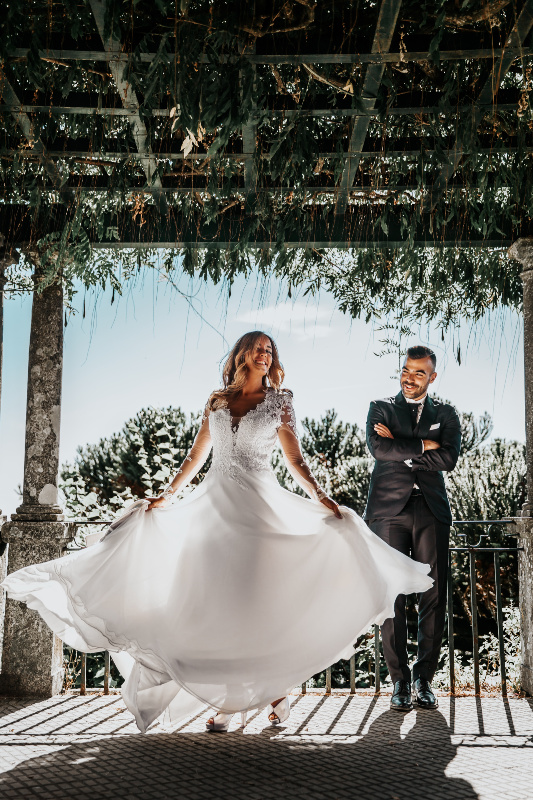 Shooting a wedding video can be stressful and can even make yourself questions like why did I become a wedding videographer? It is always your goal to provide your clients with the best video for their wedding but sometimes the work just seems too overwhelming, especially when it comes to editing the whole video. Don't panic because shooting an awesome wedding video is not as hard as it might seem. In order to help you out, we have prepared you some tips or things you must consider if you want an awesome wedding video or wedding videographer that will make your clients going to hug you with joy. Check them out.
The footage.
When it comes to the footage of your wedding video you should make sure that it is not too long. Tons of footage only makes the work harder and it will be a big challenge when it comes to cut down the video to those few minutes.
Ask yourself if a certain shot will be used in the video.
When you are shooting the video, you need to shoot the scenes that matter the most. Always be editing the video in your head and be asking yourself questions like, will I use this shot in the video? If it is not very necessary and you don't think that you will be using it on the wedding video, then I don't see any need of wasting your time shooting a shot that you are not going to use anyway. It will save your time while editing and you will be able to edit a wedding video in a way that it will be loved.
Be fast and light.
You should always have a light gear so as to make it as easy as possible to switch the lenses as well as stabilize the gear. Be smart and avoid using a tripod at weddings and go for monopod which is always perfect for a static shot and also makes it very easy to be able to move quickly to take the shot from one angle to another. Keep the same base plate on your glidecam so that you can be able to switch back and forth hassle-free.
Keep it natural.
In order to make the video as cool as possible, be sure to make the video natural. Try to shoot it like a cinematic documentary and avoid those shots that seems overly forced or seems like they are staged. The best way is trying to make it look natural and take those candid shots that are going to fit perfectly in the video. Make sure you have an awesome camera that has a cinematic picture profile as well as lenses that will give you a shallow depth of the ground, in turn, helping you get tons of natural.
Know the must-have shots.
There are some shots that cannot miss on a wedding video, and if they miss then you can be sure that your clients will not be impressed. For example, you cannot make a wedding video and fail to include the newlyweds kissing, like how now? You can even ask the couples those shots they value the most, although most of them are obvious it is wise to ask just in case.
When you are aware of those moments, make sure you take the best shots on the moments because when they pass there is no redo, and if you ruin one you might have ruined the whole video. Asking the couple about the flow of events on the wedding will also help you stay alert so that you cannot be caught off guard.
Get creative and take some beautiful shots.
After you have ensured that you have taken all the must-haves' shots, it will be wise to try and make the video look more beautiful by adding on some of your creativity. Experiment with new cameras and angles as you continue to take the shots so as to ensure the moves are as beautiful as possible. You can do this experiment in between the must-have shots and see how it goes.
Get the emotions.
One of the biggest secrets when it comes to making an excellent wedding video is capturing the emotions of the people. You will need to capture those beautiful smiles, satisfying laughs and tears of joy from the family and friends. If you are noticing moments like you are making your shooting, then you are missing the point.
Just remember that people usually feel shy when there is a camera around and tend not to show their emotions. So, it will be vital if they don't realize you are filming them, in order to get those real emotions that they are expressing.
A trick you can use has the settings and focus set but point the camera in another direction and when they are about to react to a situation quickly react and get the shot. That way you will get the real reaction, not the one people pretend when they know there is a camera taking shots.
Practice.
Nothing comes easy and to be the best you have to keep on working hard. To be perfect or near-perfect will require you to practice a lot on how to shoot on weddings and also on what you should avoid when you are shooting wedding videos. By practicing, you will ensure that all the shots you will take during the wedding are your best shots.
Have gear that can work in any light condition.
Shooting at weddings can be very tricky, not just the event itself even the lighting can be a problem and it might end up ruining the perfect wedding video you had in mind. Make sure you have a camera that can work in any light condition so that no matter the lighting, your video will still be perfect.