While spring is notoriously known for people getting in a craze and cleaning their homes from top to bottom, it's also wise to deep clean in the fall.
People spring clean because of all the mud that gets tracked onto their carpets, the musty humidity from being unable to open windows, and because it feels nice being productive when it's bright and sunshiney outside.
People do all this cleaning, and then spend the majority of their spring and summer going on vacation or spending time outdoors.
Why not deep-clean in the fall so you can enjoy your clean home while you are bundled up all winter?
Chimneys
If you love to cozy up to a fireplace and watch the falling leaves turn to snowfall, you won't want to worry about any fire hazards or smokey air in your home.
Before the weather gets too cold, take an afternoon to clean your chimney or hire a professional to do it.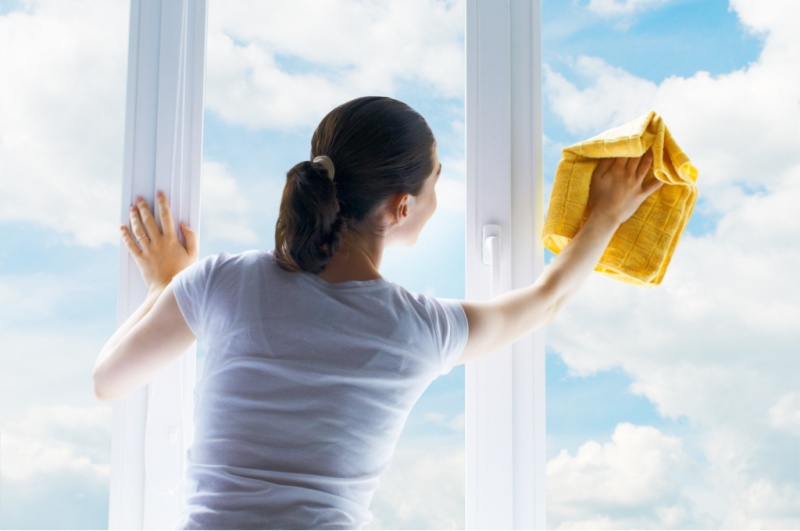 Windows
Dirty windows can make a gloomy day appear even more dreary.
Windows are also a common place for black mold to appear due to the humidity and condensation on the glass.
Cleaning your windows in the fall can alert you to any early signs of mold and can help you be aware of any potential problems.
If mold does form, companies like Pure Maintenance can assist in removal.
Carpets
Feeling trapped in a home that smells really stinks.
Many times, odors come from our carpets.
While vacuuming keeps the dust to a minimum, sometimes the problems are more than that.
Besides resolving foul odors, vacuuming also doesn't solve the problem of stained carpets.
It can be beneficial to hire a carpet cleaning service to shampoo your floors and reduce the smells and stains in your home.
Beds/Bedding
When was the last time you washed your bedding? How about your bed?
It seems odd that you would need to clean your mattress, but if you've ever heard of the phrase, "Don't let the bed bugs bite," you'll know it's important.
Mattresses can become a breeding ground for mites, so be sure to vacuum the mattress before you make it with a clean pair of sheets.
You can also sprinkle some baking soda on top to vacuum for extra cleanliness.
Pantry
Fall is the perfect time to clean out your pantry, you'll want to make room for all your food staples and baking supplies.
One way to make room is to clean out any food items you won't use.
Most schools or shelters have a food drive around Thanksgiving where you can donate these if your goods aren't expired.
Be sure to wipe down all your shelves while you restock your pantry.
Air Filters
Going out in the cold for a breath of fresh air usually makes you feel like your lungs are going to freeze, so make sure the air in your home is clean enough to give you a sense of freshness.
One way to have clean air in your house is to replace your HVAC filters.
Oven
In the summer, baking isn't a favorite pastime due to the heat it creates in your home, and who wants to sweat inside when they could do that outside?
In the winter, however, warming your home with scents of homemade bread, cinnamon rolls, and fresh cookies is a delight.
The best way to prepare for all your baking is to clean your oven and make sure that there's no grease or burnt food on the bottom that could interfere with the mouth-watering smells of your desserts.
If you are going to be inside most of the winter, you might as well enjoy fresh air, polished windows, and cleanliness in your home.
Spend a few afternoons "fall cleaning" to prepare for the upcoming cold season.