Logs make great decorations, especially if you have a rustic theme. Here are few DIY ideas for decorating with logs. You're going to love them!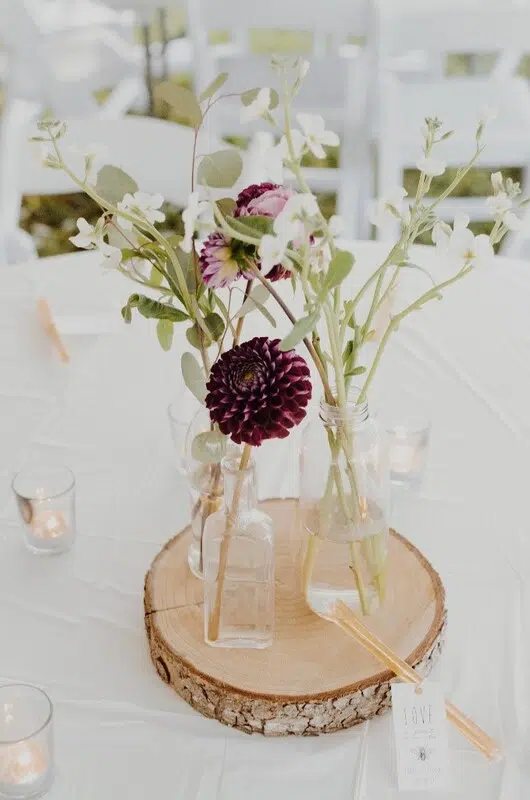 Let's be honest:
Achieving a rustic style in your home is no easy feat.
But let's say you just so happened to come into possession of a beautiful log out on your property.
Are you really going to chop it up to use it as firewood?
Or would you rather convert that log into a beautiful piece of decor that fits perfectly with the rustic theme you've got going on?
We thought so.
Take a look at these seven DIY tips on how to decorate a log for a rustic interior:
1. Nightstand or End Table
A log nightstand or end table is the simplest DIY project for novices.
Here's how to make one:
Cut the stump/log with a saw so that it's flat on both sides and about 24" tall.
Allow the bark a few weeks to dry.
Peel the bark off with a screwdriver or by hand.
Stain the outer surface to match your bedroom's decor.
The finished product will be a basic nightstand that fits nicely alongside a sleigh bed.
It's the perfect place to house a rustic lantern lamp or your favorite novel.
You can even carve out the center of the log to create shelving and storage!
2. Candle Holder
Regular store-bought candles smell great, but the colorful glass candle holders don't fit with your rustic theme.
So, make a DIY log candle holder with a 6" thick branch.
There are two ways to do this:
Turn the log on its side and carve out circular holes for tiny votive candles.
Cut the log to be 3-6" tall and drill a single circular hole down the center.
Choose the style that works best for you.
The horizontal version with three or more candles makes a great dining room centerpiece.
The vertical version fits nicely on a rustic living room end table.
3. Wall Shelves
When all of your home's surfaces are taken up by beautiful rustic decor, you have one option: wall shelves.
And DIY log wall shelves offer a unique take on storage.
Here's how to build them:
Use a saw to slice vertically through a long log.
Sand the surface to get rid of splinters and smooth the wood.
Attach brackets to the wall.
Screw the log into the brackets.
These log wall shelves are a bit more stylish than regular wood shelving.
If done right, you can boast the bark's natural beauty on the outer portion of the shelf.
What better way to display family photos, evergreen candles, and art?
4. Stool
Rustic seating often comes in the form of dark leather sofas or wooden dining room chairs.
But when you're looking for more casual seating, try DIY log stools instead.
To pull off a simple rustic stool:
Use a wide stump, cut evenly with a saw.
Add some inner curvature at the top to be more ergonomic.
Install a cushion on top for pure comfort.
Carve some shapes or designs into the sides of the log.
Your brand new DIY log stool can go anywhere.
It'll be a terrific extra seating option for family gatherings in the living room.
Or, you can weatherproof the logs for more seating around the bonfire out back.
5. Key Holder
There's no better way to keep track of your car keys and house keys than with a key holder.
And that fallen tree in the yard just made a DIY log key holder a reality.
Here's how easy this is to make:
Find or cut a log section that's at least 2' long.
Dry out the bark, then peel it off.
Hammer nails into the wall to balance the log on,oruse rope to hang it from nails.
Drill evenly spaced hooks into the log.
This rack will make the perfect functional decoration for your entryway, and it can be used for anything.
Use it to store your coats, keys, or the dog leash.
It's also a lovely piece to hang your visitors' coats on after you greet them.
6. Wine Rack
Wooden wine racks are great, but they don't fit into a rustic theme … unless you build your own DIY log wine rack to store your favorite reds and whites.
Now, here's how easy this is to do:
Take a large log and peel off the bark.
Lay the log on its side and carve out 3.5" holes, spaced evenly apart.
Cut the bottom with a saw to make sure the log lies flat.
Stain the log with rustic-colored wood lacquer.
This DIY wine rack makes an awesome addition to the corner of your dining room, the back patio, or a basement wine cellar.
7. Pyrography Art
No home is complete without some form of wall art.
For a rustic feel, you'll want to swap out those paintings for some pyrographed wood.
In case you're unfamiliar, pyrography is the practice of burning pictures and designs into wood surfaces.
Here's how to do it:
Slice your log into vertical or horizontal sheets.
Sand down the plank so that you don't get splinters.
Trace out a design on the wood with a pencil.
Use a pyrography pen to etch designs or patterns into the wood.
Hang the plank with wall mounts.
This is the one DIY log project that gives you plenty of freedom to make it your own.
Burn your initials, last name, favorite quote, or handmade drawing into your plank.
Then, hang your new designs up in your entryway, bedroom, or living room!
Conclusion
There's one clear benefit of using logs in your DIY projects:
Money!
While you might spend $100+ on a rustic end table from a well-known manufacturer, you can get this look for free by making it yourself.
All you need is a saw, some sandpaper, and maybe some wood stain.
What better way to use your DIY skills and pull off an incredible rustic look?
Author Bio:
Angus Flynn is the business manager for The Veranda.
With over five years of experience in the multifamily housing industry, he is one of the most dedicated managers in his field.
He loves to help others and takes great pride in working in a community that so many love to call home.