We all love retreats and holidays. They offer a chance to get away from the stresses of daily lives. They allow us to reward ourselves for working hard and always being busy.
And for those who love yoga, why not combine such a retreat with yoga sessions? We guarantee you that you'll love every peaceful moment of it.
Here are the top 7 benefits of going to a yoga retreat.
Immerse Yourself in Nature
Very often, yoga retreats have natural beauty and scenic views. They offer an immersive experience where you can finally step out of the hustle and bustle of everyday hectic life and relax while being surrounded by vistas. Consider yoga retreats in Ubud. You won't regret going to such retreats.
By connecting with nature, your mind, body, and soul are refreshed and rejuvenated, allowing you to let go of anything that has been wearing you down. You can experience peace and calmness.
Disconnecting
Connecting with nature is one thing but yoga retreats also allow you to disconnect with the technological world. In our everyday lives, we often find ourselves glued to our mobile phones, tablets, and laptops.
Our jobs always keep us busy. Sometimes we may not get enough sleep at night as we get home late and leave early the next day.
This can cause a whole host of issues and is highly stressful. Stress impacts the quality of sleep and the vicious cycle continues.
At a yoga retreat, you get to leave all that behind and give your body the chance to relax and rejuvenate. Not to mention that yoga in the morning leaves you feeling happy all day long.
Getting Inspiration
Yoga can help you get the inspiration and motivation you need to improve the quality of your life.
By self-reflection, looking at things from different perspectives, and getting inspired by yoga instructors, you can start to reimagine a better lifestyle.
By putting your inspirations into practice, you can improve the overall quality of your life.
More Priority to Your Health and Wellbeing
A yoga retreat allows you to let go of the stresses of everyday life and focus on the here and now. Through yoga, your energy is focused on the health of your body and mind.
This can help you realize how much you may have neglected your health and wellbeing so far. It may motivate you to take better care of yourself.
A Closer Look at Your Life
By going on a yoga retreat, you can distance yourself from your everyday life. This allows you to reflect and see which areas of your life need to be improved.
Often, it's extremely difficult to find a solution to any problem in your life if you're living within the problem. Also, the best thing is to take a step back to conduct an evaluation. This is when Bali yoga retreats are most popular.
By going to such yoga retreats, you can decide on the best choices that can improve your life.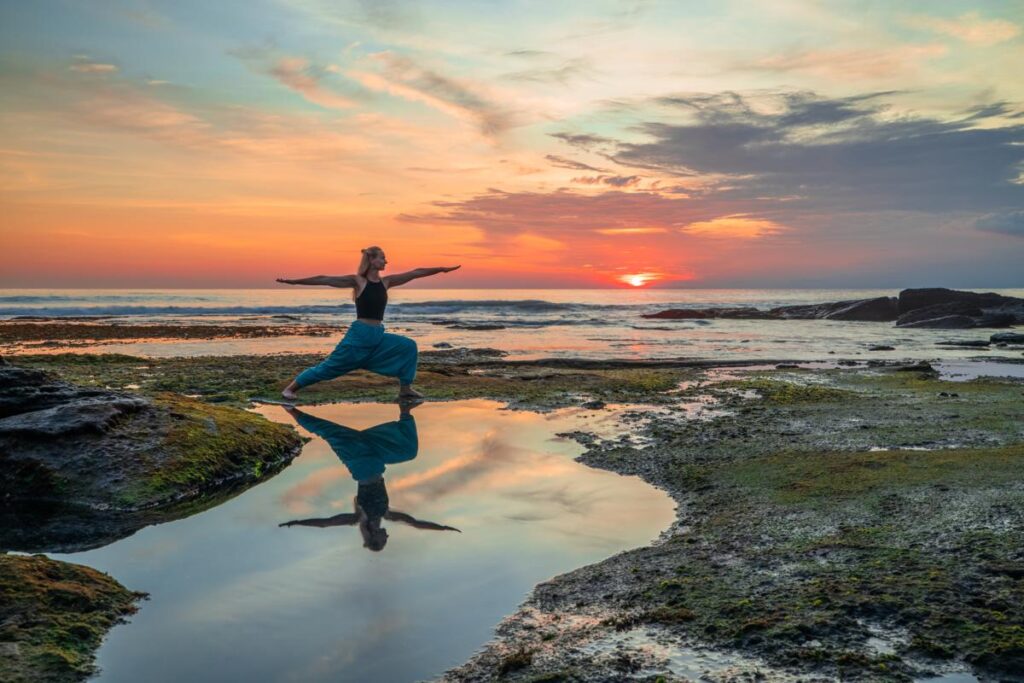 Stop Overthinking
Due to the many tasks that we have to perform every day and having too many things that need to be completed, we get overstressed and overthink.
Overthinking takes away our ability to relax and enjoy our lives. What's more, overthinking causes us to be anxious. Part of going on a yoga retreat is taking a few meditation sessions. These help your mind let go of all unwanted thoughts, allowing you to finally relax. The emptying of the mind makes you think less and improves the clarity of thought.
Healing
One of the main benefits and reasons to go on a yoga retreat is that it allows you to discover healing, both mental and physical. If you've been suffering from various aches and pains in your body, you can finally get rid of them with good stretching poses.
Secondly, you can surround yourself with positive energy. Many of us lack positivity in our lives so much that we don't truly understand how it feels like to have positive energy inside us.
Once we find out that it's possible to lead a life surrounded by positive energy, we will want to take this to our everyday lives.
Final Thoughts
Sometimes, it's best to find an escape from the rigors of our everyday lives and find time for ourselves.
A yoga retreat allows us to disconnect from shackles imposed by technology and the hustle and bustle of life.
We can reconnect with nature and to find mental and physical healing. Go to a yoga retreat and let go of your stress and anxiety.