Looking for a new way to learn about wine? This unique approach to enhancing wine knowledge and appreciation cuts through the clutter and reminds everyone that the wonder of wine lies in the heart, not in the head.
Join award-winning writer Jim Laughren, CWE, on a cool, creative tour through the heart of wine country. Whether beginner or seasoned oenophile, expand your knowledge of wine tasting, wine sourcing, winemaking, wine regions, wine history, and more.
While 50 Ways to Love Wine More: Adventures in Wine Appreciation is brimming with facts and "vintellect" on a wide variety of wine-focused topics, what you'll learn most is how to let wine wrap you in its embrace, whisper its secrets in your ear, and welcome you to its confederacy of aficionados.
As always, Laughren's easy-going style is a pleasure to read, and his love of wine shines through on every page. Anyone looking for an off the beaten path approach to embracing this special beverage need look no further.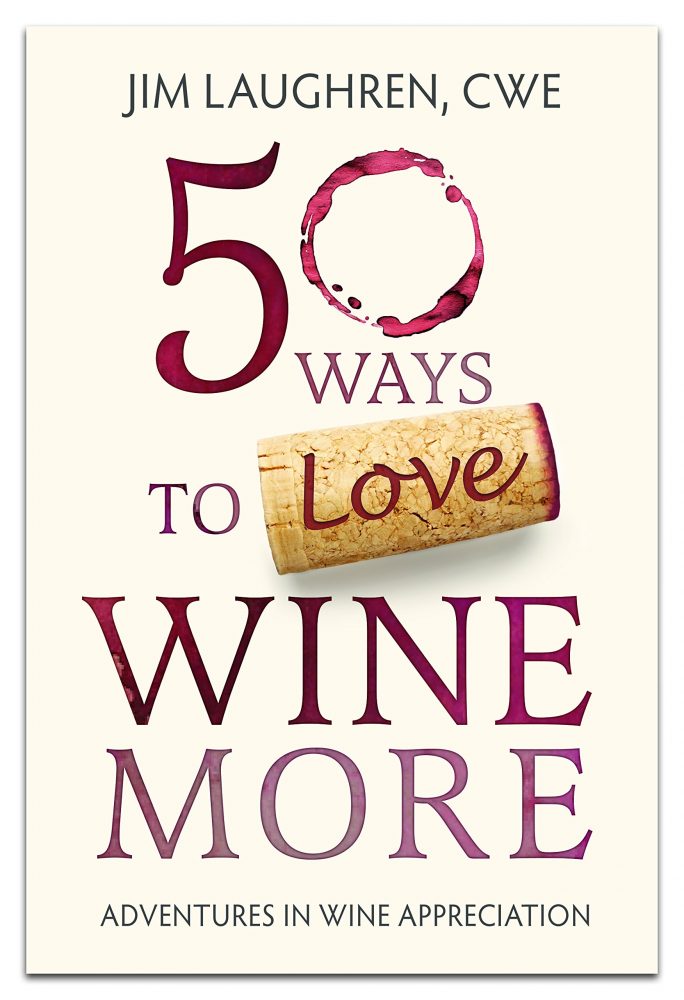 50 Ways to Love Wine More: Adventures in Wine Appreciation
50 WAYS TO LOVE WINE MORE: Adventures in Wine Appreciation (Crosstown Publishing, September 2018) find the world's greatest wine bargains, plan the best wine vacations ever, or learn to become an "insider" at their favorite winery.
Laughren provides helpful suggestions about the pleasures of large format bottles, the best way to introduce a beer lover to wine, and finding your own favorite wine through blind taste testing. This vital book for wine lovers also includes a helpful appendix listing the many grape varieties mentioned and discussed. Beautifully illustrated with vibrant photography, this is the go-to source for uncovering—or increasing—your love of wine.
50 WAYS TO LOVE WINE MORE is an all-in-one guide for learning more background about your favorite wines, exciting wine activities you can participate in, or if you need some new suggestions for wines to try.
50 WAYS TO LOVE WINE MORE shares:
How to start your own tasting group
The distinction between old world and new world wines
Exploring the dynamic duo of wine and chocolate
How to saber a bottle of champagne
ABOUT THE AUTHOR
Jim Laughren loves wine. And has for a very long time. He is a former importer and distributor of fine wines from around the world. He is also a Certified Wine Educator who has both taken and taught dozens of classes and seminars dealing with various aspects of wine and spirits.
But it's sharing—with you!—that means the most to him. And it's writing that allows him to share his knowledge, experience, and passion with all the people he'd love to meet but probably won't have the chance to.
He has little use for the snobbery and condescension that have, somehow, become part of the world of wine. "Wine is a joy, a gift of the gods, bounty of the earth, and should be shared and celebrated. Whether someone is brand new to the wine scene or has many years of vinous pleasure at his or her back makes no difference.
"Wine, to me, is part of the human story. From Mesopotamia to the ancient lands of Egypt, Israel, Persia, Greece, or Rome, wine has been drunk and shared and influenced cultures and lives in ways we can only imagine."
Known for his irreverent, fun-loving approach and abiding enthusiasm, his writings, whether in the pages of "A Beer Drinker's Guide To Knowing & Enjoying Fine Wine," "50 Ways to Love Wine More," or the coming series of "Everything You Need to Know About Wine in 15 Minutes" is targeted squarely at the wine enthusiast with an open heart and curious mind. To learn more, visit www.jimlaughren.com
Connect with Jim Laughren: Site | Facebook | Instagram