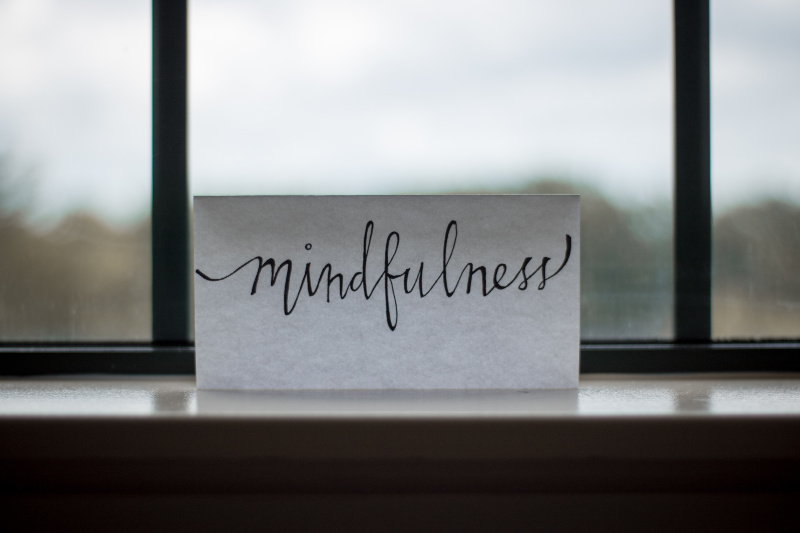 Mindfulness helps alleviate anxiety, but not everyone has the time or energy to figure out what that means or how to put it into practice. Just looking for mindfulness courses online can increase levels of anxiety due to having too many choices and not knowing which one to pick.
For more than 40 million Americans, anxiety can be debilitating. Mindfulness is a wonderful tool to reduce anxiety, but instead of trying to learn a complicated, expensive practice, try these five simple methods:
Stare at a roaring fire
Practicing mindfulness is about being fully present with whatever you're engaged in. Staring at a roaring fire is one of the easiest ways to become absorbed in what you're focusing on. Fire is animated and somewhat mesmerizing.
If you have a fireplace, get a roaring fire going and then settle down in a beanbag chair or whatever makes you comfortable. Stare into the heart of the flames and breathe deeply as you do. Put all your attention on the flames, and watch them dance. If you watch burning logs in a fireplace for long enough, you'll see a grid pattern form on the logs as they burn.
It doesn't matter what kind of fireplace you've got. Even a gas fireplace will produce animated flames that will captivate your attention for long periods of time.
Don't worry about how long you stare at the flames. You might do it for five minutes the first day and an hour a week later. Don't keep track; make the experience timeless. If you need to be somewhere or attend to a task, set a soft alarm that won't jolt you out of your focus.
Practice basic or restorative yoga
When you think of yoga, you might picture complex asanas (poses), but that's not the point of yoga. Yoga is about developing full body awareness and connect to yourself. You don't need to perform complex poses to achieve those benefits.
If you're new to yoga or you don't want intensity, try the 30-day yoga challenge with Adriene Mishler. It's unlike any 30-day challenge you've seen before. The intention is to help you slow down, notice your bodily sensations, breathe deeply, and slowly ease into stretching and moving. This gentleness of this challenge will motivate you to complete the full 30 days.
Hold an intention while going for a walk
How present are you on your walks? Do you feel the Earth beneath your feet? Do you notice your breath? Or does your mind wander uncontrollably down a path of worry?
Practice mindfulness on your walks by being intentional with the thoughts you entertain. Before heading out the door, create a mantra to keep in your mind as you walk. It should be simple and short. Something you can remember, and something meaningful to you. For example, you might use, "Today, I am peaceful."
As you walk, repeat your chosen phrase in your mind. Keep your focus on the words as you say them in your mind. Focus on each word individually rather than rushing it.
After a while of doing this practice, you'll notice the phrase will become a natural thought in your mind. The more you think about peace, the less you'll think about other things that trigger anxiety.
Meditate for no reason
If you want to squash anxiety with meditation, do it for no reason. Don't give yourself the opportunity to wonder if you're doing it right, if you've done it for long enough, and how you can improve. Also, avoid the popular gadgets that claim to measure your productivity and train you to become a better meditator. True meditation can't be measured. If you're measuring your results and practice, you're distracted.
Sit on a pillow in the corner, put on a comfortable blindfold to block out the light, close your eyes, sit up straight, and breathe deeply. Focus on your breath, or focus on an idea held in your mind. Let thoughts arise and pass. Over time, fewer thoughts will arise, and your frustration with thoughts that pop up will fade.
Focus on every bite you eat
Next time you eat a meal, stay present with every bite you take and experience the food fully to the last bite. It's an interesting experience, and you just might taste things you've never tasted before.
Make mindfulness routine
The more mindfulness you practice in a day, the less anxiety you'll feel. Be present and choose to fully experience everything you engage. It's that simple.