This is a sponsored post written by me on behalf of Safeway.
Prepare for Flu Season
Yes, it's that time of the year again…flu season. Between school, work, or just being out and about someone in my house gets SICK every year! Of course, we know the basic tips for staying healthy, but sometimes that darn flu or cold hits us. As MOM and caretaker for my family, I need to make sure I have all my flu season tools on hand.
Medicine
I always keep flu and allergy medicine in the cabinet. Why both? Well, you never know what will hit. My husband gets bad allergies that will take him down for a day, so I need to make sure I have Signature Care™ Nasal Decongestant Tablets. Also the Signature Care Cold/Flu Relief Softgels Daytime just in case someone gets hit with the flu!
Being prepared ahead of time during flu season is a MUST!
This week I went to my local Safeway store in El Cerrito, California because they carry the exclusive line of Signature Care™ products, which are both effective and affordable. I know that all Signature Care™ products, sold exclusively at Albertsons Companies stores, come with a 100% satisfaction guaranteed or your money back promise, so that is reassuring. I get the same quality and relief that the national name brands have but with a lower price plus it is also pharmacist recommended. All the reasons why this mom buys Signature Care™ products at Safeway.
Chicken Soup
I'm MOM so I need to make sure I have all the comforts required if anyone does get sick, like chicken soup. When I was a child I usually stayed with my grandma when I got sick and she would always make me chicken noodle soup. So I do the same for my kids. However, I buy the soup since I'm a busy mom who doesn't know how to make homemade chicken noodle soup.
My neighborhood Safeway always has my back since they carry the O Organics® products, which are perfect for flu season. The O Organics® Chicken Soup reminds me of my grandmas, so of course, it is the soup I will give to my family. I can't forget the crackers either and the O Organics® Sea Salt Pita Crackers has me covered in that area too! We love the Pita ones because they help when you have an upset stomach, too.
Hot Tea
Now, I can't forget about TEA! Who doesn't like a hot cup of Chai Tea when they are not feeling well? The heat warms your body and the spices just make you feel better. I always pick up the O Organics® Chai Spice organic tea at Safeway too.
Easy Cream of Potato Soup
Even though I might not have the time or know how to make soup, my husband makes a Cream of Potato soup that will make anyone feel better. I knew I married him for something…his soup making skills for sure!
Cream of Potato Soup
4 medium-sized red potatoes
½ yellow onion
900 mL O Organics® chicken broth
½ cup O Organics® grated cheddar cheese
In a medium-sized pot, start boiling your chicken broth.
Cut potatoes into 1 to 2 inch cubes. Chop the onion and place both ingredients into your heated broth. No need to wait for the broth to completely boil before adding your potatoes and onions. The longer they're both in there, the better. The flavors will combine and get ultra soft, making it easier to transform into a creamy soup.
Once the vegetables have softened, remove the pot from heat. Using a hand blender, blend broth and veggies until you it becomes a thick, creamy consistency.
Add grated cheese and stir until cheese is completely integrated with the soup. Serve with a topping of grated cheese in the center.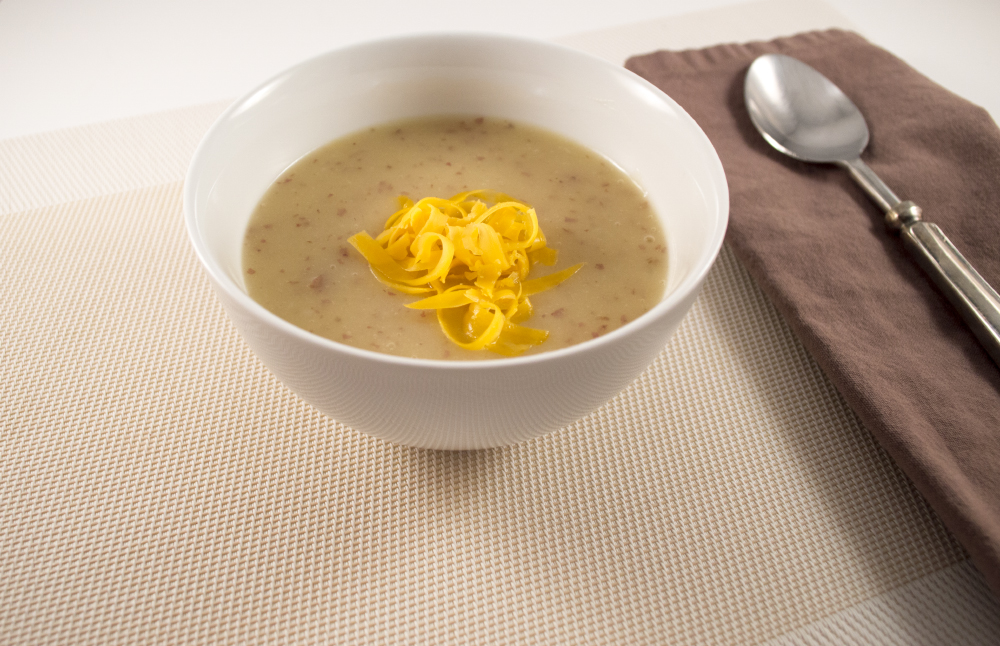 Oh, my, you need to check out this VIDEO: Warm Apple Tea (I will be making this too)

Even Though I buy my Signature Care™ products at my local Safeway and Albertsons, and you can also find them at all Albertsons Companies family of stores, including ACME Markets, Jewel-Osco, Vons, Pavilions, Randalls, Tom Thumb, Shaw's, Star Market, United Supermarkets, Market Street, Albertsons Market and Carrs/Safeway.
So I feel better that I'm prepared now for the FLU SEASON and I have my local Safeway in El Cerrito California, Signature Care™, and O Organics® to thank for that!
This is a sponsored post written by me on behalf of Safeway.