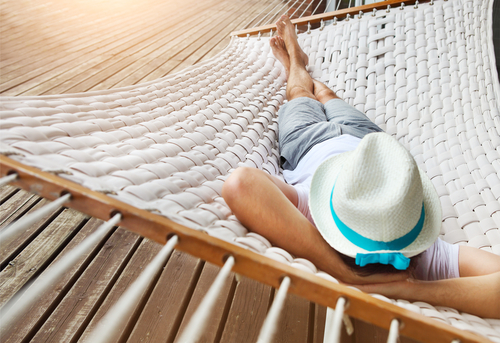 Hammocks are arguably one of the most versatile and useful outdoor inventions. They are perfect for sitting by the pool or relaxing in a garden or natural spot. Many of our apartment communities have even started setting up hammock gardens for their residents. If you are looking to up your hammock game, here are four tech hacks to make your experience even better.
LED Lights
If you're looking to lie back on a hammock at night, LED lights are the perfect tool to illuminate your hammock. Some hammock brands make specific lights for hammocks, but they can be a bit pricey. If you're looking for a cheaper hack you can do yourself, purchase a string of cordless battery Christmas lights, and string it over and under the ridgeline or from one strap to the other. Traditional Christmas lights that plug into a power strip instead are another good option if there is an outlet nearby.
Smartphones
You've had a long day filled with work, kids and responsibilities. If you want to wind down and take a moment to yourself, taking your iPhone to your complex's hammock garden and watching your favorite TV show is a great way to let your stress melt away. But how can you lie back and enjoy your show hands free?
An extremely easy trick that only requires two thick rubber bands starts with taking your iPhone and placing right under the ridgeline, allowing it to figuratively cut your device in half. Then, take one of the rubber bands and hook it on one of the four corners of your device and guide it over the ridgeline to the farthest corner (not diagonally). Take your second rubber band and repeat. If you can't visualize it, The Ultimate Hang has a video showing you how to do this hack.
Speakers
If you want to take a speaker to listen to music while hanging in a hammock, it should be on the smaller size and preferably Bluetooth, so you don't have to worry about cords. The Boom Wireless Bluetooth Speaker is the perfect hammock speaker because it's small and lightweight but extremely loud for its size. The speaker also comes with a flexi-hook (that is removable) and can be hooked to the ridgeline, the edge of the hammock, the straps or the branch hanging atop the hammock. Furthermore, the speaker has excellent battery life and can play music for hours.
If you already own a portable Bluetooth speaker, get creative with hanging it off your hammock. Use this DIY tutorial from Inhabitat to make a hanging knotted rope holder for your speaker.
Camera
Invest in a flexible tripod stand to get some great pictures of you on a hammock. These flexible tripod stands can be bent all types of ways, making them able to contort around the straps of your hammock to hang your camera, GoPro or iPhone for taking photos and videos. It's small enough to pack in your backpack and great for the perfect hammock selfie without using a selfie stick.