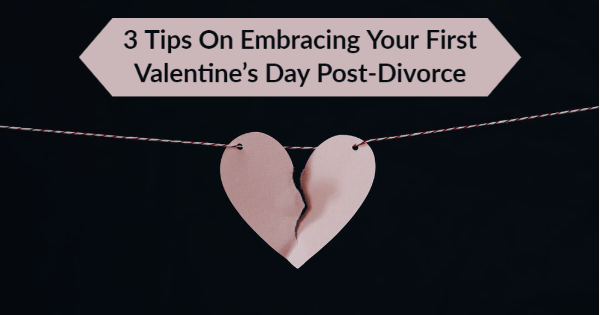 Your first Valentine's Day post-divorce is probably going to be a little difficult. Even if you're better off split from your former spouse, it's still hard to make the transition from married to single, and Valentine's Day is essentially made to shove your new status in your face. Even if you aren't particularly troubled by it yourself, chances are that you'll have plenty of people asking you about your feelings, "checking in", and essentially offering a lot of sympathy that ends up coming off as pity. With that being said, you don't have to wallow in angst on the first Valentine's Day after your divorce. There are plenty of things you can do still treat it as a type of holiday — like all your coupled-up friends will be — while at the same time moving on with your life. The fact is that there's nothing to be ashamed of if you're divorced; in fact, about 827,000 divorces occur every year. You aren't alone, and you shouldn't hide away. Let's look into some of the ways you can spend your first Valentine's Day after your divorce.
1. Spend Time With Family
This is particularly relevant for divorced parents. This first Valentine's Day post-divorce is going to be tough for you, but it may be hard for your kids as well. After all, they're probably used to their parents going out together for a Valentine's Day date — and now they're split. If you have your kids on Valentine's Day — usually, kids will spend about 277 days out of the year with their custodial parent, but this can depend on the custody arrangement you have with your ex — you may want to take them out for a "date" of sorts. While everyone else is at a cheesy romantic movie, you could take your kids out to see something more family-friendly, with a fun dinner afterward. On the other hand, if you don't have kids or don't have your children on Valentine's Day, you could spend time with your relatives. But then again, you may feel that degree of pity you dread — but family doesn't always mean your blood relatives, who can at times be a bit overbearing when trying to make you feel better. Connect with your single friends, and maybe come together for an anti-Valentine's Day. This could involve going out to eat, or maybe even dancing. This way, you can all avoid the dreaded Valentine's Day setup, and make it clear that you're still very much having fun after your breakup. Don't feel as if you have to stay home and avoid all signs of romance; if you'd rather be out and about, just make sure that you're with people who have your back, whether that means hanging out with your kids or enjoying time with friends.
2. Check Up On Your Mental Health
Any breakup is stressful, but a divorce is particularly hard to deal with. This is because there aren't just the emotional aspects of divorce to consider, but the practical ones as well. If you have kids, for example, you'll have to make some sort of agreement regarding custody and child support. Unless parents are on the exact same page, they can often end up fighting at some point or the other. Even if you don't have children, you'll still have to decide who gets what in the split, from housing to personal belongings. You'll be dealing with new personal and financial situations, and it's all incredibly stressful. It's no wonder that so many people end up struggling with anxiety, depression, and other mental health problems following a divorce. For this reason, you'll want to check in on your mental health leading up to Valentine's Day. If you're seeing a therapist, for example, this is something you may want to discuss with them — develop some strategies to prepare yourself for the day. If you aren't seeing a therapist, it's something you may want to consider; many therapists can help people learn how to deal with mental health problems and major life events without medication. Nonetheless, even with the best coping mechanisms, you may find yourself feeling down. Turn to someone if it's really getting to you — have a confidant to lean on.
3. Take A Personal Day
Of course, even if you have someone to lean on, that doesn't mean you shouldn't feel comfortable taking time for yourself. In fact, you may want to consider taking the day off of work if you're scheduled to go in on Valentine's Day. Consider it a mental health day. Perhaps you should relax and take a hot bath, read a book you've always wanted to read, or simply relax and watch your favorite TV show. Staying in for the day isn't advisable for everyone, but that doesn't mean that relaxing the way that works for you is a bad thing. Of course, you could also spend the day by going to the spa on your own as well, or even going out to eat at your favorite restaurant. The solitude might be a bit strange at first, but one of the positive aspects of your divorce could be that you finally have time to devote to yourself, and don't need to stress about a bad relationship even more. It's often a matter of how you view it!
Maybe you aren't worried about your first Valentine's Day post-divorce at all. Perhaps you've put those wedding memories — you probably still can't believe that flowers make up 7% to 8% of a wedding budget — out of your mind. No matter what, take care of yourself the way that works for you!