This is a sponsored post written by me on behalf of Tender & True Pet Nutrition for IZEA. All opinions are 100% mine.
We all know when we go to the PET STORE that there is a wide choice of food to pick and wonder if you are getting the right kind for your pet. So many dog food options claim they are holistic, healthy, super-premium, pure and natural ingredients, organic, certified but how do you pick from all those choices? No worries we got you, we did the research, and our pets have tried a dog food we feel would work for your pet just like it has for ours!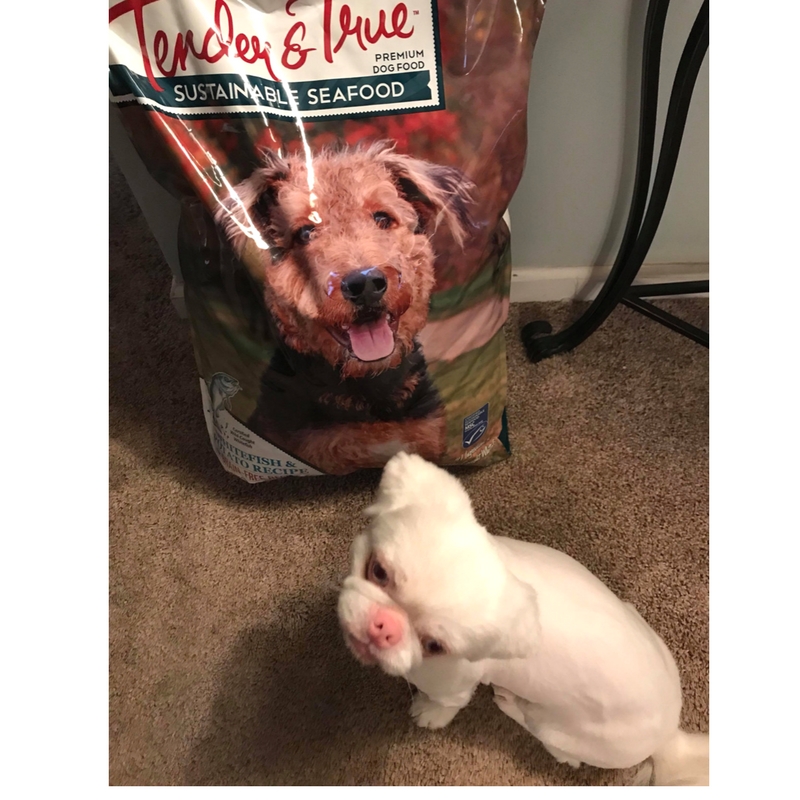 Our pets are the reflection of the love you have, the life you share and the beliefs you hold.
Tender & True ™ Pet Nutrition has recipes utilizing only humanely raised high-quality USDA organic, antibiotic-free and sustainably sourced proteins. Also, all organic poultry used in their product are raised without antibiotics to specific protocols with 100% organic vegetarian diets plus they are the only company that makes a full line of dog and cat food with these qualities. It is a balanced formula for all pet life stages. If your pet loves seafood, then know that Tender & True is certified sustainable seafood which means all the fish comes from MSC certified fisheries.
Have you heard of the PERFECT SUPERFOOD for your pet? Do you believe that your pets deserve more from their pet food? WE DO! For example, Tender & True is USDA certified organic varieties, free from fillers and corn and soy, plus grain-free. We want that from our food, and so we should expect the same for our pets' food too. Let's not forget the no antibiotics, no artificial preservatives, no fake anything in the food.
You have heard of Farm to Table, right? Well Tender & True is Farm to Bowl!
Well now we know what food we want to give to our dogs, but there are a couple more steps we need to do…like changing their diet. Changing a dog's "food" is a process, and you need to respect the process.
STEPS TO CHANGING PETS' FOOD!
PLAN! Don't buy a different bag of dog food because it is cheaper or you just want to change. Please make sure you have a reason for the change. For example, your puppy needs adult food now, your adult dog needs the senior diet, or you want a healthier SUPERFOOD for your pet! Make sure you do your research because you will need a dog food that best suits your dog's age, lifestyle, and health. You could consider adding things on the side like raw dog treats to see how your dog takes to them whilst not changing their diet entirely.
MAKING THE SWITCH. This needs to be a gradual transition. You will need to introduce the new food progressively over a 4-6 day period. How do you do this..by adding new food to old food, see the schedule below? Make sure you are staying on the same feeding schedule. Now your dog may or may not like the new food so if that happens then add a little warm water to the food. Or do what I did and introduce the NEW FOOD as a treat- one piece at a time.
PAY ATTENTION. It will take 6-8 weeks for you to see if the food affects your pet's health and well being. You will need to look at their weight, healthy skin, breath, luscious coat, normal stool volume, and consistency. If you see good changes, then the food is doing what it is supposed to, but if not then a new food choice will need to happen again.
New Food Schedule:
Day 1: 25% of new food
Day 2: 50% of new food
Day 3 75% of new food
Day 4 80% of new food
Day 5 90% of new food
Day 6 100% of new food
Make sure you check out Tender & True for yourself and Find Tender & True near you where you can get a bag or two for your DOGGIES. Now, remember don't just switch to Tender and True you will need to follow the tips and schedule above!
Want to read more about our pets check out this POST-5 TIPS FOR CARING FOR YOUR SENIOR DOG
Please comment on ONE thing you like about Tender & True!