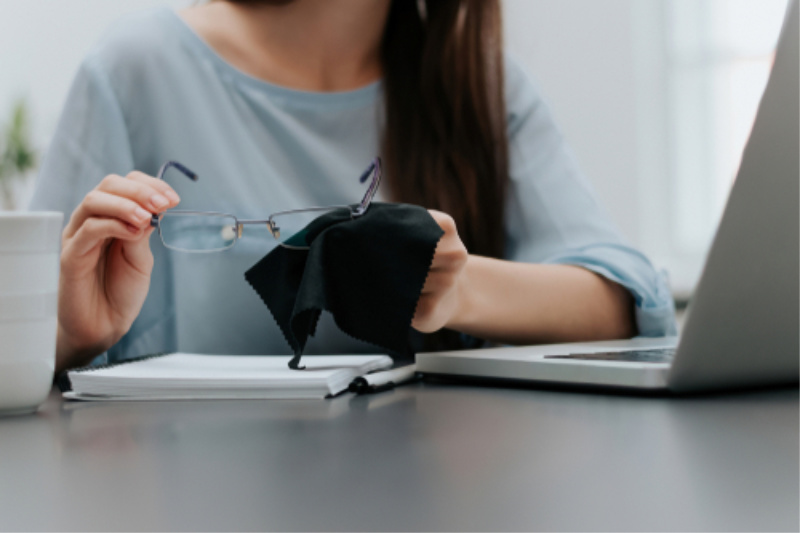 Eyeglasses are a significant investment that many people buy to have clear vision. You may have spent so much time looking for the perfect pair – which frame suits the shape of your face, what color matches your personality or outfits, what lens type meets your needs, what material could last longer, and others. It's only reasonable that you take care of them and make them last while your prescription doesn't change, especially if they're high-quality ones like a Firmoo eyewear. You can save money when you only need the lens to be replaced in the future as your grade changes, rather than spending for an entirely new pair.
In this article, we'll give you three easy tips to take care of your eyeglasses:
Clean your glasses regularly
Your eyeglasses usually come with a lens cloth. However, this doesn't mean that wiping it is the only cleaning that you should do. You've invested in purchasing quality eyeglasses, and you don't want that to go into waste. It's important to clean your glasses regularly to keep it from dust and particles that can accumulate over time.
Here are some guidelines when cleaning your pair of eyeglasses:
Before you start cleaning your glasses, make sure that your hands are clean and free from grease or grime that could transfer to your lens. Wash your hands with soap and water, and use a lint-free towel to dry them.
Rinse your glasses under the tap to remove particles that could be abrasive for the lens. Make sure that the water is lukewarm, as hot water can damage eyeglasses.
If you don't have a lens cleaner, you can use a drop or two of soap or dish detergent that is free from moisturizers, and use your fingertips to rub against the lens, frame, and other parts. Clean every part of the eyeglasses to get rid of dirt and accumulated skin oils.
Shake off your glasses gently to get rid of most of the water. Check the lenses carefully to ensure that they are clean, and only use a lint-free microfiber cloth to wipe your lenses in circles. Don't use a tissue, a napkin, your shirttail, or other rough cloths to wipe them to avoid lint and scratches.
Handle with your glasses with care
Your eyeglasses aid you when your vision is blurry; hence, it's just proper that you handle it with care. Most people neglect proper handling of eyeglasses, not realizing that this can damage the glasses sooner than expected. For instance, putting your glasses on your head for a brief time may seem harmless, but it widens the frames because the top of the head is wider than the face.
Here are a few other tips for properly handling your eyeglasses:
Avoid touching the lenses by touching only the temples of the frame so that the lenses won't have fingerprints and smudges.
Don't push the nosepiece when your glasses slip on your nose because pressure can distort the nose piece, especially for wire glasses. Use your hands instead when putting the glasses back in position.
Use both hands, one on each temple arm, when removing your eyeglasses to avoid alignment changes and loosened fit.
Buy a cord for your glasses instead of hanging them on the neckline of your shirt or shirt pocket to prevent them from warping and accidental falling.
Put your eyeglasses frame up when resting them because even clean surfaces can leave scratches on your lenses.
Tighten screws that may be loose, or go to an optician who can realign the nose pads or frame for a snug and comfortable fit.
Don't use your regular eyeglasses when playing sports. Instead, go to a specialist who can prescribe glasses suitable for playing sports such as baseball, basketball, and swimming.
Remove your eyeglasses when taking a nap or sleeping and place them on the bedside table or in its hard case to avoid breaking them.
Store your glasses properly
The proper storage also helps ensure that your eyeglasses last long. If you're prone to misplacing them, it's best to invest in a cord or strap that you can wear around your neck, rather than finding them in various places where it could be scratched or, worse, break.
A few other storage tips are:
Use a hard case of the right size to store your eyeglasses. A hard case protects them from breakage, and the right size ensures that your glasses are not cramped up or easily shaken in the case. Make sure that your lenses are faced upwards inside the case.
Don't put your glasses in your bag without the hard case so that they won't break. It's advisable to put your eyeglasses inside the case every time you take them off.
Don't leave your eyeglasses in a hot area, such as on the dashboard of your car, because the heat can warp your glasses.
Don't put your eyeglasses in areas where it can be exposed to corrosive elements or splashes, such as on the sink or vanities.
Always have a spare hard case accessible, like in the car, in case you break or forget the primary case.
Final Thoughts
If you want to make the most of your investment with your eyeglasses, you need to know how to take care of it. You need to regularly clean your glasses at home, handle them with care, and store them in proper places. When you follow the tips provided in this article, your glasses will serve you for a long time.