Going back to school shopping is so much fun. There are always new trends and cool, new products available. I know as a kid, I loved getting all the sales paper and circling exactly what I wanted, just like Christmas. My son however is not always as excited as I am. So this year, one of my goals this year was to make it fun and exciting for him.
Let Your Child Spend Their Own Money
I know that I mentioned earlier that I circled everything that I wanted, but that did not mean that I got everything I wanted. My parents had a budget for my back to school shopping, which meant that if I really wanted something, I had to spend my own money that I saved from my birthday, holidays, and my allowance. This can be exciting for a child and also a learning experience. Seeing how far or not far a dollar can go, can help a child realize quickly if they really need that "must have item".
Surprise Your Child With A Gift
Every year there are always new trends and new items that are made for kids going to school. One of the coolest new items that I have found this year is the Amazeko lights and sounds pencil sharpener. The Amazeko lights and sounds pencil sharpener comes in either a police swat truck, a firetruck or an ice cream truck. Lights and sounds burst forth every time a pencil is sharpened. My children loved it! It is fun and bright and can turn a child's day around in just a second.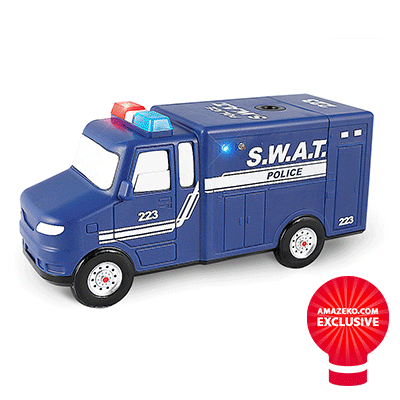 Check it out in this video to show fun this product is:
Surprising your child with a trendy new item or something that they really wanted, but was out of the budget, can help make back to school shopping fun.
About Amazeko
Amazeko was founded by a dad inventor who had taken his reluctant kids back-to-school shopping one too many times. After years of watching his daughters be less than enthusiastic about school supplies, he knew he had to create a product that would amaze them. He set off on an adventure to develop office and school supplies that inspire and excite. The lights and sounds pencil sharpener was born.
Amazeko is dedicated to creating products that engage the creative part of your brain, throughout the school or workday. Amazement is a stress free moment, sparking ideas, and challenging you to think differently. Everything we make must — first and foremost — be functional, but there's no reason it can't also amaze.
Connect with Amazeko: Site | Facebook | Twitter |