The beaches of Puerto Rico are world-renowned for their beauty and tranquility. With crystal-clear waters and serene surroundings, these beaches offer the perfect escape from the hustle and bustle of everyday life.
Take a dip in one of the most beautiful places in the amazing Caribbean islands, Puerto Rico!
Summer is approaching and one thing to tick off your bucket list for the hot season is to go to the astonishing beaches with stunning and spectacular views on the island of Enchantment.
This place is truly a wonder and the dream destination of beach and island lovers. This rich island has over 300 beaches to choose from that will give you exciting and ecstatic feelings.
From white sands, crystal-like waters, amazing marine wildlife, and nature that will leave you in awe, giddy up as today we are going to list down fifteen (15) best beaches in Puerto Rico!
15 Best Beaches in Puerto Rico
Sun Bay Beach (Vieques)
You will find this spectacular beach in the southern part of the island of Vieques, abundant with sandy beaches and almost untouched!
This beach has a wide and large area where you can enjoy it for miles and miles. Explore the island with palm groves and exotic trees along with white sand and a beautiful ocean view.
If you want to stay in resorts in this place, you can inquire about luxurious resorts and hotels to stay in this amazing wonderland.
Condado Beach in San Juan
Beautiful sands and water reflect almost where you will see yourself.
This public beach is another go that has no charge for all guests! But if you have a vehicle, then there are lots to park where you will have to pay.
Regardless of the parking lots, this beach is still a truly must-visit beach site for ocean lovers! It also has hotels and resorts to stay in with loads of activities.
If you love surfing and swimming, then this beach might be match-made heaven for you.
Balneario Monserrate or Luquillo Beach
One of the most popular beach sites in Puerto Rico is the Luquillo Beach located on the northeast coast and the east of the Rio Grande with a beautiful landscape, and views of stunning mountains from the beach to enjoy to look at.
This worth visiting beach will give you an experience of pretty palm trees and even is nearby the El Yunque National Forest where you can also explore.
It has sunsets that will take your breath away, and ocean waves that are kid-friendly!
Playa Sucia in Cabo Rojo
No doubt why this place belongs to the top 25 Caribbean, this place is truly magical for its emerald green to blue shades of water with white sands.
You can't miss the Cabo Rojo lighthouse too!
The best time to visit this beach is from December to April.
Playa Ocean Park in San Juan
Another public beach located in San Juan in Puerto Rico, this place is also majestic for nature lovers and this place is usually uncrowded unlike other beaches but still popular with tourists.
It has golden and light shades of sands with turquoise to deep blue shades of water.
It also has seaside restaurants, spas and shops, and a jam-packed full of crazy water activities, plus it is near an airport.
Flamenco, beach in Culebra
Also one of the most popular and beautiful beaches on the island of Enchantment, this beach has beautiful turquoise waters along with cotton-like sands.
They also offer swimming areas, diving sites, and beautiful reefs, plus gastronomic adventures to venture by!
One trivia about this beach is it was once named one of the world's best beaches by many websites and magazines, so no wonder this beach is truly a worth visiting beach for you and your family to enjoy.
Oh, and If you love snorkeling, this place is perfect for you!
Playa Crashboat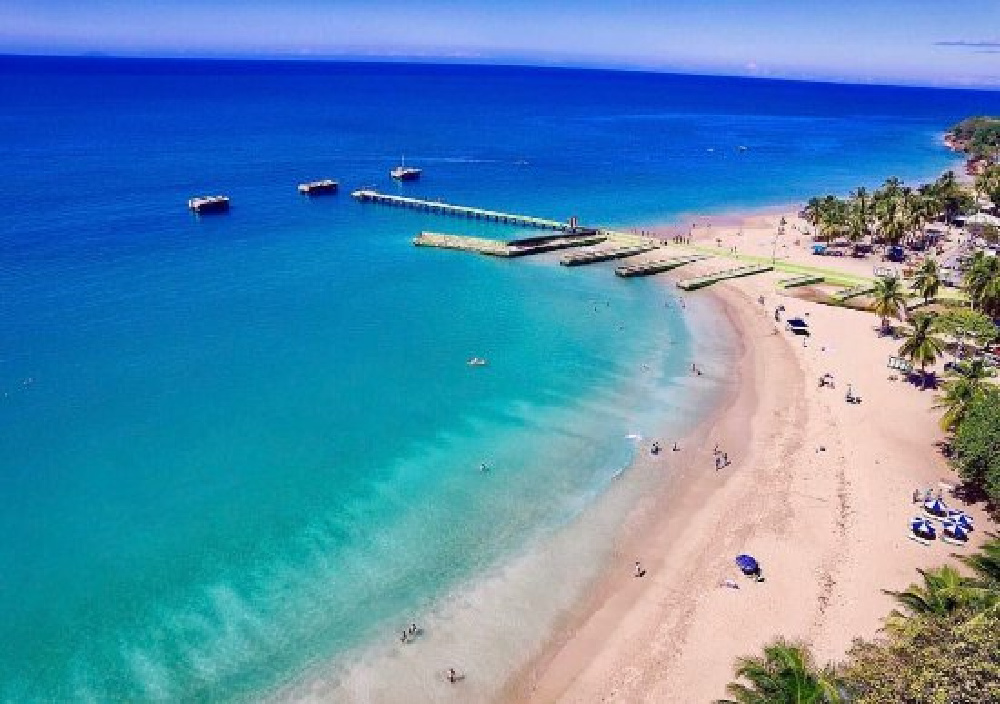 Another beautiful beach in Puerto Rico is the Playa Crashboat or the Crash boat beach, named after all the festive and colorful boats that "crash" on the shores of the beach.
Located in Aguadilla on the west side of the island, this beach has pristine turquoise waters, and waves that are ideal for surfing and diving!
This is also known for having island rave parties where you can sing and dance along to the rhythm of the music while enjoying the beauty and wonder of the nature of Puerto Rico!
Parque Isla Verde
This place is truly an ideal for people who are spontaneous and adventurous for it is popular for parasailing, banana boating, and riding jet skis. This place is not just to experience fantastic rides by the ocean, but it offers delicious foods that will truly make you come back again.
It has nightclubs and events where you can go to.
Visit this magical place perfect for a majestic and aquatic experience!
Jobos Beach in Isabela
A scenery like no other, the Jobos Beach in Isabela is perfect for people who love surfing, snorkeling, and paddleboarding. This is popular among tourists as well!
Waves are quite intense in this area, so make sure to surf and swim with caution especially when you are bringing children.
Balneário de Boqueron or the Boqueron Beach
A more relaxing and low-key vibe is what the Boqueron beach will give you. It has deep to light shades of blue water and white sands where you can dip your toes.
It has a tropical breeze and picturesque views that are so hard to resist posting on your Instagram.
Domes Beach
Another best surfing spot where many competitions happen takes place at this intricate and amazing beach!
This beach is also known as the Lighthouse beach and Maria's beach.
Playa Pelícano en Caja de Muerto, Ponce
Perfect spot for people who like to chill at small beaches while having to enjoy panoramic views to please their natural hearts!
This beach is ideal for people who love relaxation which you and your family can also enjoy!
There are also picnic spots and gazebos to visit in this place.
Combate Beach or Playa El Combate Beach
Surrounded by beautiful tints of water with grains of sands that are so pure and stunning, this immaculate place is a wonderful place to eat by the seaside restaurants and luxurious resorts.
Tortuga Beach
Coming from the small island of Culebrita, this beach also has breathtaking views giving you a tranquil atmosphere perfect for beach lovers.
It has crystal clear waters along with white sand. Plus, they have different species of turtles.
Mar Chiquita
One of the most unique spots in the Mar Chiquita is popular for creating a half moon-like opening surrounding the oceans perfect for a beach-worthy trip!
This gem is truly a natural wonder where you can enjoy sunsets and a breeze like no other.
Check out this Kitchen Toolbox! It has cheat sheets that will help you cook easier and faster.
If you're looking for a beautiful and peaceful beach to relax on, Puerto Rico is definitely worth considering. With miles of coastline and secluded beaches, you're sure to find the perfect spot to soak up the sun and enjoy some downtime. These are just a handful of some of the beaches of Puerto Rico!