As a fellow shopping fanatic, I love being able to try new products that come to my attention. That's simply the beauty of shopping.
There will always be something new, something different to invest in.
Some shoppers have certain needs, and others my just want to feed their curiosity.
There's nothing wrong with investing in something that could be what you've been searching for. The shopping world will continue to evolve bringing us the best of the best products.
With that being said, how about we dive into some incredible options that you may be interested in?
Take a moment to check out all of the following items I have for you below!
Rusted Orange Craftworks Co.
Personalized infinity wall decor signs make the perfect wedding or anniversary gift for your special someone.
The Infinity Sign Bedroom Wall Decor For Couples would bring a beautiful meaning to your bedroom!
Hang it above the bed on your bedroom wall for decor that says, "you will forever be my always". After all, the infinity sign is a symbol of eternity and intertwined hearts and love.
Every infinity sign is custom handcrafted and is approximately 9″ tall x 21″ wide. These infinity signs are DIY-flexible and they say flexibility is a sign of true love.
Not to mention three different styles to choose from: Date in Center Box | 2 Names | 2 Names with Heart!
Add color to match your bedroom with spray paint, powder coating, chalk paint, sanding, buffing, or use of vinyl tape.
ban.do Color Changing Sip Sip Tumbler
ban.do is a brand full of optimists who aspire to be better than great and less than perfect. Each of their products are developed with a purpose in mind.
That purpose is laughing, connecting, and designing things that make people happy.
Which is why their "Happy To Be Here" Color Changing Sip Sip Tumbler is a great product for you!
This tumbler looks amazing as it's designed with an insulated, double-wall structure infused with an acrylic finish. The lid itself is removable and also has a soft, flexible straw with a stopper!
It's an uplifting message and drinks companion all in one bundle.
MINNIDIP ARCHED CHECKER Luxe Inflatable Chaise Lounger
The idea of relaxing will always sound like the perfect thing to do. Well, how about bringing a little flair into your relaxation needs?
With the ARCHED CHECKER Luxe Inflatable Chaise Lounger you can do just that!
This inflatable beauty is a part of THE HOTEL MINNIDIP Collection. You can turn your backyard into the perfect hotel poolside oasis.
The arched armrest pillow brings allows you to sit up or lay down in the pool or poolside!
It's designed using non-toxic 10 Phthalate-Free PVC material guaranteeing to be the perfect fit for you when you're ready to relax in the pool.
Ponti
Finding the perfect vinegar for your household just became a bit easier for you.
Born and cherished in Italy, but appreciated around the world; Ponti is truly a household staple and chosen 2-to-1 against the competition.
Ponti is more than just Balsamic you can use it for breakfast to midnight snacks, it offers an extensive range of versatile balsamic vinegars of Modena.
You can choose from glazes, wine vinegars, cider vinegars, specialty condiments, and organic-certified products!
Not to mention this is the only Vinegar manufacturer in Italy to produce all wine vinegars in-house.
Sheila G's Brownie Brittle
Second Nature Brands, a national leader in snacks and treats, is announcing the latest innovation from the newest brand in its portfolio.
Sheila G's Brownie Brittle®, the original thin sweet snack, expands its candy inclusion offerings through a collaboration with Mars to create three delicious Brownie Brittle x M&M'S® Minis mashups!
Who said you can't enjoy a sweet snack with a special twist behind it?
Brownie Brittle M&M'S® Minis: For chocolate lovers, it's a new twist on the classic Brownie Brittle. With the same rich, chocolatey brownie taste, Brownie Brittle M&M'S® Minis is the perfect pairing of chocolate and crunch. Only 120 calories per 1 oz. serving.
Brownie Brittle Blondie M&M'S® Minis: For those who love a classic cookie combination, Brownie Brittle Blondie M&M'S® Minis has a rich Blondie Brownie taste with a brown sugar and vanilla base topped with crunchy M&M'S® Minis candy pieces. Only 130 calories per 1 oz. serving.
Brownie Brittle Gluten Free M&M'S® Minis: For anyone on a gluten free diet or who prefers the taste to its conventional counterpart, Brownie Brittle Gluten Free M&M'S® Minis has the delicious, rich Brownie taste of classic Brownie Brittle, only Gluten Free and topped with crunchy M&M'S® Miniscandy pieces. Only 130 calories per 1 oz. serving.
Cafe Grumpy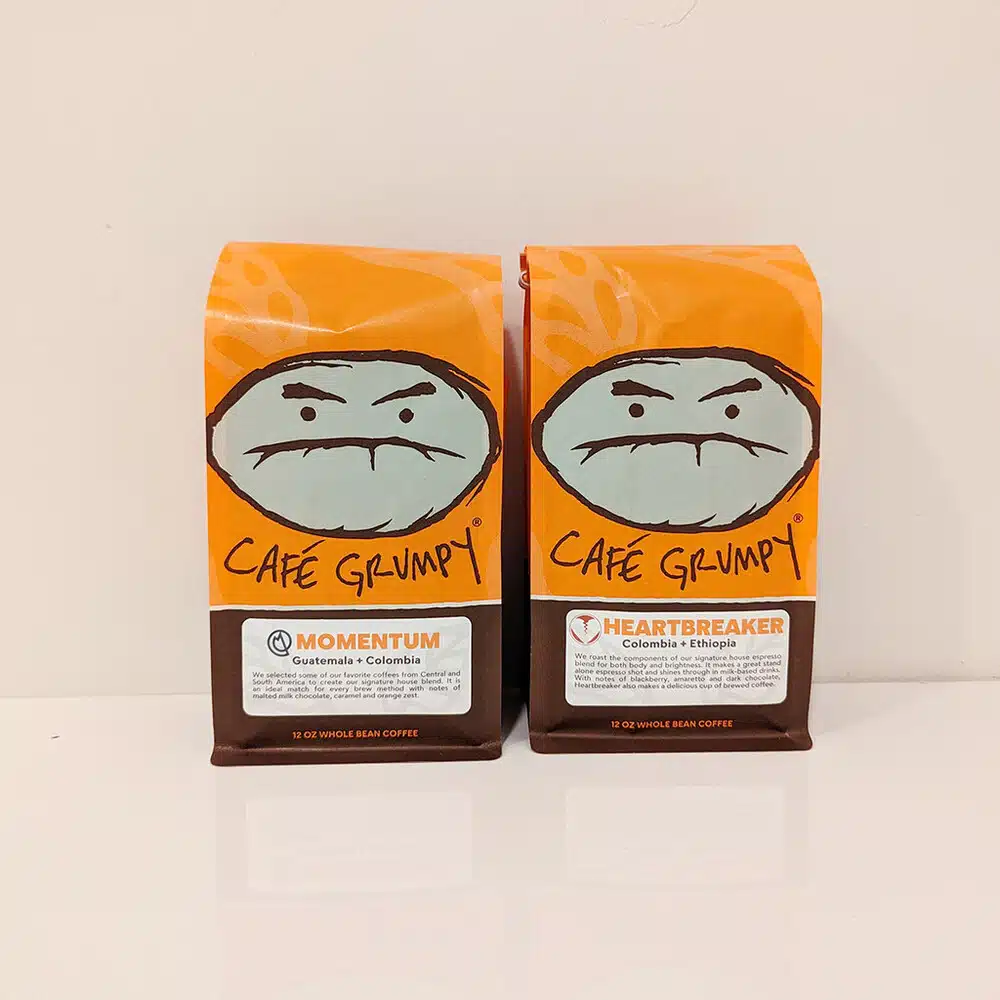 What would the mornings be like if you couldn't enjoy a coffee that's worth every cup?
Café Grumpy is an independently owned coffee company founded in 2005 by husband-and-wife team Caroline Bell and Chris Timbrell in Brooklyn.
Roasting is done in their Greenpoint facility on a vintage Probat roaster.
Now, there are 12 Café Grumpy locations with their signature frowning coffee bean logo, in Manhattan and Brooklyn, as well as two locations in Fla, and another in the Whole Foods Market in Weehawken, N.J.
Not only do they offer incredible coffee, but they have stylish mugs fit for your morning endeavors.
StoveShelf
Are you interested in giving your kitchen a clean and tidy look? If so, you may want to consider the one and only StoveShelf.
That's right, this is a magnetic shelf that quickly attaches to your stove, providing sturdy storage space for condiments, spices, oils, and decor!
Measuring 30″ x 3.5″ x 1.5″, StoveShelf is designed to fit both flat and slightly curved stoves.
Store all your condiments and spices without worrying about the shelf giving way. StoveShelf is fitted with silicone-encased neodymium magnets that keep it securely attached while protecting your stove.
It's the perfect addition that goes with any kitchen design!
Le Portteus Red Wine Decanter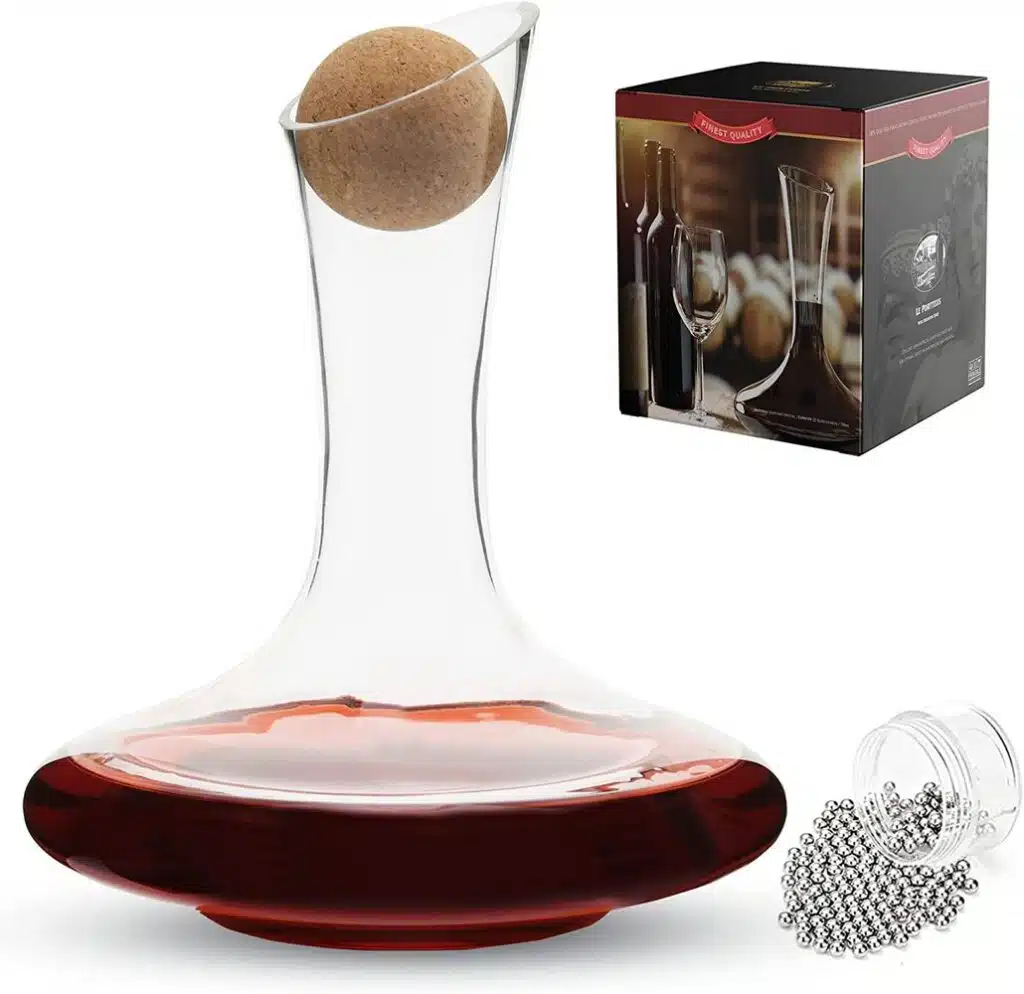 Add a touch of luxury to your dinner table and create a beautiful home decor with this ultra-modern wine decanter!
The Le Portteus Red Wine Decanter, is a thoughtfully designed hand-blown glass piece that rethinks the wine-sipping experience.
Equipped with elegant cleaning beads, a cork, and stopper ball for efficiency, product use increases oxygen exposure and releases natural aromas and deep flavors.
Le Portteus improves the taste by softening astringent tannins and releasing fruit and floral notes.
With its high-quality crystal, slanted spout, it holds a full 750 ml wine bottle and can be used to spice up any kitchen counter, bookshelf, bar, library or serving area.
The wide bottom makes it an effortless pour, eliminating the frustration of wine drips and stains.
Indulge your taste buds with peace of mind and clean with ease since the beads are tough on grime, removing buildup without leaving a scratch.
Joy Creative Shop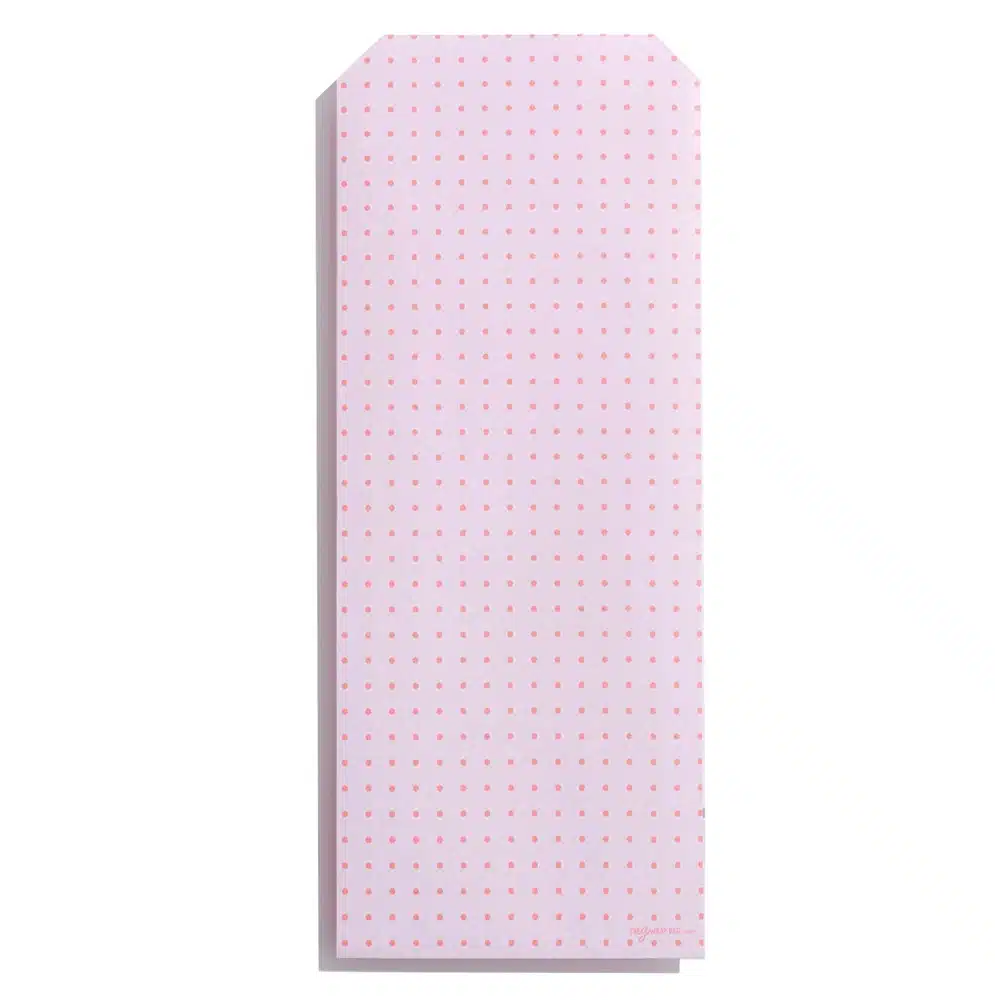 If you are attending a dinner party and want to bring a bottle of wine for the host – the gWRAP BAG from Joy Creative Shop is a FUN and FUNctional solution for elevated gift wrapping with ease!
Joy Creative Shops' mission continues to make you look good and we want you to have it 'together', or at least appear to!
This bag takes simplicity and style to the next level – because the simplest things inspire the greatest joy!
Joy Creative Shop is all about making it easy to spread joy and gratitude with its personalized stationery & packaging collection of fun and functional creative items.
The small woman-owned business, based in Dallas, designs and makes all its items in the U.S. Founder and graphic designer, Steph Weibring, has poured her heart and creative talents into her brand.
Honey Lemonade
If you're looking for a phenomenal brand that brings you trendy and premium gifts for babies, kids, and even moms, then look no further than Honey Lemonade.
This brand was built with a dream to create something that could continuously generate profit to support charity. More specifically, the Childhood Cancer Research charity!
You could grab the perfect gift today for your baby, mama, toddler, or even yourself.
They have donated over $20,000 to different organizations to support Childhood Cancer Research!
The Peach Floral Adult Throw Minky Blanket is a beautiful and cozy option that you don't want to pass up on.
Mane Label Hair Co.
Mane Label Hair Co. brings us a solution-based and time-saving must-have item that all women are searching for.
Introducing, the Sway, the new healthy way to curl your hair!
The Heatless Velour Curling Ribbon comes in multiple colors, materials, and sizes for both women and children, made of super soft bamboo viscose/plush cotton velour and with eco-friendly dye, right here in the US.
And the extra long ribbon keeps your hair shiny and strong, without the frizz and breakage you get with heated curlers.
Wicked Sensual Care
No matter who you are, skin care will always be a thriving field of importance.
In response to the past few years of touch deprivation, Wicked Sensual Care has released three new sensual massage creams which make perfect Mother's Day gifts.
Introducing the incredible trio of Stripped + Bare, Sage + Sea Salt, and Orange Blossom + Patchouli Sensual Massage Cream!
You are always going to want your skin to not only be healthy, but feel amazing too.
That's exactly what Wicked Sensual Care wants to offer their fellow skincare lovers. Each of these sensual massage creams will satisfy your craving for touch.
They're perfect for sensual massages with a partner or as an everyday lotion.
Baloom Stretching Massager
Fatigued? Sore? Stressed? Tense? Start and end each day with a relaxing and rejuvenating yoga session on the Baloom Stretching Massager.
The dynamic compression and expansion of 22 air chambers provide a full body yoga session to improve blood circulation and optimize stretching to release muscle tension and soothe sore and aching muscles.
Pre-programmed stretches emulate yoga sessions that enhance flexibility and mobility while improving inner balance and strength.
Add the heat therapy feature for an even more relaxing and soothing experience.
Baloom has numerous features and options to customize and maximize your experience.
Love&Crafted
While jewelry might seem like a cliche when it comes to anniversary gifts.
However, Love&Crafted puts more meaning to a ring or necklace by creating handcrafted jewelry that symbolizes deeper feelings through unique designs and personalized messages.
Jewelry is something that will always be around.
Love&Crafted is a brand that was originally created by a couple in love as a way of communicating appreciation. But communicating that appreciation during a long-distance relationship for others in love!
Each of their pieces is handmade from high-quality crystals and metals while also staying hypoallergenic.
They are also designed wth either 18k gold or sterling silver.
One standout feat, each piece is accompanied by a note explaining the symbolism for your significant other.
Foster
Let Foster help you style your next event with a touch of class and cheer.
From paint to product, you'll marvel at the details that liven up get-togethers, like collegiate playing cards for graduation gifts paired with napkins and cups for your favorite school.
Planning an outdoor wedding?
Foster has the accessories to decorate a garden wedding with beautiful reusable cups that guests can take home as favors.
Fostering encouragement, relationships, and love, the mother-daughter founders Kim and Frances Hackney design small pieces of beautiful art with Texas-sized appeal with their brand, Foster.
You can shop for a number of unique looks or even by collection featuring some of the following:
Brighter Days Floral Cup Set ($18/10-pack) – The brighter days are here. These fabulous floral, plastic reusable cups are reusable. Enjoy this little piece of art in the palm of your hands at your next gathering. Safe for hot and cold drinks. 16 oz.
Lake Days Beverage Napkin Set ($10) – Red, white, and blue, these napkins are perfect for you! Enjoy the summer holidays, light some fireworks, and gather with friends. From Memorial Day to July Fourth, these napkins are a festive way to eat treats or decorate.
And Many More!
Pure Micronutrients
When it comes to the brand Pure Micronutrients, you can expect something incredible.
They believe that science + nature can help unlock happiness and longevity.
So they've created result-driven, pure supplements and solutions to support wellness and nourishing our health aspects of life.
Keep in mind that life will always evolve, so there are going to be many changes brought into the light. It helps to have the best options for nutritional needs when you take on those changes. You're sure to find the perfect bundle just for you!
With over 500,000 bottles sold and thousands of 5-star reviews, this is a brand that shouldn't go overlooked.
Curél Japanese Skincare
Who doesn't love a double cleanse?
Especially when the duo features an oil cleanser that turns milky and erases all traces of makeup, followed by a purifying foaming facial wash from Curél Japanese Skincare.
#1 in Japan for dry, sensitive skin, this moisturizing skincare line refills the skin's ceramides and protects the skin barrier from elements as it's replenished with hydration.
The brand includes an affordable dupe of cult-favorite water essences and a double cleanse that effortlessly removes waterproof makeup.
InstaNatural
Let's be honest, doesn't everyone deserve to have the best feeling skin possible? With access to natural and safe skincare products anything is possible.
That's where InstaNatural comes into the picture.
This vitamin C-powered collection infuses botanical extracts with potent actives for effective and affordable skincare.
Their Vitamin C Cleanser has over 12K 5-star ratings on Amazon, and one is sold every 5 minutes.
InstaNatural is sold on Amazon and at InstaNatural.com.
Red Toolbox's Stanley Jr. Birdhouse Builders Kit
Challenge your children's imaginations while keeping them active and engaged with this fun and creative wood bird feeder kit.
Help develop their hand-eye coordination, fine motor skills, problem-solving skills, and sense of imagination and creativity while building their very own bird feeder from scratch!
Each bird feeder starter kit includes pre-cut wood pieces, screws, nails, sandpaper, 4 paints, a paintbrush, and easy-to-follow instructions for constructing their bird feeder.
Girls and boys alike will fall in love with their finished project and enjoy a sense of accomplishment when they see their wood bird feeder kit hanging by the window or in the backyard.
Red Toolbox's Stanley Jr. 5 PC Toolset
Do you see a budding engineer or handyman in your kid?
Support your kid's dreams by strengthening their construction skills and encouraging them to take on the actual job with their Own Authentic Construction Toy Tool Set from a long-trusted brand of high-quality power tools for kids— Stanley Jr.
Thanks to this high-quality set of constructive tools, fun and learning have never been as exciting as it is now with the possibility of kids doing the actual construction work with their parent or grandparent.
Teach kids early on about safety (with the goggles that come with the set) and help them understand geometrical concepts with the 10-inch long tape measure.
Sensate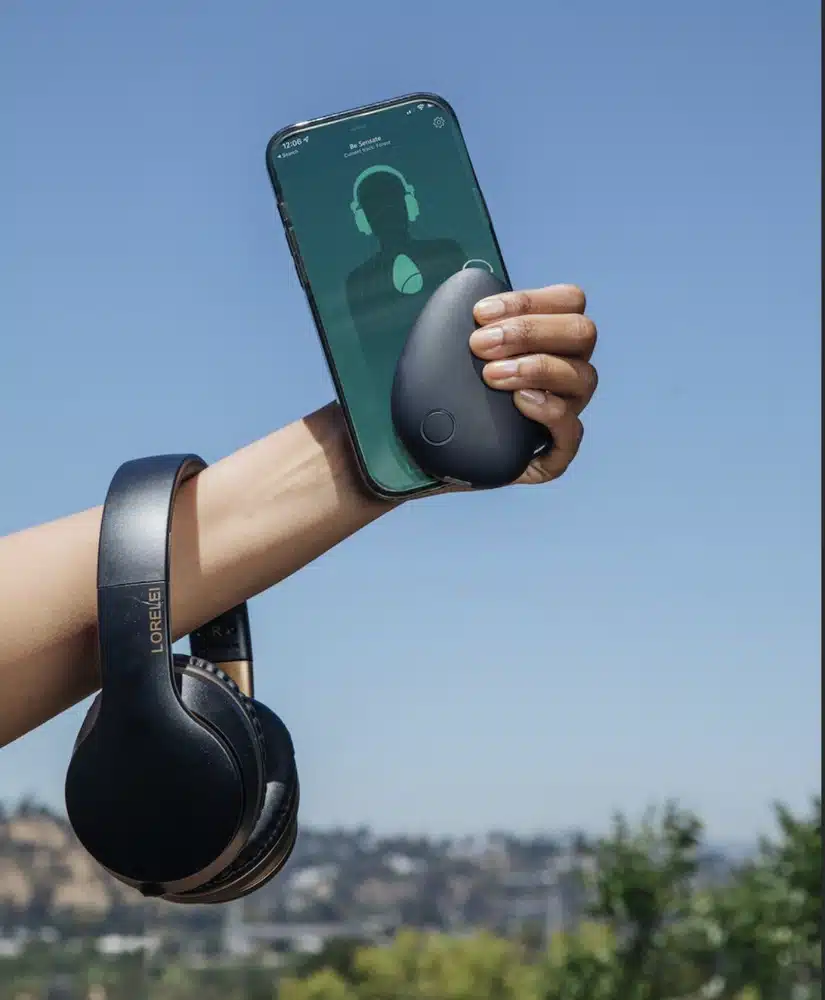 Do you dread sitting on airplanes?Is it hard for you to settle down after a busy day of traveling or sightseeing?
Embark on your next Spring adventure with Sensate – the stress response regulating device that delivers calm on the go!
Its combination of gentle, infrasonic waves of vibrations with dynamic soundscapes teaches your nervous system how to better handle your fight, flight, or freeze response.
Developed by physicians and tested in clinic, Sensate uses infrasonic therapy to help your body's nervous system recover from daily stresses.
Their patented technology combines audible and tactile resonance to deliver immediate calm and build stress resilience over time.