You Can Fit Almost Everything in a Crapchute Bag!
Well, it is almost summer and the big thing seems to be "tote bags" this year. However, there are so many out there to choose from. Crapchute bags are so strong, durable, and beautiful. No more worrying about things ripping and falling out of your bag at the beach. You can fit all of your towels, sunscreen, books, and whatever else you want to take with you.
The beautiful Crapchute bags that I received are not just pretty, they also serve a purpose. When I say they hold everything, I'm not kidding. They are made of a parachute fabric, making them one of the strongest bags I have ever used! They are also water-resistant and fire retardant. If somehow you are able to tear a hole in the bag (good luck!), the fabric will make it so the hole won't rip any farther. No matter what "crap" you put in your bag, it will stay dry and safe.
These bags are so strong, I am willing to bet I could put my granddaughter in it! (haha), I certainly wouldn't recommend it, but I bet it would hold her! So now that we know how amazingly durable these bags are, let's talk about how gorgeous they are. The two I received are so pretty. One is yellow and has pineapples on it, and the other is a bright red, with detailed tigers on it. They are so stunning! I've already had someone ask me about it.
Crapchute bags are not just about gorgeous bags either. They donate their time and money to cleaning up our oceans. Oh…and did I mention that the huge bag folds into a tiny pouch that you can carry anywhere? This bag is amazing! The more I use it, the more I love it. I think you will too.
Take Along Some SkinKick Skincare in Your Bag!
Oh boy, ladies and gents do I have some awesome, all-natural skincare for you! SkinKick Skincare has some amazing products. I just tried the SkinKick Face Wash and the Blemish Relief Cream and I'm in love! I am a 50-year-old woman who still breaks out, so when I had the chance to use this, I jumped. The way this skincare makes my face feel is indescribable. Soft isn't even close to the word I'm looking for. This stuff is so amazing. My favorite thing is that the ingredients are all natural, and I love the peppermint extract in it. It gives you that "WAKE UP" feeling! We can all use that in the morning.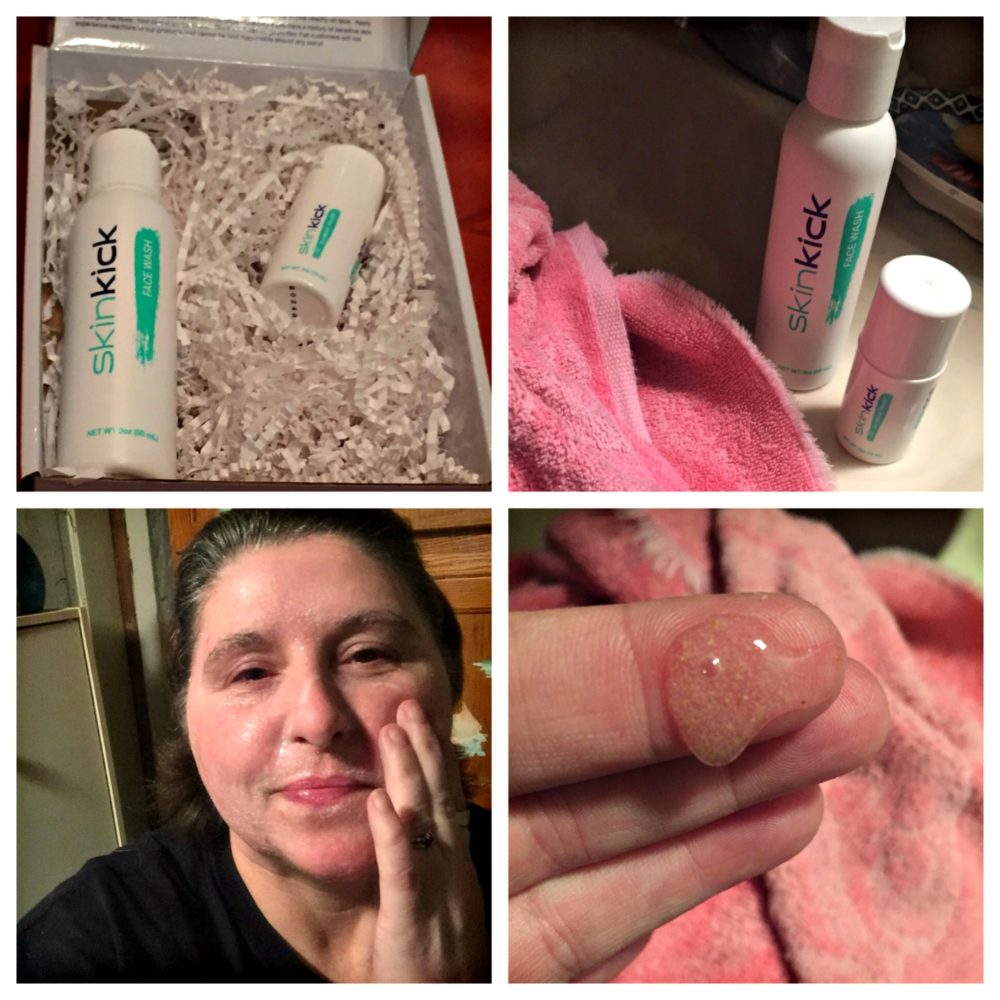 So if you are going on a trip out of town, to the beach, or to a friend's house, use your Crapchute bag and don't forget your SkinKick Skincare!
Connect with Crapchute Bag/ Facebook/ Instagram/ SkinKick/ Facebook/ Twitter/