My daughter has a SLIME addiction, I swear! Every day she is making a new batch. She plays with her slime almost every hour she is at home. The first thing she does after giving me my morning hug is checked on her slime. She will open almost of her containers then will decide what color to make for the day. She tells me that SLIME MAKING is fun and stress reliever. Well if it's a stress reliever maybe more adults need to get into the CRAZE.
Every time we go to TARGET or the grocery store we need to check the GLUE aisle. Most of the time the shelves are empty, and then we have to stalk the store until they re-stock Elmer's Glue. She also pointed out to me that I can buy Elmer's on Amazon (GALLON) so that way it will save us time and money, her words!
The other day we walked into TARGET and saw this beautiful display
So of course, she got me, and I ended up buying her a couple of weeks (haha) worth of glue and solution.
As a parent, I want to encourage her in projects she likes, but I'm not a fan of BORAX so when we found this recipe I was super excited.
ELMER'S SLIME RECIPE AND INSTRUCTIONS
Ingredients:
1/2 TBSP of Baking Soda
1 TBSP of Contact Solution
4 fl oz Elmer's White school glue
Your choice of food coloring
Steps:
Find a bowl, cup, or plate to mix your slime in
Pour out the entire contents of a 4oz of Elmer's school glue into the bowl.
Add ½ TBSP of baking soda and mix
After mixing, add your choice of food coloring.
Mix and add more food coloring until you get the color you want
Add 1 TBSP of Contact solution
Mix until slime forms, and it begins to get harder to mix
Take the slime out and begin kneading with both of your hands
If needed, add ¼ TBSP Contact solution to make the slime-less sticky.
Adult supervision is required; This project is not appropriate for children under the age of 3 years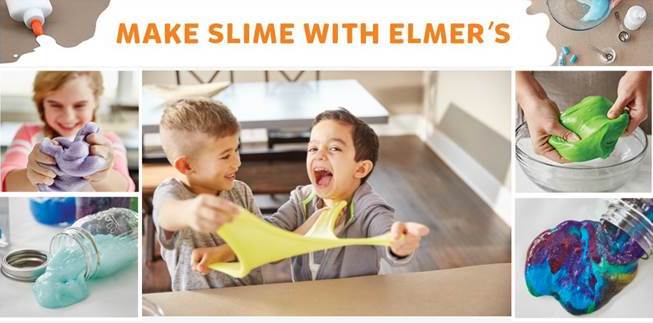 My daughter made the rainbow colored slime by separating 5 sections of the above recipe and put them into different containers then added the food coloring to each container. Then kneaded each one then put them all together into one container.
Do you have a SLIME LOVER in the house? If so you need to try the above Elmer's Glue Slime recipe. It is my daughter's favorite recipe now!
Follow Sahara's Slime Instagram Page- https://www.instagram.com/saharaxslimes/
Check out ELMER'S for more recipes and FUN!