Everyone knows the challenges of shopping during the holiday season.
The idea of preparing for the holidays in general can be a ready brain shaker.
Although, we all manage to make it through the madness pretty well.
What's important is that you have a go-to list of holiday gift idea that could go to anyone this year.
So, how about we dive into a number of options you may be interested in considering this upcoming holiday season.
Smoke Baum Pellet Grill
Food is the core of holiday gatherings.
Make Mom's job a little easier this year and get her the gift she didn't know she needed–a Smoke Baum Pellet Grill.
These things are the Apple of smokers.
Utilizing the latest technology and the easiest of operations, these babies make Mom's turkey, goose, fish, duck, even vegetables and mac & cheese the tastiest and moistest they've ever been!
The best part? Pellets come in a variety of flavors and can be flavored with Dad's favorite spirits!
Yes, that's right, Dad can enjoy the tenderest bourbon burger ever made.
The Great Wisconsin Steak Company
The Great Wisconsin Steak Company specializes in Wisconsin-grown, grass-fed steaks that are wet-aged using a 100-year-old cooking technique that preserves freshness, eliminates waste, retains tenderness, and shortens cooking time.
Sous vide, translated from French to mean 'cooking under vacuum', is a slow-cooked then frozen method that tenderizes and seasons the meat, boosting the flavor.
Once thawed, steaks are cooked and ready to eat in as little as 6-10 minutes.
teetherpop™
The babies may be getting restless.
Maybe they are teething, but the hustle and bustle of dinner is no longer distracting them.
Help keep them entertained with a treat of fine purées, homemade smoothies, freshly-juiced fruits and veggies, Mother's milk, water, or baby's favorite drink in their teetherpop®, the patented, fillable, freezable teether.
When frozen, teetherpop offers soothing relief for teething babies and is a less messy substitute to traditional popsicles for toddlers.
It is also a creative option for storing breastmilk.
2020 has been stressful enough, let's do all we can to provide calming relief to the little ones–and the new parents!
The Floral Preservation Co.
Ladies, are your holiday centerpieces looking a little droopy?
Don't toss them! Preserve your petals with David Tutera-endorsed The Floral Preservation Co., a proprietary method of preserving flowers and the memories attached to them.
The DIY Flower Drying Kit includes microwave directions, quick-dry papers, reusable drying boards, holding clips, wrapping cord, a special finishing spray, and shaping tweezers.
Also available is a line of floral keepsake albums with airtight sleeves to store the dried flowers, an additional 4 X 6 sleeve for a photo of the event/memory, and a notecard to journal about the special moment.
Dermworx
There are too many companies that forget about the "care" part in "skincare".
DermWORX brings a refreshing formula to professional skincare: highly effective, clinical-grade solutions that are fairly priced.
The DermWORX products have been trusted and sold by thousands of physicians and skin health professionals across the USA and Europe.
It's our greatest pride to partner with some of the world's most respected clinicians.
KARIBO
KARIBO is one the first companies to have its CBD-infused beauty products – moisturizers, hand and body lotions, face masks, hydrating gels, etc.
These prducts are sold at CVS Pharmacies and other retailers.
They are affordably priced, ranging from about $10 to $30.
This line features a number of great products including: CBD-infused Face Mask, CBD-infused Hand & Body Lotion, CBD-infused Moisturizing Cream, and more!
mintedLeaf

mintedLeaf offers a range of CBD-infused health products that offer relief from stress and frustration, promote restful sleep during occasional periods of sleeplessness, and reduce inflammation associated with intense exercise.
These products range from about $20 to $90.
This line features a number of great products including: CBD Oil – varying MG, Cold Therapy Menthol 4% Pain Relief Gel + Hemp Extract, Odorless Histamine Dihydrochloride Pain Relief Cream + Hemp Extract, and more!
ettitude Starter Kit
Unpack 3 bestselling essentials bundled in this Starter Kit – Standard pillowcase set, Waffle bath towel, Unisex eye mask.
Bamboo Lyocell Waffle Bathrobe
Boasting all of the cooling, sustainable silkiness of their signature CleanBamboo™, their light-as-air waffle weave is luxuriously soft, wrapping you in an at-home spa experience.
Available in two classic and gender-neutral colors, perfect for him or her.
Bamboo Lyocell Wellness Kit
Get consciously comfortable with this CleanBamboo™ wellness essentials kit.
This lightweight and convenient kit comes with everything you need for a calming night in.
Meditate and relax with these soothing lavender eye pillow.
Then drift off to a restful sleep with the help of these silky-soft and lightly padded CleanBamboo™ eye mask and matching CleanBamboo™ pillowcase.
New Striped Bamboo Lyocell PJs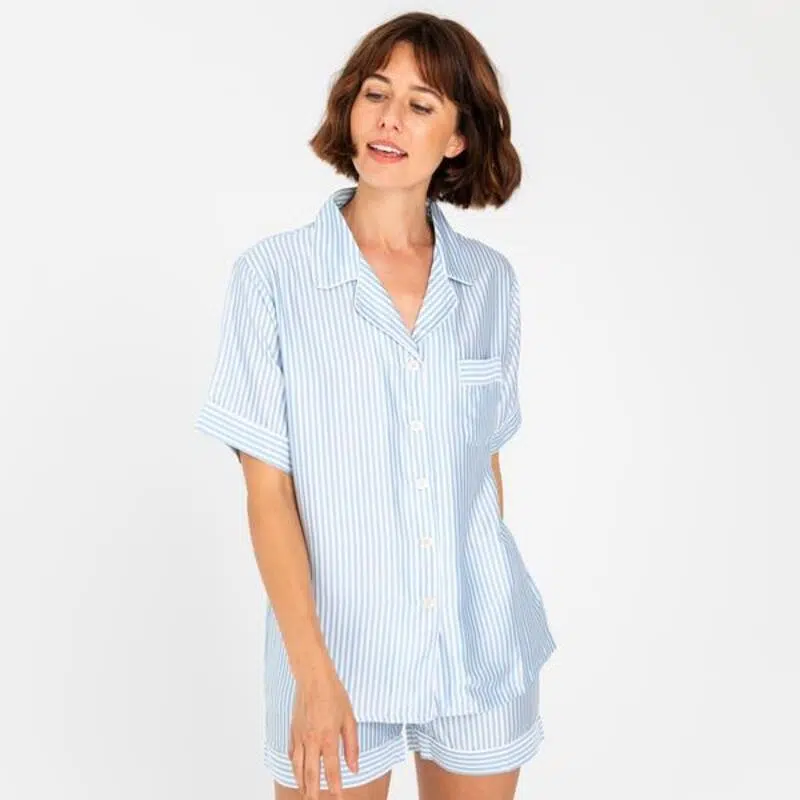 Slip into pajamas so silky-smooth, they're the next best thing to wearing nothing at all.
Fashioned from their signature CleanBamboo™, this Short Sleeve PJ Shirt looks as cool as it feels against your skin.
With classic tailoring and contrast piping, it's going out-worthy, but mostly loves to lounge.
Make it a match with these matching PJ Shorts.
Bamboo Lyocell Sheet Set
Tuck into CleanBamboo™, these signature bamboo lyocell fabric made famous for its silky-soft, cooling, and sustainable qualities.
Made from 100% organic bamboo and performance tested to support your comfort and wellness, these sheets are hypoallergenic, thermoregulation, and Oeko-Tex Standard 100 certified.