If you are looking for a family-friendly car an SUV is a great option.
SUVs offer fantastic practicality with space for the whole family and are some of the safest cars too.
Plus, SUVs are one of the most popular cars on the road and there's plenty of choice too.
So, whether you are looking for a seven-seater or something more compact, you are sure to find a family SUV that ticks all the right boxes.
When choosing the best model for your family, it is a good idea to start by thinking about what you need to look for in a family SUV.
Space
Many people considering buying an SUV are doing so as they need a bit more space, but you need to make sure this space works for you.
For some families, a five-seat model like the Kia Sportage is more than up to the task with ample cabin and boot capacity.
While a more compact model like the Peugeot 2008 is ideal for those who love the look of an SUV yet want the maneuverability of a smaller car.
If your family is bigger than five, or you regularly carry extra passengers then you will need a seven seat model.
Many seven-seat SUVs feature seats that can be folded down or completely removed when not in use to improve versatility.
Boot capacity
When it comes to space, you also need to think about the boot capacity to ensure you have the room you need to carry everything day-to-day and on special occasions.
If you are looking at seven-seater SUVs, you need to consider what capacity is available when using all the seats.
Plus, you may also want to consider how the seats fold down when you are not using them.
Safety & security
A key priority for many family car buyers is safety. Fortunately, many modern SUVs come with a five star Euro NCAP rating, giving you greater confidence on every journey.
For the safest models, you should look out for advanced driver-assistance functions like autonomous emergency braking (AEB).
AEB enables the car to brake for you should you fail to react in time.
Some SUVs come with these features as standard, while others offer them on high-spec models or as an additional safety pack.
Therefore, you need to check the specification carefully to ensure the car you choose comes with the safety functions you need to give you greater confidence behind the wheel.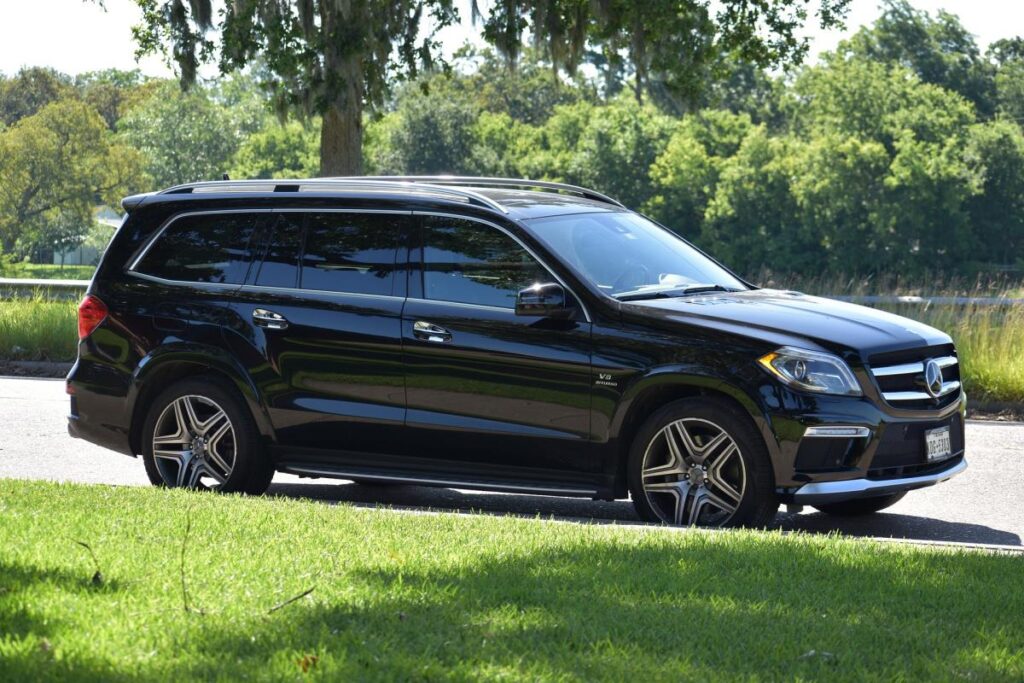 Fuel Economy
Although SUVs are great, there is one drawback, and that is fuel economy.
There is no escaping that bigger cars require more fuel, but the good news is you can choose the most economical model for your circumstances.
So when it comes to fuel economy, you should start by thinking about the best fuel for your driving.
If you mainly complete short drives around town, then petrol or hybrid is likely to be the best option.
However, for those who spend a lot of time on the motorway, diesel may be more cost-effective.
Technology Features
With the whole family in tow, journeys can be more stressful, so you also need to think about the features that will help your day run more smoothly.
You may want to consider the likes of keyless entry, so you don't need to dig your cars out of your bag, a powered tailgate for hands-free loading, and parking sensors for effortless maneuverability.
A must-have function for many families is an infotainment system with smartphone mirroring as it enables seamless connectivity so you can stay in touch on the move.
While dual-zone climate control helps keep everyone comfortable.
Ride-Quality
Comfort on board is important to think about too. SUVs with softer set suspension are likely to be more forgiving in urban environments soaking up bumps in the road.
So although sportier models may look the part they can result in a bumpier ride. You may also want to think about avoiding upgrading to larger alloy wheels, as this can impact ride comfort.
Child Seats
If you still have little ones in car seats, you need to think about how these will fit into the car.
Models with a wider base are your best bet if you need to put three seats side-by-side.
Then you need to consider Isofix mounting points. Isofix mounting points enable you to fit your car seat in the safest and most secure manner.
Although many SUVs come with Isofix mounts as standard many only come with two points on the outer two rear seats.
Interior comfort
When it comes to the interior, it is a good idea to choose hardwearing fabrics.
For example, if you have little ones who get sticky fingers on everything, then opting for leather or pleather is a life saver as you can clean it easily.
What's more, high-quality fixings are a must as they are more resilient to the rough and tumble of daily family life.
Reliability
Buying a car with a good reputation for reliability is essential when looking for a family-friendly SUV.
The last thing you want is to have problems on the school run. You can do some online research to find out more about the reliability of a model.
Many automotive publications rank cars for reliability to give you a good overview.
However, you may also want to check out independent reviews from existing owners to get an idea about any issues real owners have had to contend with.