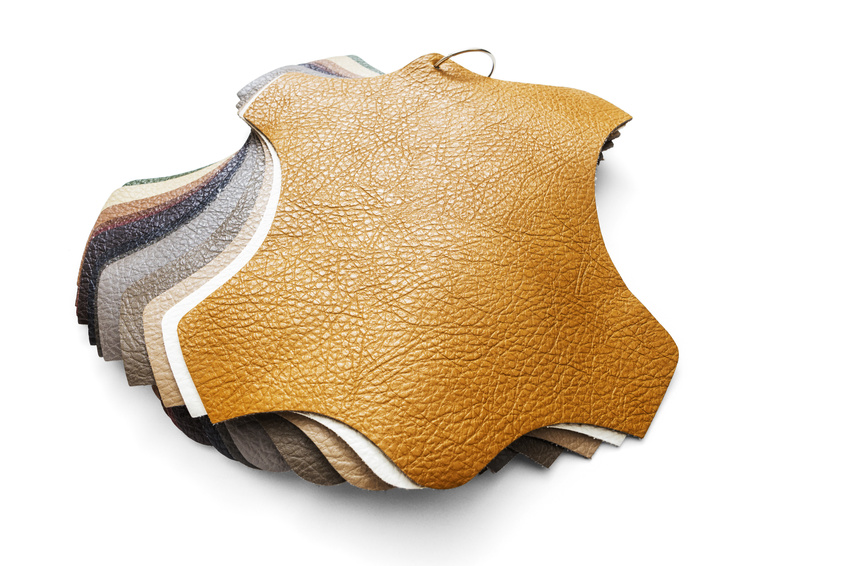 For some of us, there's nothing like the well-worn luxury of leather. Once the leaves start to change, we start to scour the retail racks and our favorite websites for a leather jacket that provides the perfect fit. And while furniture made of this material requires a bit more maintenance — your typical couch or sofa made of cow hide should be conditioned every six months or so — that doesn't stop us from wanting it in our living rooms. And yet, we might feel the familiar pangs of guilt when we're reminded that gentle animals had to sacrifice their lives so that we can brave the autumnal chill or relax in front of the television set. But it doesn't have to be that way — vegan mushroom leather is here.
Leather alternatives have been around for quite some time, which appeals to those who can't bear to buy the real thing. But in some ways, many of those alternatives may be just as bad for the environment. While they may not contain animal products, they do often contain PVC or polyurethane — plastic-based materials that are sometimes manufactured using non-sustainable methods and that won't easily break down in an eco-friendly way.
Recently, however, science and fashion have worked in tandem to create another option: mushroom leather. It turns out that fungi makes for a pretty good leather substitute, and it's one that some brands have really embraced.
Biotech startup Bolt Threads has been working on their plant-based fibers for quite some time. They've just debuted a new material they're calling Mylo, which is grown in the lab using mycelium (the root systems of mushrooms). It's a complex process, and while it's far more sustainable than the creation of traditional leather, it's certainly time-consuming. The company's first product — a hand-stitched, unisex tote bag made of vegan mushroom leather — was expected to go on sale back in June, but delays in the lab pushed the on-sale date back to early September. As Bolt Threads' VP of product development, Jamie Bainbridge, explained to FastCompany.com, "Science never respects timelines."
That's a challenge for apparel and accessories companies, particularly at a time when fast fashion is still very much en vogue. But the startup is determined to persevere. They were finally able to begin their Kickstarter campaign, which allows customers to pre-order the vegan mushroom leather bag. Around 17% of crowdfunding donations are made on mobile devices, and users who want to give a little more to Bolt Threads may even be rewarded with a factory tour. That said, the bag alone is $400 (or $500, if you want a personalized embossment). That's a bit steep for some, but when you consider that mushroom leather is reportedly just as durable as the real deal, you might be willing to fork over that hard-earned cash. Just keep in mind that the bags probably won't be delivered until next year — so if you were hoping to impress your friends with your new fake leather bag this fall, you're going to have to wait.
And if you're not willing to bide your time? German footwear brand Nat-2 is changing the shoe game with its 'shroomtastic sneakers. The vegan shoes are comprised of mushroom leather and a microfiber suede — a material made from recycled plastic bottles. Considering that Americans use 2.5 million of those bottles every hour, the company probably won't run out of this material any time soon. The sneakers also contain rubber, cork, and eco-cotton. That all sounds good and eco-friendly, but it gets better. Because the fungus used is a natural antiseptic and anti-bacterial, that could mean excellent things for your health. Plus, the sneaker is free of chemicals and gluten (if you care about that sort of thing in your footwear) while being organic and, of course, vegan.
But considering how labor-intensive these sneakers are — it reportedly takes a long time to grow and harvest the mushrooms, and the shoes are made painstakingly by hand — they won't come cheap, either. That said, U.S. consumer footwear spending is $28.75 billion per year, so there are likely some eco-conscious customers out there who won't mind paying more for sustainability and style.
Of course, if you don't feel like spending hundreds on vegan mushroom leather, you can just buy a truly vintage leather jacket or some second-hand sneaks. That'll reduce excess waste, eliminate the need for plastic alternatives, and probably save you some cash.