Valentine's Day should be for everyone! Even if you're an… er… poop Emoji?
These V-Day cupcakes are entirely inspired by the Poop Emoji… my favorite one! He's just so cute and not-so-stinky considering he's a… well, you know.
All jokes aside, these cupcakes have a surprise Nutella filling. Extra chocolate, who's in?! If you're trying to think of a treat to whip up for this year's Valentine celebrations, try and make these! They are so easy to put together and will put a smile on anyone's face!
Tell me what your plans are this Valentine's Day! Which emoji is your all-time fave?
Ingredients:
12 vanilla cupcakes
¾ cup Nutella/hazelnut spread
1 stick butter, softened
2 cups icing sugar
3-4 tbsp milk
2 tbsp cocoa
1-2 oz. white fondant
1 oz. black fondant
1-2 oz. red fondant
Yields: One dozen decorated cupcakes
Directions:
Allow your cupcakes to cool completely before decorating.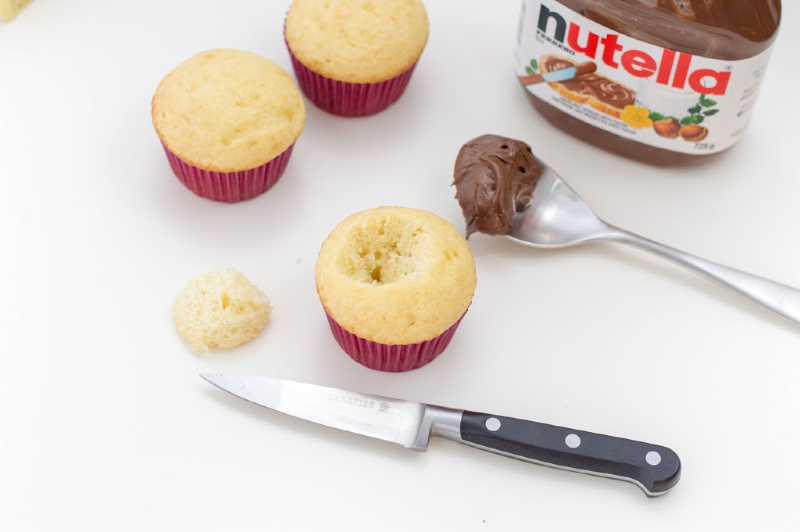 Using a paring knife
, cut out the center top of each cupcake and remove. Save the tops – you'll need them to top your cupcake after the next step.
Fill each cupcake with a tablespoon of Nutella/hazelnut spread. Top with the piece of cupcake you just trimmed off.
In a medium-size bowl, beat together butter, icing sugar, milk and cocoa to make your buttercream. It is best to use an electric mixer
for this.
Beat the ingredients on slow and gradually increase to high. Once the buttercream has formed, scoop into a piping bag and frost each cupcake.
Form 24 small ovals with your white fondant. Shape 24 tiny black circles with your black fondant and place one on each white fondant. These will be your poops' eyes. Place two on each frosted cupcake.
Form 12 ¼ inch spheres from your white fondant. Form them into ovals and then give them to pointed ends. These will act as your poops' smile. Place one on each frosted cupcake.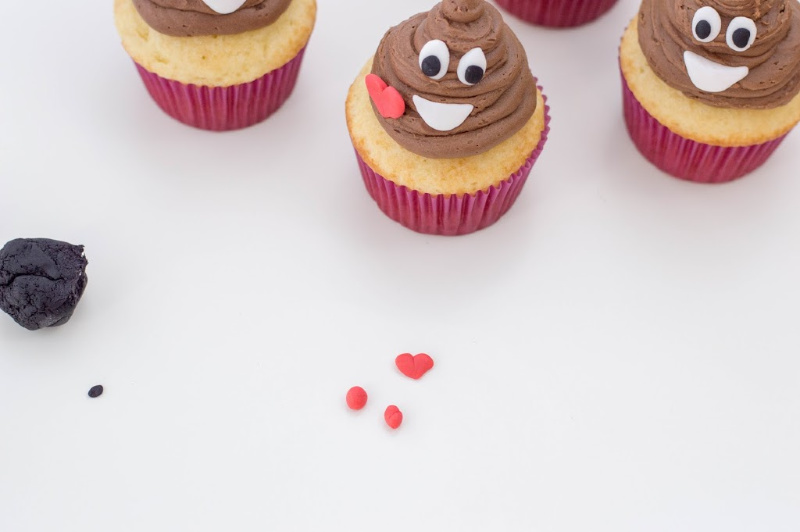 Make fondant hearts out of your red fondant. Place 1-3 on each cupcake.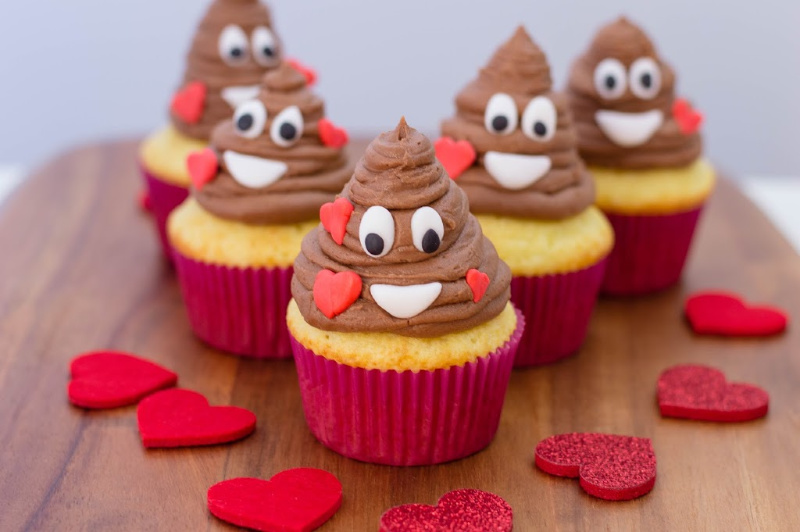 Serve and enjoy!
Ingredients
Vanilla cake mix + ingredients to make them

2

sticks butter

softened

4

cups

confectioners' sugar

3-4

tbsp

milk

3-4

oz.

pink fondant

3-4

oz.

purple fondant

X-shaped cookie cutter

O-shaped cookie cutter
Instructions
Prepare and bake your cupcakes according to the mix's directions. Most cake mixes yield 2 dozen cupcakes.

Cool your cupcakes before decorating.

To begin the decorating process, make your buttercream. In a large bowl and using an electric mixer, beat together your butter, confectioners' sugar and milk. Start on low and gradually increase to high.

Once the buttercream is smooth, scoop into a frosting bag and pipe out a dollop of icing on each cupcake.

Roll out each fondant color so that it's about ¼ of an inch thick. Using your cookie cutters, cut out 12 X's of each color and 12 O's of each color.

Place the fondant shapes on each cupcake, alternating colors. Serve and enjoy!
Tried this recipe?
Follow Us @kelly_Reci_