This is a sponsored conversation written by me on behalf of Barilla® and Johnsonville®. The opinions and texts are all mine.
With only one income in the house, we need to buckle down and get creative about grocery shopping. I used to go in and buy what was on sale, even if I didn't need it, so that had to stop. Before I head to Kroger, I plan my meals; I make a list and I don't buy anything except what is on my list. I also check Kroger for products to make sure they have the products I need. Very useful!
My family LOVES PASTA, so I know I will be making pasta at least 1-2 times a week. We buy Barilla Blue Box pasta because I trust this brand. Barilla makes dinner quick, easy, and versatile that everyone loves plus it is Italy's #1 brand of pasta. So if it's good enough for Italy, it is good enough for my family! I use products that I know my family will eat and no matter what pasta dish I make we will be using Barilla Blue Box pasta.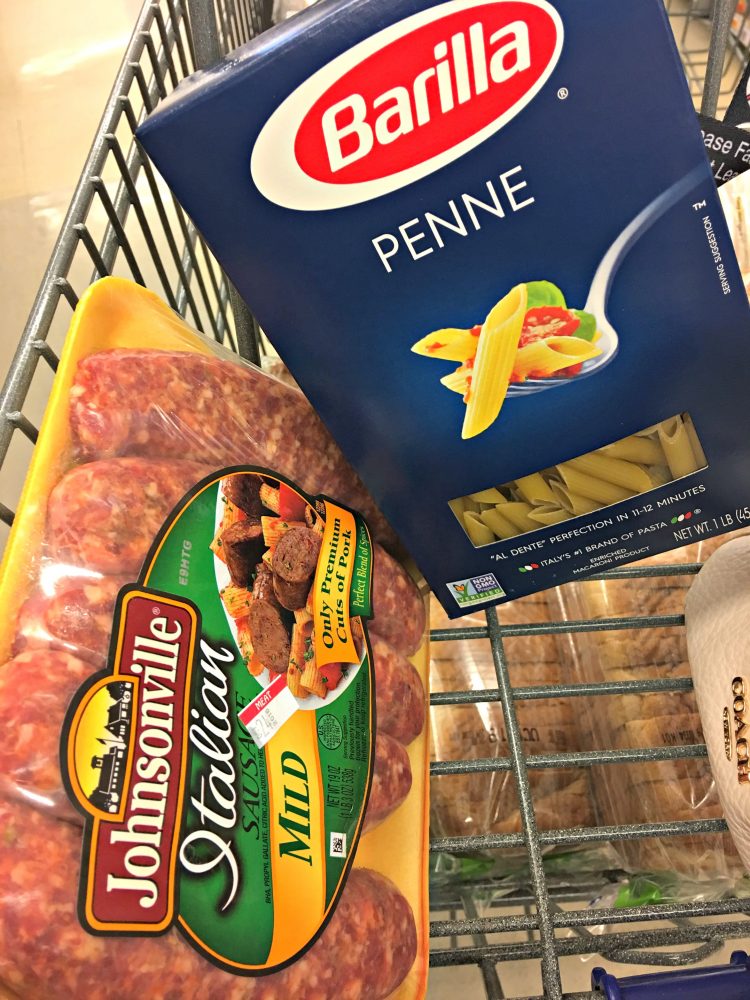 Besides cooking with Barilla, I love to go to their site and get recipes. I found a simple recipe and decided to change up a few things like the sauce! Guess what…Barilla has SAUCE, too! I used Alfredo Sauce instead, BUT it was supposed to be made with Marina Sauce. I wanted to do something different. Following the recipe has always been hard for me; I like to tweak it the way I like it. Sometimes it works and sometimes it doesn't. Here is the original recipe: BARILLA PENNE WITH MARINARA SAUCE, THYME & ITALIAN SAUSAGE. Speaking of SAUSAGE….you will need Johnsonville Mild Italian Sausage Links, why? Because it tastes so darn good! All the spices and flavors are built into Johnsonville Sausages – making recipe prep easy! It saves me money, time, and energy. Here is my recipe, did I mention it is under $10?
Italian Sausage Alfredo
One box Barilla Penne Pasta

One jar Barilla Marinara Sauce or Alfredo Sauce

Two tablespoons Extra Virgin Olive Oil

Sliced Peppers (I had frozen on hand)

1 package of Johnsonville Mild Italian Sausage-sliced

1/2 cup Romano Cheese Grated

Basil Seasoning
Instructions:
Bring a large pot of water to a boil- add a little olive oil and salt to water
Slice up sausage then cook in the olive oil for 5 minutes or until browned and cooked through.
After pasta and sausage are cooked, add in sauce and cook all together for additional 5 minutes. If you want to add veggies, add them too.
I love ONE POT DISHES! After cooking add everything together. TIME TO PLATE!
Add some fruit too! Kids love when I do that. This meal cost us UNDER $10! My kids ate this up and asked for seconds. I also packed pasta for their lunches the next day. This meal went a long way!
Next time you head to Kroger check out the above products and try a recipe with Barilla Pasta and Johnsonville!
.
.