If you could buy your dream home tomorrow, what would it look like? Would it be quaint and olde worlde, or would it be jam-packed with the latest technologies? Most of us have a few ideas about a beautiful big place in the future. And many of us would choose ultra modern over quaint and cozy. Of course, you can modernize the house you're in right now. Choose from complete renovations and remodeling to changing just a few appliances. Here are just a few of the things you can do around your house:
Kitchen
Who wouldn't love a beautiful kitchen with a fresh look and great appliances? The kitchen is so often the heart of the home. It's where you meet up in the morning and the place where you enjoy your meals together. You cook, chat, and even entertain in there. So why not make the most of the space you have and turn it into a high tech haven?
If you're looking for something that is a little more environmentally friendly, consider how you heat your food. A lower watt microwave could cost you less to buy and less to use. Your oven should come with an energy rating. This will tell you how efficient it is. It's the best way to figure out which oven will be the cheapest one to use when you buy from a store. If you're cooking with gas, you could pick a hob with different sized burners so you can always use the most efficient one for the job.
When you're updating your kitchen, you might want to consider all the appliances you want in there. A garbage disposal unit will also cost money to run as they are usually powered. While they're not essential for home life, most people are more comfortable using one in their kitchen. It reduces the amount of waste that might end up smelling less the pleasant in a bin! A dishwasher spares your hand all those hours every month submerged in dirty dish water. And a stainless steel extractor hood will help prevent mold growing in the room.
Who wouldn't love a beautiful kitchen with a fresh look and great appliances? The kitchen is so often the heart of the home. It's where you meet up in the morning and the place where you enjoy your meals together. You cook, chat, and even entertain in there. So why not make the most of the space you have and turn it into a high tech haven? Just by a modern rice cooker, a great fridge, your kitchen has the better look immediately.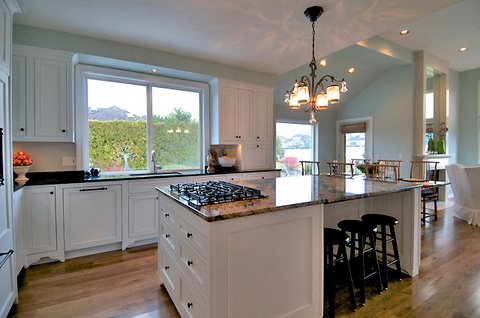 This pic is from Flickr.com
All your appliances should look good as well as being energy efficient. You might choose some of your appliances to be hidden behind your kitchen cabinets. Built-in appliances are very popular in a modern kitchen. It gives you the option to choose contemporary panel kitchens where everything is hidden away, neat and tidy.
Finally, think about lighting your kitchen with new, contemporary LED lights. You can places these under counters and cupboards. Strip lights create a beautiful glowing effect and are very energy efficient. Think about some kickboard spot lights too. They can help light up that gorgeous new floor!
Living Room
A modern living room is full of smart technologies. You may have a Smart TV that is connected to the internet. Perhaps you use an app to control it. It might be plugged into a smart outlet that can help you save even more. Even your light bulbs can be smart. Some even let you stream music!
Having everything connected with a system like those from http://www.AutomaticSmartHome.com means you can sit back and relax. Your smart home works for you to make life easier. Now all you need is some comfortable furniture to sit on. Recliners are still very popular these days. However, you can now plug in your iPhone to charge, or dock your iPad. Perhaps you'd like a refrigerated centre console to stow a few snacks and drinks for the movie? Leather continues to be a really popular finish, but vinyl can also be a great alternative.
Lighting in the living room can be automated with smart bulbs, but you also want to consider natural light. Why not open up your room to the garden even more? You could open the window aperture and turn it into patio doors. That way you can bring the outside in. Lots of fresh air and light can make the room much healthier to sit in too.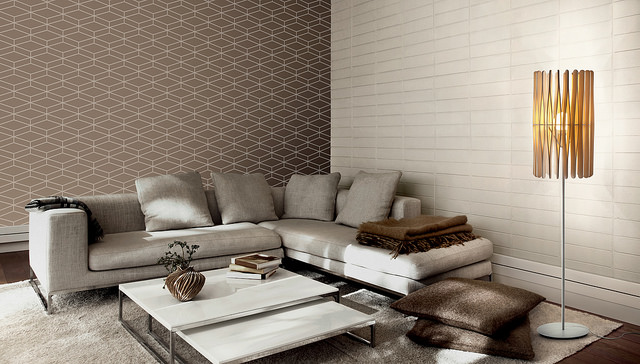 This pic is from Flickr.com
If you love natural wood furniture, why not consider coffee tables and sideboards in a more contemporary design? Interesting shapes and textures can be used to update your home style. Some have an extra function too, like docking stations or additional storage. Standard lamps offer structure and form to the room. They can be used to highlight your furniture or wall art. Why not use one in your favorite reading corner?
Flooring in the living room could be carpet or hardwood with rugs. It's up to you. For a really contemporary look, you could try a polished concrete with a granite look. This doesn't come cheap and is most often found in swanky loft apartments. A solid wood flooring in a darker grain is very popular at the moment in family houses. Big rugs with vibrant geometric shapes like these at https://uk.pinterest.com/explore/geometric-rug/ help soften the room. Why not pick that same pattern or color for your drapes?
Bathroom
Modern bathrooms also feature lots of technology. There are some great sound and vision systems that are built to stand the heat and damp of a bathroom. Some are built into your shower cubicle. Others are added to ceiling and wall panels within the room. Fitted bathroom furniture is a must for a cool contemporary look in here. It also provides all the storage you need to keep this room clean, clutter-free, and fresh looking.
Ceiling spot lights have been really popular in bathrooms for a while. But now you can add a few LED strip lights to the bath tub or skirting boards. False panels can hide the fittings and create a warm glow for the room. Mood lighting is quite important in the bathroom. Some tubs come with Chromatherapy lighting systems. This can help you relax and rejuvenate while you soak the day away. Jacuzzi tubs or showers also blast you with bubble and water to massage those aches and pains away.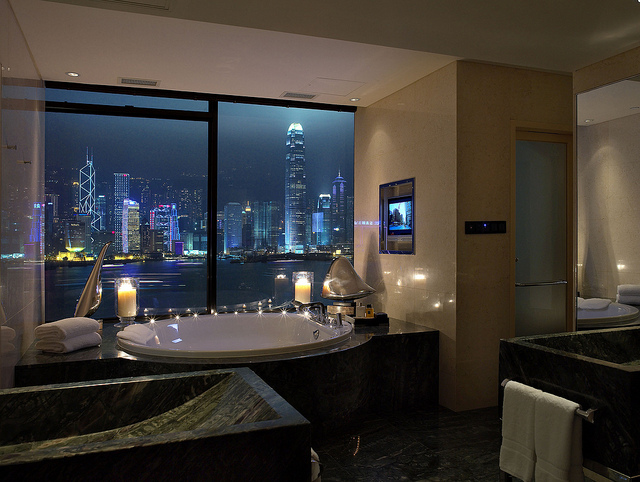 This pic is from Flickr.com
If you have a larger bathroom, why not install a small sauna? Sauna is a very healthy approach to steam and heat. It can help cleanse and relax you, and can be used safely in the home when installed professionally. Bathrooms with big windows offer you plenty of light and are best for ventilating the room when you've finished. Add smart extractor fans that will release the steam, and your bathroom will stay fresh for years.
Bedroom
A modern bedroom is a place where you can find all your creature comforts in one place. Beds with TVs that climb out of the frame, and built in charging sockets for your mobile devices are popular now. Even the mattresses are full of technology. Some include foam that NASA astronauts use. Other contain special gels that release warmth in the cold and cool you when you get too hot. Sleep is so important, so it's worth splashing out on a few things to aid a restful night.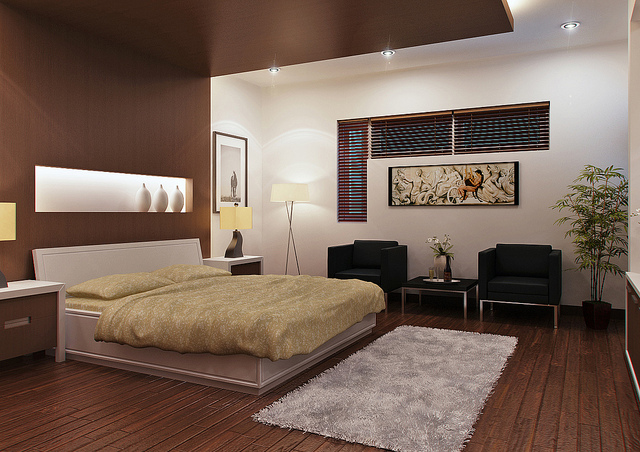 This pic is from Flickr.com
Clean lines have become quite trendy in the bedroom. This means fitted wardrobes with flat panels are preferred over freestanding furniture. Of course, it's what's inside that counts! There are so many incredibly clever storage innovations for the bedroom these days. Shoe tidies, tie hangers, and even wire drawers can maximize your storage options in the wardrobe. A mirrored dressing table will help open up the room and make the furniture seem less bulky.
If you like to read in the bedroom, why not invest in a Kindle or other eReader? You can choose backlit models so you can read in the dark. Or you might prefer a paper white version that most closely resembles a real book. Best of all, you can charge it, dock it, or hold it hands-free from the comfort of your bed. Bluetooth earphones allow you to watch TV or listen to music without disturbing your partner. And if you're feeling hot, bothered, and restless, why not cool down with remote controlled AC?
Security
As well as updating all the technology and living spaces in your home, you might want to make sure your security system is up to date too. Cameras can be closed circuit, or they can operate via wifi. Some people are wary of the internet-based system, fearing hackers. But they provide enormous convenience. You can watch what your pets are up to while you're at work. You can even talk to them through the built-in speaker system.
Smart homes also feature smart locking systems. This means you can be safe and secure at home. And your home will be extra secure while you are out. You could try keyless entry systems using a number keypad. Why not try fingerprint control? There are plenty of options. It depends on what is right for your home and family.
Updating your home can be so much fun. There are so many wonderful technologies coming out to make life easier. Gadgets and gizmos make home life so much more convenient. But even the rooms you use can become smarter, easier to control, and more comfortable. How will you update your home?