Looking after your skin should be an integral part of your health regimen.
After all, it is your body's largest organ, and to do its job of shielding your body from harmful elements outside it, you need to give it the right balance of nutrients.
You can use the most expensive cleansers, exfoliants, serums, and moisturizers, but what your skin needs the most is proper nourishment.
Vitamins are essential in maintaining the health of your skin cells and reducing the symptoms of skin conditions such as eczema, rosacea, and acne.
By learning which vitamins provide which benefits, you'll be better able to choose the right skincare products, look good and feel good.
Here's our list of the most important vitamins your skin needs to be healthy and nourished.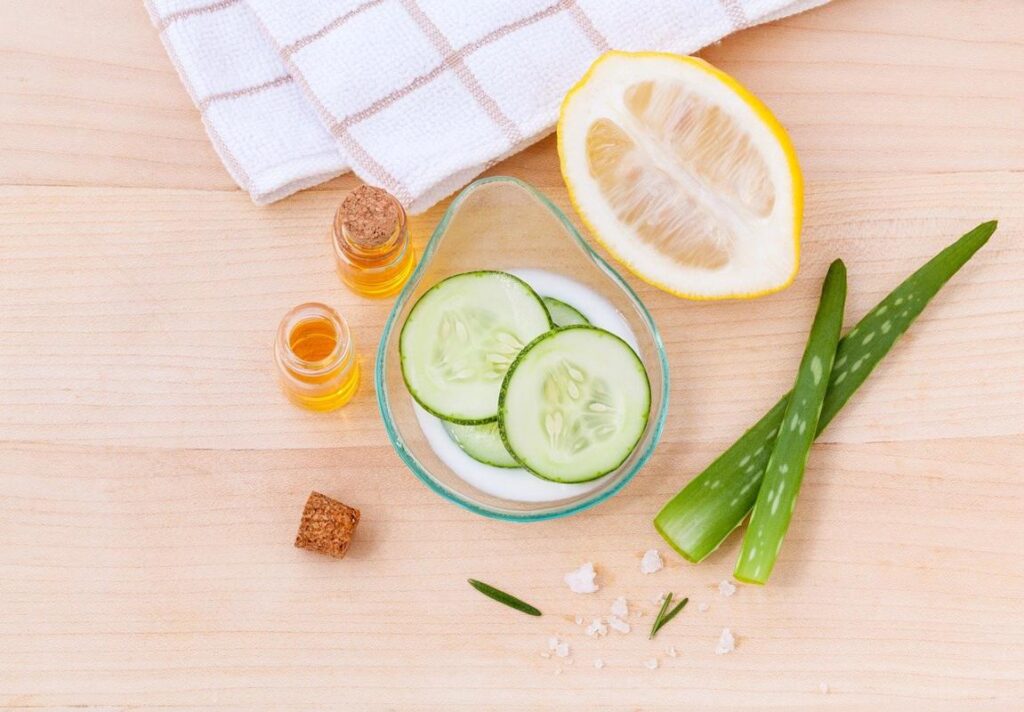 Vitamin A
Vitamin A is an essential nutrient that benefits the health of your skin, hair, eyes, reproductive system, and increases your immunity.
The vitamin A you get from eating foods like eggs, sweet potatoes, spinach, carrots, and mangoes is transformed into retinol in the liver and then stored or carried to cells throughout the body.
Since your skin responds well to retinoids – vitamin A derivatives, including retinol – it can absorb them from topically applied products.
This is why you'll see a lot of skincare products with added vitamin A.
Goat milk, for instance, is especially rich in vitamin A, so replacing your regular soap with Goat Milk Soaps is a great of making sure your skin receives the vitamin A it needs.
Retinol also stimulates the production of new skin cells and collagen, which slows down and reduces the appearance of wrinkles.
Since Vitamin A works as an antioxidant, it provides your skin with some protection against sunburn and hyperpigmentation.
Note that this doesn't mean you should forego using sunscreen.
Vitamin C
Vitamin C is also referred to as ascorbic acid on product labels.
It is a potent antioxidant agent that protects your skin against damage from free radicals and ultraviolet (UV) light.
Our bodies cannot produce it naturally, but we need it to maintain healthy immune systems, and it plays an important role in tissue repair.
Symptoms of vitamin C deficiency include bleeding gums, easy bruising, and slow-healing skin lesions.
You can increase your vitamin C intake by eating citrus fruits, bell peppers, tomatoes, broccoli, spinach, cabbage, and other leafy greens.
You'll also find many skincare products containing vitamin C since it's a small enough molecule that it can penetrate through the epidermis and reach the dermis underneath.
One of the key reasons why vitamin C is so valuable to your beauty regimen is that it regulates collagen synthesis.
As a person ages, collagen production slows down, so our skin loses some of its elasticity, and we get wrinkles.
By making sure your skin gets enough vitamin C, you can keep your skin firm and supple for longer.
Vitamin E
We're mentioning vitamin E right after vitamin C as they work best together to protect your skin from the harmful effects of UV rays from the sun and to slow down the appearance of wrinkles.
In addition, vitamin E also works well with vitamin A since vitamin E helps your body regulate retinol levels, leading to better absorption.
You'll find vitamin E in avocados, cod, salmon, vegetable oils, nuts, and seeds.
It's a fat-soluble vitamin that accumulates in the sebaceous glands and is transferred to the skin through sebum.
As with the vitamin we mentioned above, you will find many skincare products that contain vitamin E, but since it's a fat-soluble vitamin, the consistency tends to be thick, so it's better to apply them in the evening.
You can, of course, apply it in the morning as well, but it can make it difficult to apply makeup afterward.
Since it has anti-inflammatory properties, vitamin E is also helpful in reducing acne symptoms.
Vitamin K
The term vitamin K actually applies to a category of fat-soluble vitamins that have an important role in blood clotting, regulating calcium levels, and promoting healthy bone metabolism.
You can increase your vitamin K intake by adding foods such as kale, cabbage, liver, and milk to your diet.
It also has major benefits for the health of your skin.
Doctors usually prescribe vitamin K topical treatments to patients who have undergone surgery to speed up the healing process.
So far, vitamin K has not undergone as much research as vitamins A, C, and E, but it's added to products aimed at helping with spider veins, stretch marks, and rosacea.
It has been shown to reduce swelling, and to bruising so, you'll also see it in creams and serums focused on reducing dark circles under the eyes and eye puffiness.
Vitamin D
Vitamin D probably doesn't need any introductions. We already know how important the "sunshine vitamin" is to our mood.
Our doctors warn us that if we don't spend enough time outside, we can develop symptoms of depression.
In fact, when you go to a psychiatrist for such symptoms, the first thing they do is order tests to check for vitamin D deficiency.
Since vitamin D is involved in calcium absorption, we also see it in the form of fortified foods and supplements for kids.
Getting enough vitamin D is necessary for the healthy development of bones and teeth.
Moreover, vitamin D makes you less susceptible to viral and bacterial infections because it strengthens your immune system.
When it comes to your skin's health, vitamin D is important to skin cell growth and repair.
It helps you fight off free radicals and slows down some of the sins of aging.
It also helps with acne break-outs because it has anti-inflammatory properties, and it boosts your skin's immune system.
You can get vitamin D from supplements and skincare products, but you can also make your own.
As you probably know already, we get vitamin D from being in the sun.
When our skin comes into direct contact with sunlight, the cholesterol stored in skin cells is transformed into vitamin D.
This vitamin D is again stored into fat cells so your body can use it when needed.
So you don't really have to bask in the sun for several hours every day – 10 to 30 minutes a few times per week should be enough.
We need to note that people with more melanin are more susceptible to vitamin D deficiency because the melanin can prevent the UVB rays from penetrating the skin.
This is done to protect it from sun damage, but it can mean that they need to consume more vitamin D rich foods like egg yolks, fatty fish, beef liver, and cheese, or they can take supplements.