If you have ever had a party guest spill red wine on your carpet, or if you have ever done exactly the same thing yourself, you know that a big red stain does not look good. It's important not to panic if this happens because there are ways to remove a red wine stain from your carpet without too much work on your part.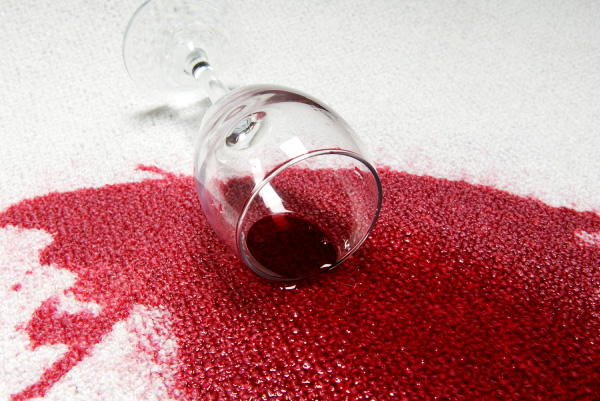 Often the first instinct is to panic because carpets are a very important part of the overall look of your home. Generally people like to take good care of the carpets in their home, which is why services such as professional carpet cleaning in Fort Smith are so popular. If you're carpet is stained then you may want to seek professional help, but if you just have a one-off accident with red wine you may want to give one of our suggestions a try first.
Simple removal with salt
One of the easiest ways to remove a red wine stain from carpet involves the use of salt. All you have to do is follow these simple steps:
Spread plenty of salt over the stain.
Allow the salt to dry.
Wash the area with cold water and detergent or baking soda.
That is all there is to it. The stain can be covered in salt overnight, to allow the salt to soak up as much of the wine as possible. This is a very quick solution. It does not work on all stains but it's worth a try before you take any further action.
Try some club soda
This is another simple solution that can be tried on its own or prior to the salt method we just mentioned. Whether you need to go on to use salt will depend on how successful you are when you use the club soda. Remember that you should use non-flavored club soda and that you should use a white clean cloth. Just follow these steps:
Blot up as much of the wine as possible with folded paper towels.
Pour some soda water onto the cloth.
Press the cloth on the affected area.
Squeeze out the cloth.
Repeat the process using a clean area of cloth each time.
If, after a while, the stain is still present then you should try using the salt method. The good thing is that the stain will already be reduced so you are more likely to be successful.
Use dish soap and hydrogen peroxide
Before you use this method it's important to note that hydrogen peroxide is a mild form of bleach so you should only really use this method if your carpet is light in color. If you have any worries then you may want to carry out a test on a small hidden away area of carpet first. Just follow these steps:
Mix some hydrogen peroxide with a little dish soap.
Soak the corner of a clean cloth with the solution.
Dab the stain with the cloth until you have covered the entire stain.
Allow the mixture to sit for a few a minutes.
Spray the area with cold soapy water.
Blot the area with tepid water.
Blot the area again; this time with clear water that is at room-temperature.
Blot the area with a clean dry towel.
Hopefully, if you try one, or all, of these solutions you will have a clean carpet again. If you are still having problems with removing the stain then you may want to speak to a professional carpet cleaner to get some help.