2019 so far has been a spectacular year for sports fanatics. With popular tournaments taking place in the field of tennis, rugby, cricket, and football, the excitement is just at its peak. Are you are an avid traveler who is looking to do something exciting? How about going on a sports holiday where you can tour the most exotic destinations in the world? These places are renowned for their sports history. You can, at the same time, explore the rich past, architecture and mesmerizing landscapes. Here are the popular five destinations that you must visit to satiate the sports fanatic in you.
Immerse in Algarve Golf Holiday
If you are into golf and want a taste of what it means to be in a golfer's paradise, then Algarve is the place to be in. Algarve Golf Holiday promises one of the best golfing experiences to the people amidst a picturesque locale. It is home to beautifully designed golf courses located in one of the finest locations in the world. It is a hot destination in Portugal and suitable for people across all age groups. You can try out classic to contemporary courses designed by golf legends such as Nick Faldo, Arnold Palmer, Jack Nicklaus, Trent Jones and a lot more. Numerous accommodations are available in this gamer's paradise that promises unforgettable experiences to the visitors. You can also explore the local tourist attractions and spend quality time indulging in local delicacies and shopping. The nightlife is rich in this sports hub promising complete entertainment to the visitors.
Take the Dreamy Barcelona Football Tour
Barcelona is a mecca for football fanatics. This city is a cradle of the art of architecture and not just sports clubs and world-class stadiums. You can feel the soccer vibe in every corner of this beautiful place. FC Girona, Barcelona and Espanyol originated here. It is no wonder that football is worshipped and more of a religion in Barcelona. With outstanding museums and football clubs, night clubs, sports cafes and a plethora of experiences to indulge, Barcelona deserves a top spot in every sports fanatic's travel list.
Dare to Indulge In Water Sports Tour at Fiji Islands
If river cruising, sailing, rafting, river tubing, and swimming is all that you dream of, then pack your bags and head to Fiji Islands right away. It promises the most sought after experiences and you can indulge in numerous activities here. The breathtaking beauty and the option to indulge in diverse activities would promise you treasurable memories to take back home. Your quest for adventure ends here. You can indulge in activities from dawn to dusk and still would be left with so much to cover the next day. The beauty of this location is simply captivating. What more do you need?
Explore the International Sports Scene in UAE
Though UAE may not seem like a destination for the sports fanatic, the city is literally into international sports. The Yas Marina Circuit in Abu Dhabi hosts the annual twilight Formula One Grand Prix. Ferrari World is a dreamy destination for all Formula One lovers. This indoor amusement park is the largest space frame structure ever built and seems quite magical. Apart from that, you can enjoy cricket and indulge in adventurous sports activities in this striking location. The fine architecture of UAE is just unparalleled and you would not want to miss exploring the architectural marvels of this place.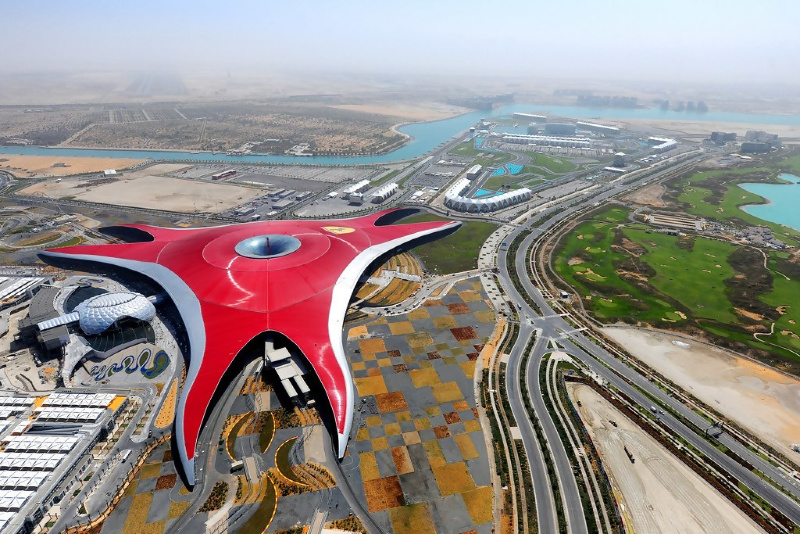 Source: Flickr
Witness Football Fever in Rio de Janeiro
It wouldn't be wrong to call Rio de Janeiro as one of the most football-crazy nations in the world. Football players are treated like gods here. The crazy atmosphere exuded by the place is not something to miss if you are an ardent follower of football. Apart from that, there are numerous adventurous activities that you can indulge in here. The rich monuments, resplendent beauty and the upbeat vibe here is a perfect place for any sports enthusiast.
The world is filled with mesmerizing and exotic locales that can gratify your wanderlust. If the world of sports enthralls you, then you can combine travel with what intrigues you the most. These top 5 places will certainly promise you an incredible holiday that you will cherish for years to come.