The selection of the best wedding invitation is a tricky matter for most Indian new couples.
Now, the option of buying wedding invitations online has made their job somewhat easier.
They need to know certain guidelines that will help them in fulfilling their requirements of finding the most impressive wedding cards.
Always know what you want in advance
A new couple should have a clear idea about their requirements when they set out to choose wedding cards to invite their guests.
Their wedding invitation needs to match their social and religious customs, as well as fit into their budget. They should also decide the background color and the type of designs to be featured on their wedding card.
Define your wedding theme
It is easier to choose wedding cards according to the wedding theme if there is any.
Thus, a new couple should decide first about their wedding theme, which is also needed for selecting the wedding venue, wedding attires, and many other related things.
The selection of an interesting wedding theme will lead to the choice of an attractive wedding card as well.
Compare the online wedding cards
Several wedding card makers display beautiful wedding invitations on their websites.
Customers just need to check these templates of the suitable category and the prices quoted against each template.
Then they can compare all the products to find the best online Indian wedding card that suits their needs.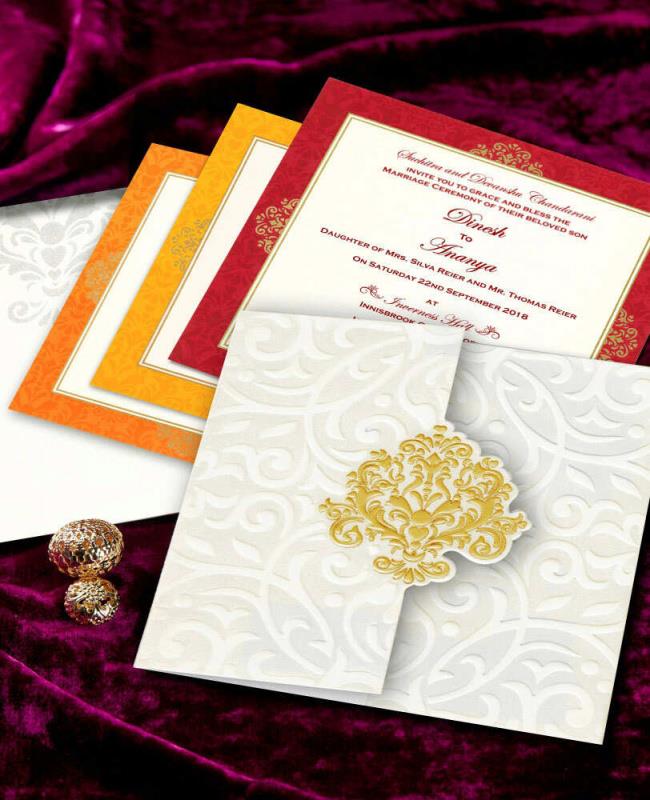 Order sample card first
If no template is available on the website of a card maker, the customer should ask for a sample wedding card online, to check the quality of the product.
In this way, one can also check the expertise of the wedding card designer from the layout of that card. The style of wordings and promptness of service also should be checked from the delivery of this sample card.
Budget
A new couple should set a definite budget for buying their wedding cards.
In this way, they can filter wedding invitations from the wide array of templates, setting the maximum price limit as per their budget.
It becomes easier for them to choose the type of wedding cards that fit within their budget, without spending more on it.
Timing
The time needed for the delivery of the ordered wedding cards should be checked beforehand so that the purchased wedding invitations can reach all the guests in time.
However, digital invitations can be sent within a few minutes via online platforms but printed wedding cards should be sent many days before the scheduled wedding date.
Wedding colors
The new couple should choose their favorite colors that should be used in wedding décor, their wedding dresses, and also in their wedding cards.
Usually, crimson red, magenta, hot pink, or shades of red, orange, purple, emerald green, and golden are preferred as the wedding colors by most Indians.
Shape and size
Since wedding cards can be created of different shapes and sizes, a new couple should decide the preferable shape and size for their wedding cards.
Most of the traditional cards are available in square or rectangle shape. However, wedding cards can be made in circular, pentagonal, or hexagonal shape as well.
The size of the wedding card depends on the chosen design and the budget of the customer.
Choose Your Words Wisely
The wedding invitation letter should be customized by the new couple, with their names, parentage, and a brief introduction of their families.
They should carefully choose the addressing style of this letter and the entire invitation letter need to be penned as per their social customs.
They should make sure that guests will feel the warmth of love and respect towards them through these wordings.
Cover all the details
The new couple should check whether the chosen design looks the best in the given background color.
Also, the style and the design of the wedding card should be acceptable as per their family background.
Every minute detail of the final draft of the wedding card should be assessed carefully before signaling it to be processed for delivery.
Choose a lightweight wedding card
When wedding cards of different styles are available, it is better to choose a lightweight one that will be easy for sending via postal or courier service.
The charges for sending heavier cards through these services are much more compared to lighter ones.
Create a numbered guest list
A list of all the wedding guests should be made before placing the order for wedding cards.
Now, all the names of the guests can be numbered on that list so that each wedding card can be numbered and designated for a guest. In this way, no enlisted guests will be left out while sending them invitations.
Order extra
The number of ordered wedding cards should be more than the number of enlisted wedding guests.
Some cards can be accidentally spoiled while writing the names of receivers on them, for which it is best to keep some extra cards to save the situation.
Send your invitations up to 3 months prior
Wedding cards should be sent to all guests at least 3 months before the scheduled wedding date.
Since postal and courier services take time to deliver cards to destinations, it will make sure that all receive their invitations in time so that they can plan accordingly to join the wedding ceremony.
All these tips will help new couples to invite their wedding guests without any problem, to share their joy of starting their marital life.