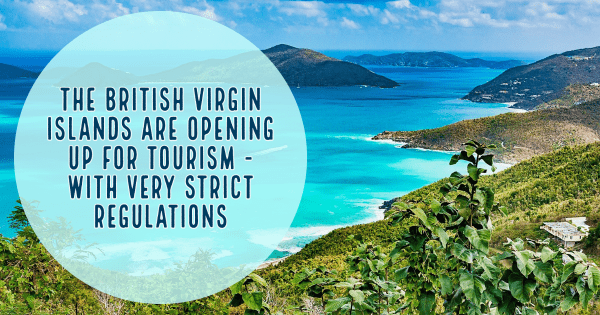 If you're like many of the people currently facing the pandemic, you're probably tired of staying in one place. When the COVID-19 pandemic first became apparent to heads of state, most enacted travel bans. While some individuals were able to travel based on specific dire or important circumstances, the tourism industry was deeply impacted by the ban. For that matter, even those who were able to travel largely needed to abide by strict quarantine conditions.
This ban was obviously not only frustrating to those who liked to travel, but those living in countries in which the economies were heavily dependent on travel. Of course, this included the British Virgin Islands. Though there are certainly local businesses available in the British Virgin Islands, the primary force behind the islands' economy has long been tourism. Therefore, the loss of tourism has been somewhat devastating in the long term. Fortunately, travel options are opening up for those interested in visiting the British Virgin Islands.
The benefits that the British Virgin Islands offer include their natural borders. Consider Anguilla, a British overseas territory in the Caribbean. Because Anguilla is a small island, it's more difficult for foreigners to visit the island than it is for people to visit each other within different states, for example. You could see this as a form of natural social distancing. At the same time, the leaders of the British Virgin Islands are fully aware of the fact that the reopening has to be rolled out carefully in order to avoid spreading the virus further and causing a new wave of the pandemic. This is why there remain restrictions regarding a required amount of tests and quarantines.
How Can I Visit The British Virgin Islands?
In order to ensure the highest levels of safety, tourists will need to begin acting a minimum of seven days before their travel date. Tourists first need to register on the BVI Gateway, which keeps track of the current tourists planning on traveling to the British Virgin Islands. You will then need to upload a certified negative PCR COVID-19 test that was taken within five days of your arrival. A PCR test, remember, is the test that takes longer to process; rapid tests have a higher rate of false negatives. Therefore, you should add the time required to take a PCR test into your overall plans.
You'll need to quarantine for four days at an approved travel accommodation upon arriving at your island of choice. Therefore, you'll need to upload proof of payment for your four-day quarantine space as well. Your arrival date will not count as one of your quarantine days. Following this proof, you'll then need to provide proof of medical insurance that covers COVID-19; those who have Medicare, the federal health insurance for people who are 65 years old or older, may therefore still be able to travel as long as their insurance offers coverage for COVID-19. You will then need to pay a $175 COVID-19 fee to the island through this portal.
Following all of these steps being taken care of, you may or may not be approved. That is at the discretion of the British Virgin Islands' current system. Upon approval, you will receive a Travel Authorization.
What Happens After I Arrive On The Island?
Your testing is not finished after you receive your Travel Authorization. Upon arriving at your island of choice, you will receive another PCR test. Again, keep in mind that your PCR test may take longer to return its results than your quarantine period would. Visitors to the island will then need to activate contact tracing on their phones, and they must also wear wristbands that monitor their travels on the island. This will precede the aforementioned four full days of quarantine.
Following all of these measures, you can have a good time on the island, but you must not neglect all of the steps that you would take to be safe while at home. You still need to stay at least six feet away from strangers while going out and about. For that matter, you need to move forward while moving casts and washing your hands as much as possible. After you return back to your home country, you'll then need to proceed with more testing and quarantines.
What Will Visiting The British Virgin Islands Be Like?
There are of course differences in visiting the British Virgin Islands now as opposed to the experience that you would have had pre-quarantine, the travel restrictions aside. For one thing, you'll probably see a lot more people in their 20s and 30s, versus traveling retirees. Already, the British Virgin Islands was a tourism site for a lot of people in their 20s, as this is the primary age at which people get married, and many young married couples visit the British Virgin Islands for their honeymoons. Those who are middle-aged and older, on the other hand, may want to steer clear of travel for a bit longer due to their higher risk factors regarding the coronavirus.
High-traffic spaces in the British Virgin Islands have made adjustments to accommodate certain restrictions. Certain restaurants and businesses that you may be familiar with based on previous spaces could still be closed down or on hiatus when you visit. Otherwise, you may experience more contactless services, as well as more automated doors to accommodate a hands-free visit, along with more protective barriers. Even in the airport, you'll probably see swabbing stations, isolation rooms, and touchless restrooms.
Of course, what a lot of us want when visiting the British Virgin Islands is a great day at the beach. You can still have that! It's merely more important that you stay six feet apart from other people on the beach, and eat at open-air restaurants if possible. While it may be frustrating at first to adjust to the changes required when you travel for the first time post-pandemic. But being able to travel at all can be a gift, especially to somewhere as beautiful as the British Virgin Islands.