Attention pet parents! Would you like to take the Kleanbowl challenge? It's really simple, and your pet will benefit from it as well. Read on to learn more.
It's as easy as one, two, three. Get your pet a Kleanbowl. Then set their regular bowl, and Kleanbowl side by side. (You can fill it with either water or their food.) Next, video them choosing which bowl they prefer and email it to Kinn™. Your pet could receive a fifty pack of Nourish-Pet Kleanbowl refills, and the chance to win a collection of Kinn™ products (one hundred dollars of items), and will be shown on their YouTube channel.
But why choose Kleanbowl?
Did you know that the average pet bowl contains over a MILLION dangerous germs? Dishwashers won't even kill all of these germs that could make your fur baby sick, and even take about four years off of their life span. That's scary and sad! Kleanbowl is made from germ resistant stainless steel. It hold the Nourish-Pet biodegradable refill bowls in place. It keeps them from spilling with its anti-skid base.
What did my girls think?
Bayleigh (our German Shepherd pup) took the Kleanbowl Challenge first (as seen in the video.) Just like Kinn™ said, she chose Kleanbowl. Not once, but BOTH times! Josie can be heard in the background asking for her turn. She too chose the Kleanbowl over her regular dish. I wash their dishes in hot soapy water every single day, but I guess it's not getting them clean enough. Kinn™ has made me a believer, and since I want every year I can get with our fur babies, I am switching their bowls.
Other Products by Kinn™
They don't just have Kleanbowl. They have an ingenious pill concealer, and pet treat maker to hide your dogs medicines. It's called Kudose™. I love this! Josie has to take an antihistamine daily because of her allergies, and it's always such a darn fight! Kudose™ would make this so much easier! They also have pill dispensers, cutter, and even collars for your sweet fur babies!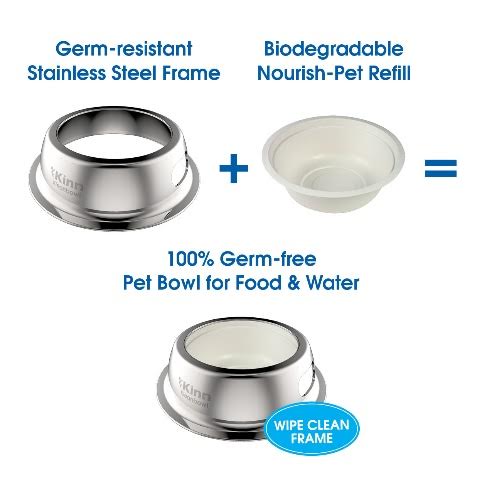 Where to buy
To get your pets their own Kleanbowl, or one of Kinn's other amazing products, head to their website. You can also follow them on Facebook, Twitter, Pinterest, and YouTube.