Did you know a changemaker can make a difference in this world? Are you tired of all the negativity that is going on in this world? I know I am. One thing that puts a smile on my face is kids doing things that can change lives. T-Mobile the Un-carrier launched the Changemaker Challenge this past spring which focused trailblazing teens and young adults with big ideas around how to create positive, long-lasting change in their communities.
Turning Revolutionary Ideas Into Reality
There were 330 entries, and then T-Mobile narrowed it down to 30 winning teams. The 30 teams got an all-expense paid trip to the T-Mobile HQ in Seattle to take part in the first ever, T-Mobile Changemaker Lab. All the teams participated in a two-day immersive Changemaker Challenge Lab at T-Mobile's Headquarters. They received mentorship and skills training with the T-Mobile senior leadership, plus the opportunity to collaborate with their fellow Changemakers.
All 30 teams received a new device plus the portion of $58,000 in seed funding from the T-Mobile Foundation. Each group pitched their big idea to a panel of T-Mobile senior executives. T-Mobile narrowed down the winners to 6 and John Legere, the original Un-CEO, also selected his personal "CEO Picks." The winners will receive a special prize package from him, well as it turns out he was only going to pick two but he picked all 6. They each will get $5000 on top of the T-Mobile prizes.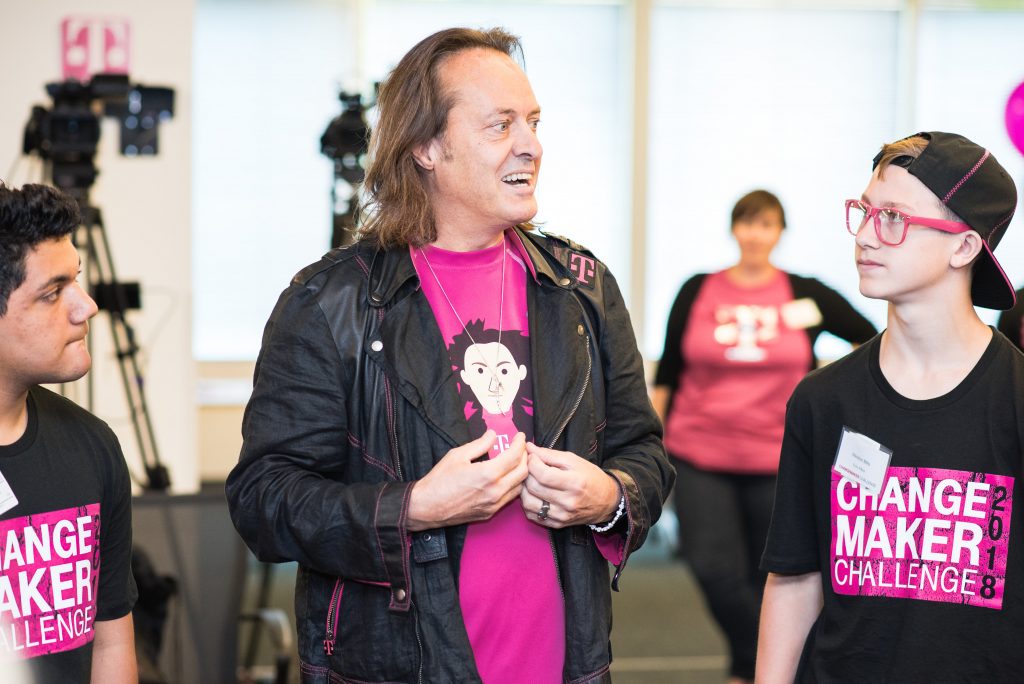 Congratulations Top Six Changemaker Challenge Winners!
Judges from T-Mobile and Ashoka chose these as the top six teams based on their creativity, commitment, and connection to their communities. The judges looked for fresh, innovative ideas that challenged the norm. Also how devoted the teams were on seeing their project through, and how it will make a lasting impact within their communities.
Teams
ArtPass: Malcom stepped into the Oncology playroom and was overwhelmed by what he saw. He was compelled to help alleviate the pain of the kids he met and offered up his escape: art. ArtPass now has 62 chapters across the globe donating art supplies to youth in hospitals
Aware: Sarah drew a parallel between her own experience overcoming stereotypes as a proud hijabi and the stereotypes that people in the special-needs community must overcome. So she wants to helps teens open an associated community club of general and special education peers.
Dios Del Sol: in the aftermath of Hurricane Maria, 22-year-old Jose was inspired to create a community-led initiative that would use partnerships with faith-based organizations, Puerto Rican solar energy associations and volunteers to help churches finance, the transition to, and ultimately manage solar microgrids.
Echo Effect: is an app that challenges youth to turn their selfies into good deeds, gamifying "selfies for selflessness." Through national challenge concepts — sending a letter to a veteran, unloading groceries for the elderly, or donating a dollar to a charitable cause.
Peerlift: crowdsources info and connects high schoolers to six different categories of opportunities: scholarships, summer programs, internships, study abroad programs, awards, and college fly-in programs on their site — and all opportunities ensure financial aid.
Yellow Tulip Project: opens the door to conversations about mental health with a symbol of hope and renewal. By planting tulip bulbs in the fall and welcoming them in the spring, they host community-wide events that offer a platform for people to be honest and open about their mental health struggles.
My Changemaker
I have two teens in high school now, and I'm always encouraging community involvement. My kids go to project-based charter school in an urban city, and the school has many projects with the community as well. After talking with my daughter, Sahara, about the T-Mobile Changemaker Challenge she said she wanted to do something that is close to her heart plus can help the community.
Homeless Dogs
My daughter loves animals. She was born with a disability and has overcome many obstacles, but her willingness to fight is inspiring. Sahara wants to fight for the Homeless Dogs we see every day. We live in the Bay Area in California, and there is a significant homeless epidemic going on plus there are so many animals who are living in the camps, too. She came up with the idea of making a care package for the dogs like people do for the homeless.

We started calling the pet shelters to ask how we can get involved with them but there were so many rules and regulations we decided to do this on our own. Making a care package is easy and doable so we made a flyer to put up in hopes that the community will take our challenge.
Click on the picture and you can print it out too!
Making Care Package
If you have pets around the house already, then this will be a simple task. Sahara asked her dad to airbrush a bag with one of her favorite stencils and then she started to find things around the house she thought would work for the care package. We also bought items like canned food and toys at the dollar store. I spent $5 and so worth it.
My son even donated a blanket he doesn't use to the cause. Dogs always need food (canned stays fresher longer), water, warmth, and fun toys to chew on so we packed all those goodies for our care package.
We brought our Homeless Dog Care Package to a local dog and his owner but he wouldn't let us take pictures. Respecting peoples privacy is essential, but he thanked us at least 20 times. He didn't have any food for the puppy so this came in handy.
We hated leaving the puppy behind, but as I explained to my daughter it is not our pet it is his so all we can do is pray he will be healthy. Sahara wants to bring a care package of food, snacks, and toys every month to our new friend. I also told her we could pick a couple of dogs that we see on our way to school too.
We Challenge YOU!
Make your own Homeless Dog Care Package.
Just think about what you want to do, grab items at home and store, and put the bag in the trunk. Then anytime you see a homeless dog, pull over and give them the care package. I'm telling you, you won't regret it! Helping animals is wonderful, and if you can contribute more, please do!
Let Us All Be Changemakers!
For more information on T-Mobile Changemaker Challenge:
Top 30 Changemaker Teams Look Book
T-Mobile Links:
Please let us know which T-Mobile Changemaker winner team idea you like the most- go ahead and comment below.
This post is sponsored by T-Mobile.