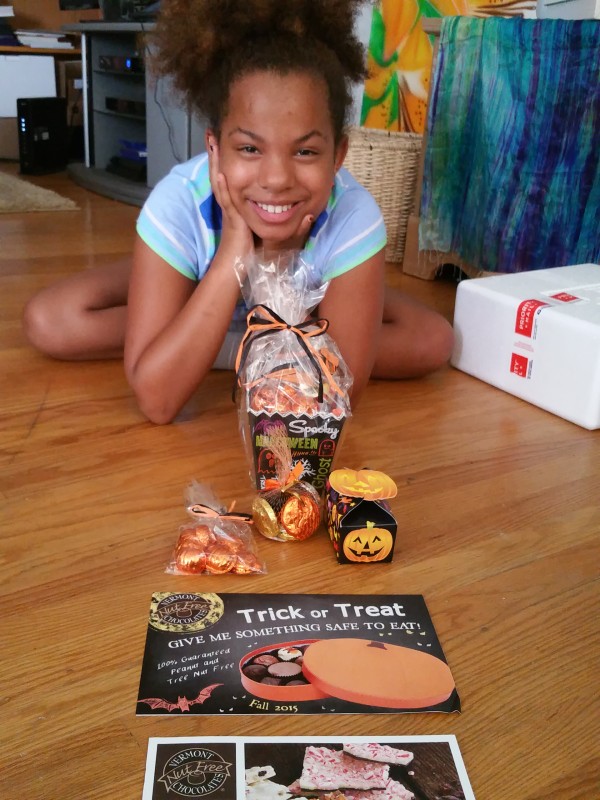 Trick or Treat, give me something safe to eat! That is every parent's nightmare- kids getting sick from candy they got from someone else. We try to go to people houses we know but this year we live in a new neighborhood and we don't really know anyone. Now how would I know if any of the neighborhood kids have nut allergies- what if I give them candy they can't eat, that is so unfair to them. I really believe that everyone who gives out candy has an alternative or should make sure the candy is NUT FREE.
Vermont Nut Free Chocolate makes it so easy for those who want to give out yummy treats but don't want to get anyone sick. They offer so many Halloween treats- it is so awesome. Plus they taste so good! I had to hide our treats so the kids (and hubby) would stop eating them. I would like to share some for HALLOWEEN!
Check out some of the candies they offer:
These delicious sweets are made in a completely nut free environment, making them great for Halloween parties at schools or passing out to trick-or-treaters. Vermont Nut Free was founded by the mother of a boy with a peanut allergy. Their entire selection is made safe for those with peanut or tree nut allergies, but can also be enjoyed by lovers of fine chocolates. They have a variety of Halloween products including their Can of Worms, Ghost Shaped Chocolates, Pumpkin Fudge and more.
You know schools would love parents to bring in treats that are NUT FREE so why not check out all the Halloween Goodies and order for your kids Halloween Party!
While looking on their site, I found so many items I want. They also carry Trail Mix, Granola Bars, Chocolate Bars, Truffles, Caramels, Clusters, Pops, Candies, Barks (which is my favorite) and Gift Baskets. Vermont Nut Free Chocolates is also a wonderful place to purchase Holiday Gifts.
Please connect with Vermont Nut Free Chocolates on Facebook–Twitter for specials, they have a 15% off now!