This is a sponsored post written by me on behalf of Char-Broil for IZEA. All opinions are 100% mine.
It's GRILLING time and we are ready! We are looking into buying a new grill and oh my! My head hurts from looking at all the possibilities. We are going in the charcoal direction this time. Food tastes better over a charcoal grill anyways.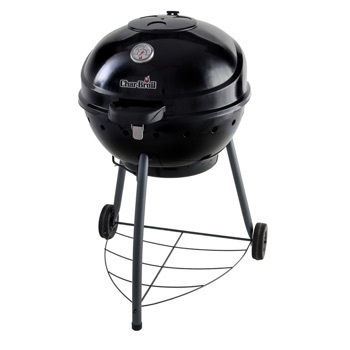 We came across the new charcoal grill from Char-Broil Kettleman Grill at Lowe's for the awesome prize of $129.00. For all the features it has, this is steal! By the way, you can also purchase online at www.charbroil.com if you don't have time to go to Lowe's.
What I love about the Char-Broil Kettleman Grill:
Temperature Control – With a super sized cool-touch damper on the grill's lid, heat management is easy. Vents around the kettle allow air to fuel the fire from all sides, providing even heat to the cooking surface. Cooking uneven has always been my husband's problem. Now we won't have that problem.

Flare-Up Control – A porcelain coated no-fall-through grate allows charcoal flavor through while keeping flames away from food. Small foods like shrimp or asparagus will never fall into the fire. This is my favorite feature because I want my shrimp to be grilled not burnt in the fire-which happens a lot.

Charcoal Control – Designed to grill twice as many burgers with the same 50 briquettes as the leading kettle. It saves us money by saving in briquettes- those bags are expensive.

Ash Control – A slide-in, porcelain-coated ashtray making cleanup and maintenance simpler than ever. This is very important because clean up used to be messy, not now!

Stability Control – Wide stance, heavy-gauge steel legs add stability and easy mobility. A bottom shelf doubles as a holder for the cooking grate or other accessories. Doesn't tumble over!
I asked my husband what was his favorite feature is and he said the lid. It has a hinged, latching lid that never has to touch the ground during the grilling experience. So many times I remember seeing him put the lid on the ground while he turned over the meat well now he doesn't have to do that!
Want more info then click >> learn more about the Kettleman grill
I also love the size…this is a grill we can take in the front yard when we are enjoying our nights with the neighbors. We love to sit out in our chairs, grill, talk to everyone, watch the kids play on the street on a warm summer night. Neighborhood parties happen weekly in the summer time. Or when we have friends over we tend to stay in the backyard and play games with the kids.
Everyone brings something to grill and we have a feast. Family fun around the grill is the best. Sometimes after a great BBQ we all lay in the lawn and watch a movie on the projector.
GRILLING=Family Fun!