Are you looking forward to vacation? Maybe you travel for work? Either way, packing and unpacking is a bit of a pain. Stow-N-Go Portable Luggage System™ can help.
Stow-N-Go Make Packing a Breeze
This shelving and portable luggage system will make packing and unpacking so easy! Stow-N-Go is a three tiered luggage organizer. There are three areas to pack your items, and then it collapses to fit into your carry on. (Stow-N-Go fits in suitcases twenty inches and up, and in most carry ons.) This system will even save you thirty percent more space, so you'll actually be able to pack more. By folding your clothing and storing them in the Stow-N-Go and then putting that in your luggage, you'll also be keeping your clothes from getting all wrinkled. Let's face it, that will save you time once you're at your destination too. Who wants to be ironing clothing when you're on vacation or a business trip? No one.
Unpacking is easy too!
When you get to your hotel, there's no need to unpack. Just take out your Stow-N-Go and hang it. You can hang it in the closet, or even on the bathroom shower curtain rod. It's that simple! Unpacking will merely take a couple minutes instead of twenty or thirty. That's my kind of unpacking!
Dirty laundry area
On the bottom of your Stow-N-Go is a another zippered area. It's perfect for your used laundry. It will keep those dirty clothes separate from the clean ones. This makes separating them for laundry so much easier, as well as repacking them all when it's time to go home. I love the dirty laundry area. I always pack more clothing than I will need, just in case. The last thing I want is my dirty clothes mixing it with my clean clothing, and ultimately making more work for me in the end.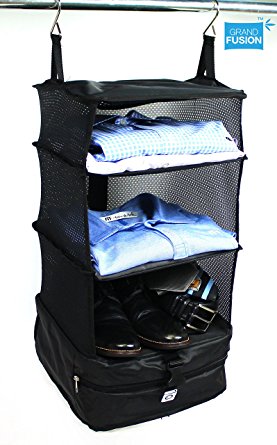 Two sizes
There are two size options for your Stow-N-Go. The small size unit measures 11.8″ x 11.8″ x 25.2″. Or you can opt for the large version. The large Stow-N-Go measures 17.7″ x 11.8″ x 25.2″. Both are sold by Grand Fusion Housewares and fulfilled by Amazon. You can also find them at select Bed, Bath & Beyond stores. You can also follow them on Facebook.