Stop making those boring lunches your kids won't eat or trade with other kids. I'm all for stepping up my lunch packing skills! My kids don't like school lunches, so I make them a meal every day and let me tell you the ideas are endless, but sometimes I need help! This year I have some help with some cool Back To School Lunch products!
First up you need a Lunch Box that fits your kid!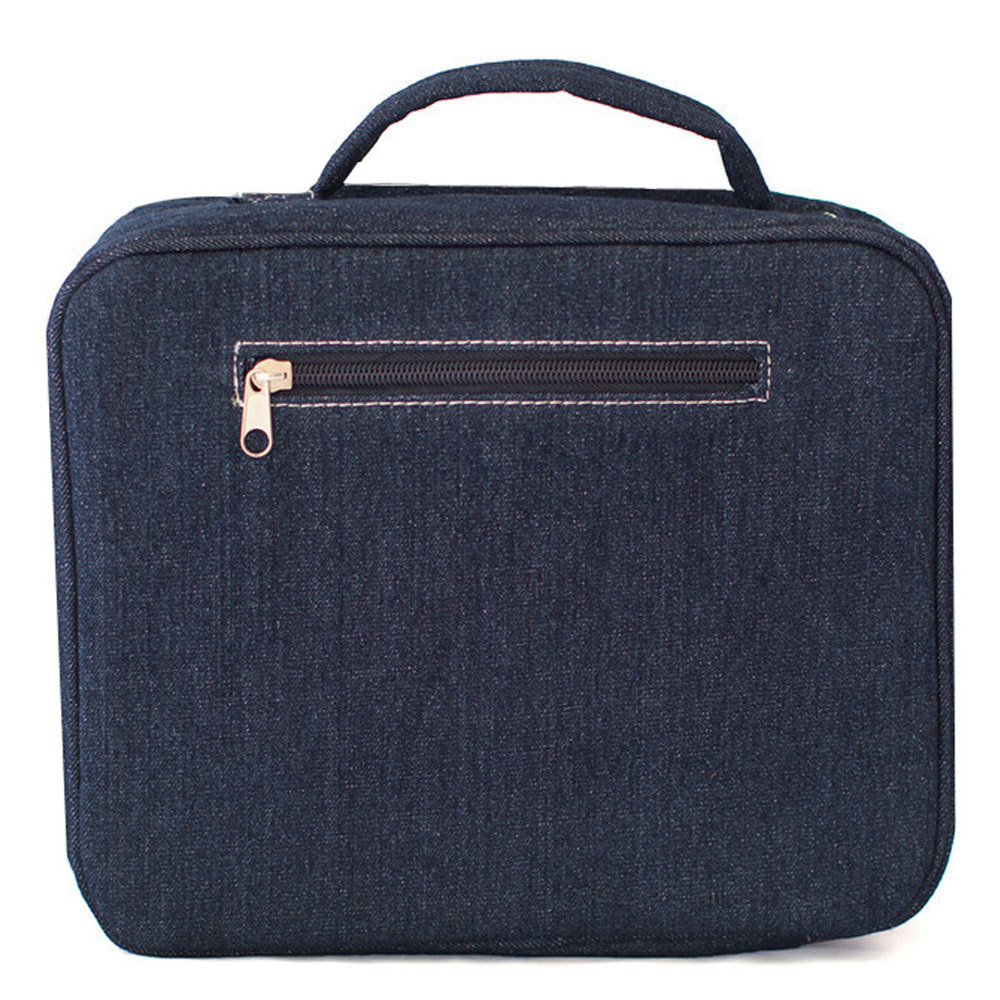 My daughter is in Middle School, so you know it has to be fashionable! Flying Buttress revolutionized how young ladies accessorize. Their vision is to encourage imagination, sustainability and individual expression for young girls. The bags feature exterior snaps for attaching any of our 38+ decorative panels. Each U.S. manufactured panel fits on all five styles of the Flying Buttress handbag line – so as your panel collection grows, you can dress up any of your Flying Buttress bags. This allows you to switch out the look of the bag, with little cost. The 'Yummie Lunch Bag Gift Pack' includes two fun looks from which to choose. The first look is our signature panel, the 'Kimberley,' with shimmering linear magenta sequins. The second look is a white 'Mona Lisa' panel with a fabric marker; allowing creative kids to decorate, personalize and proudly wear their art on their bags.
The 'Yummie Lunch Bag Gift Pack' takes the guessing game out of back-to-school shopping. My daughter loves the Rosie panel that came with the denim lunch bag. What I like about the lunch box is it is insulated and very roomy! If we want to change up her lunch box look in couple months, then we will order another panel (we see several we like) and possibly add more bags to her collection of accessories! Perfect for tween/teen girls!
The Yummie Lunch Bag features a zipper enclosure, snaps to receive one interchangeable accessory panel, one exterior zip pocket, one interior mesh pouch to keep delicate items separate. The interior PVC-free and BPA-free lining are easy to clean and will help keep her lunch fresh. The denim with silver thread finish is fun and extremely durable. The best part about this lunch bag is you can switch out the exterior panels with 40+ other ones! You'll never get bored with it.
COUPON CODE: 20% off with coupon code YUMMIE until 12/31/2017
Cool Lunch Box Tools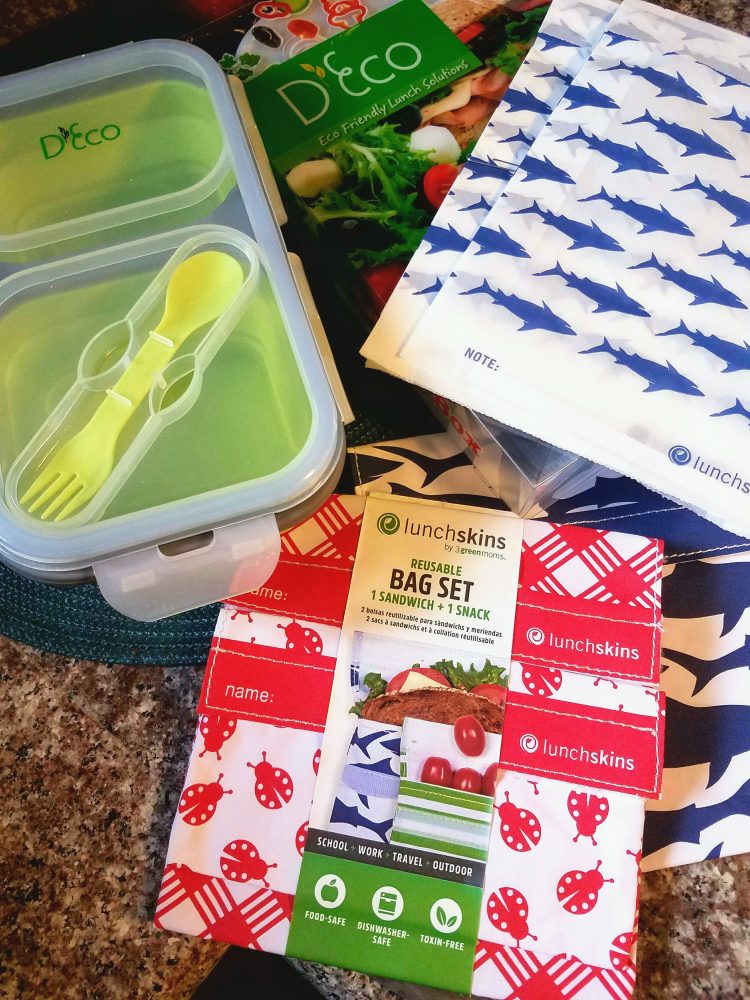 For students and families trying to balance health and sustainability with time and money during Back to School, LunchSkins are the answer! LunchSkins reusable and new recyclable bags are the sustainable, easy, and stylish way to reduce single-use plastic pollution by sacking plastic bags for good. They are dishwasher-safe, non-toxic, food-safe, and available in a wide variety of prints, sizes, and colors. These bags are stepping up my lunch packing skills.
Oh, we love these for snacks, back to school packing and my daughter is using a couple for her school supplies. I like adding a little note on the bottom of the sack too, so they know I'm thinking about them while they are away and that I love them!
The most popular, new styles are our Blue Geometric Zipper series (available in snack/small, sandwich/medium, and gallon/bulk sizes) and our 2-pack sandwich and snack bag sets in Charcoal Bicycle and Navy Boat. LunchSkins zipper bags also function brilliantly as makeup bags, pen carry-alls, and charger bags, etc. Available at www.lunchskins.com.
PACK-EAT-REUSE
Lunch boxes are bulky and hard to clean, and how much of your expensive plastic ware ends up in the trash? Oops! Stop wasting brown paper bags and go GREEN, BLUE, OR PURPLE with D'Eco Collapsible Silicone Lunch Boxes! This is perfect for my daughter since she doesn't like her food to touch other food. It also fits in her other lunch box (above). She can have her lunch in this and all snacks in her bag. She only brings this to the lunch hall.
D'Eco Collapsible Lunchbox is a stylish container that collapses to ⅓ its original size for easy storage, and is equipped with two compartments for those picky eaters! On-the-go and forgot your utensils? Don't worry a matching fork and spoon snaps right into the lid! D'Eco Lunch Boxes are BPA and Phthalate FREE, as well as dishwasher and microwave safe.
Finally, the key to lunch bliss that you and your kids can use to eat lunch in style. D'Eco Lunch Boxes are perfect for on-the-go meals and snacks! Take them with you outside the school or work week, making a great companion for sporting events, picnics in the parks, outdoor concerts and long road trips in the car, rail or plane.
What To Put In The Lunch Box
StarKist Tuna and Salmon Creations now comes in pouches – ideal for busy moms! These protein-packed meals help kids stay fueled for the day while making lunch-packing a breeze. With 12 great flavors to choose from and it's no drain, no mixing required, it's hard to find a reason not to pack them up!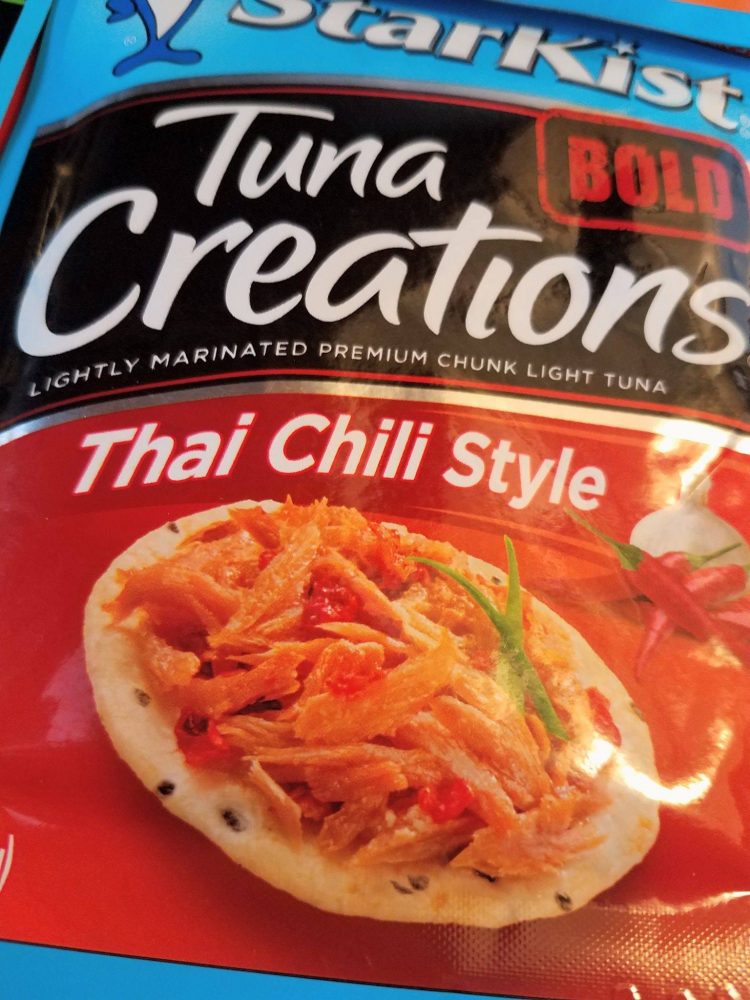 Below are just a few of new BOLD flavors:
Hot Buffalo Style
Thai Chili Style
Jalapeno
StarKist Tuna Creations pouches allow you to "tear, eat and go" so this perfect for the kid's lunch! Plus my kids like the bold flavors…my daughters favorite is the Jalapeno. I like that it is a healthy alternative to sandwiches. I put crackers or tortillas in the lunch when I pack the StarKist pouches.
Pocky is a great

back

-to-

school

snack
My kids go crazy over POCKY SNACKS! They are portable, mess-free due to the unique biscuit handle and it comes in many flavors. I can pick these up at all my favorite stores like Costco, Walmart, Target, Safeway, Kroger, Publix, as well as Amazon.com and Asian specialty markets.
Find your local Pocky spot- HERE.
Which makes it very convenient for parents to pick them up for lunches and snacks. I will admit I had a box and OH MY they were so good- I tried the Almond Crush and they are my favorite!
Flavors
Chocolate
Cookies & Cream
Matcha Green Tea
Strawberry
Chocolate Banana
Almond Crush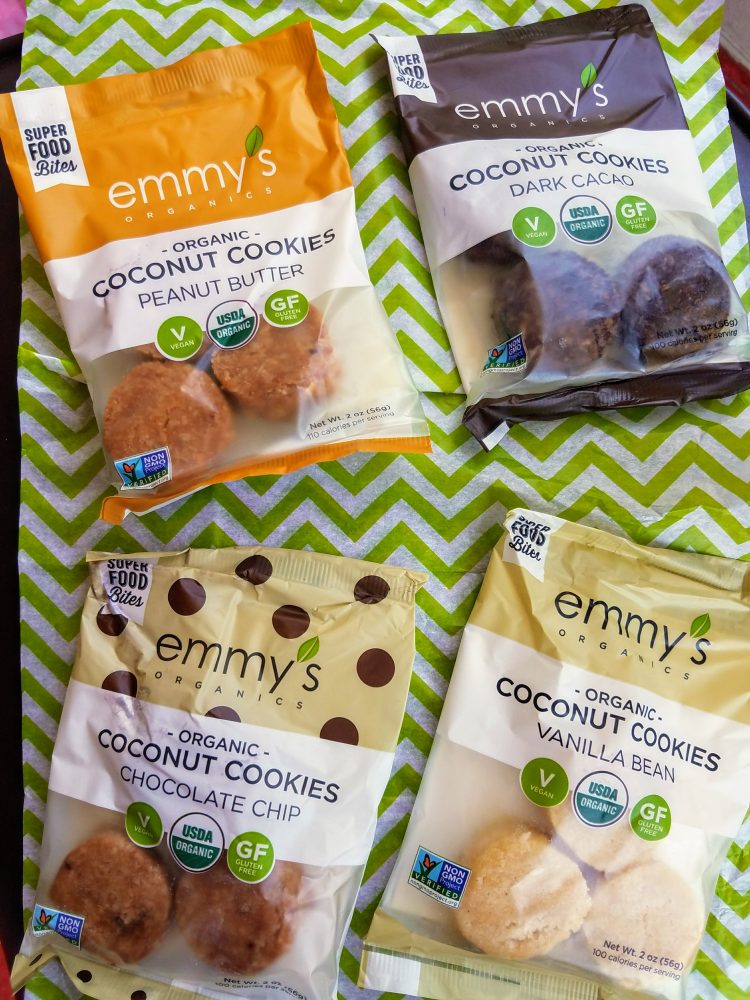 Emmy's Organics Coconut Cookies is perfect o put in the lunch box when my daughter feels like having cookies. I'm not going to pack sugary cookies, but I'm also very blessed that my daughter is a healthy eater. She would choose these cookies over other brands. She is all into clean eating, and I support her choices!
Emmy's Organics Coconut cookies are crafted with only the best premium organic ingredients like freshly ground ginger and fair trade cocoa powder. They offer consumers a clean treat they can feel good about eating. All Emmy's products are made without artificial flavors or coloring and are certified USDA organic, non-GMO, gluten-free, soy-free and vegan. Plus, each serving of Emmy's contains only six grams of sugar or less. Emmy's Organics Coconut Cookies are available in Chocolate Chip, Dark Cacao, Lemon Ginger, Raspberry, Vanilla Bean and Peanut Butter and are sold in stores nationwide.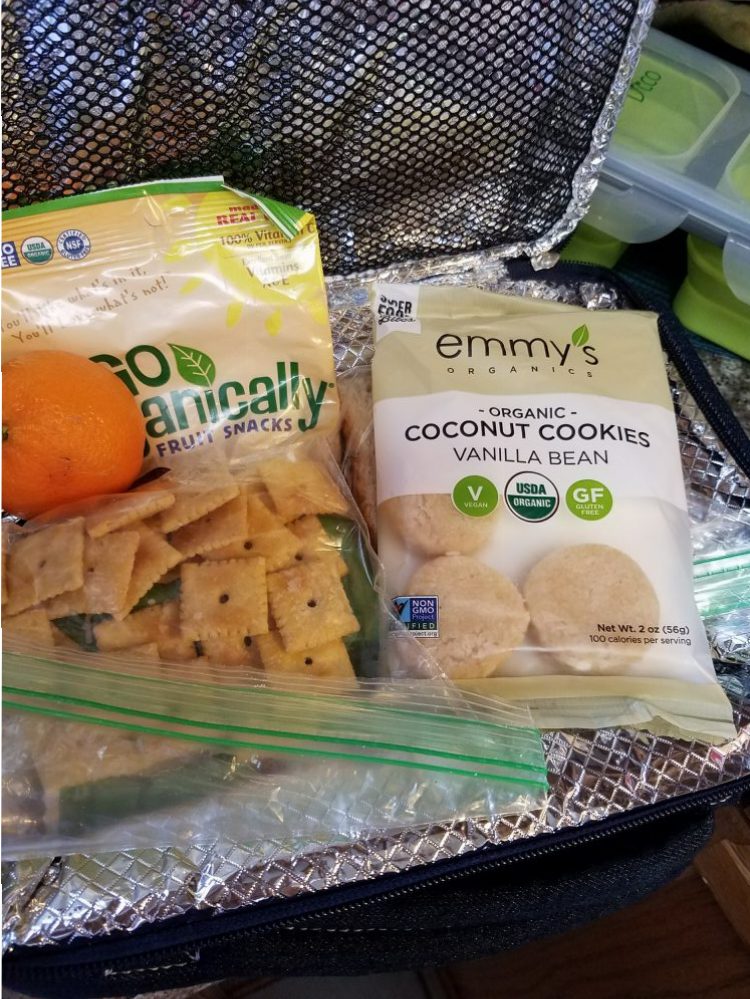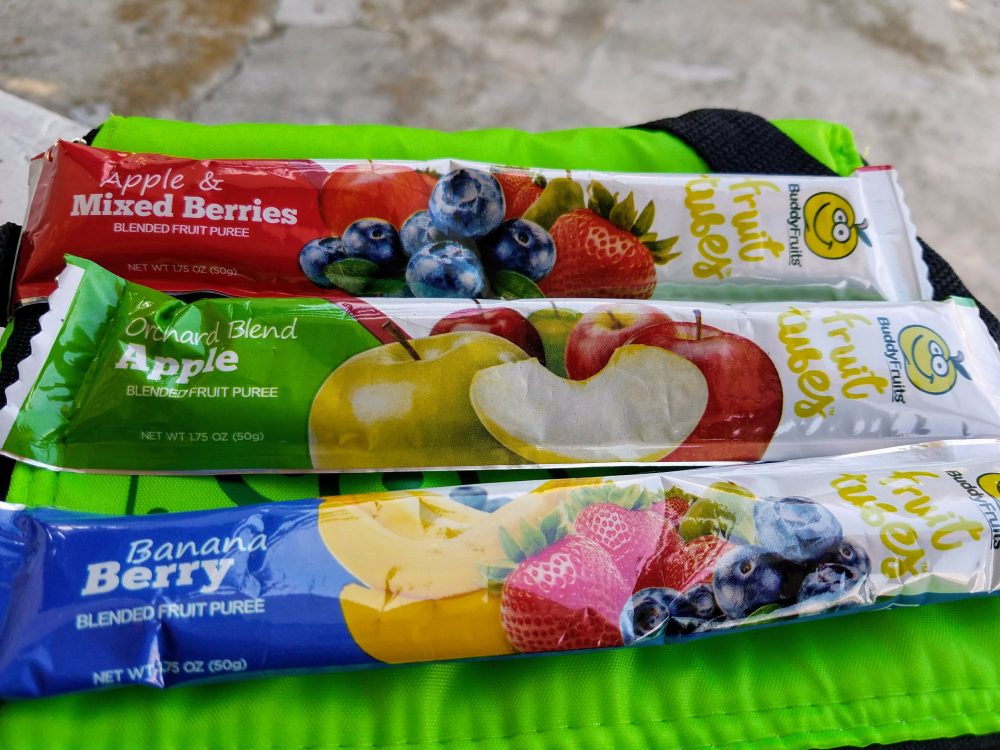 Some of the most innovative solutions for families are often inspired by moms or dads who deal with the daily struggles of parenthood, and that's how the idea for Buddy Fruits began. When two French moms vacationing in the U.S. couldn't find convenient, healthy snacks for their kids, they cared enough about other families to revolutionize the snacking industry by creating Buddy Fruits in 2009. The inventive pouch offers kids an easy and delicious way to get the fruits and vegetables their growing and developing bodies need.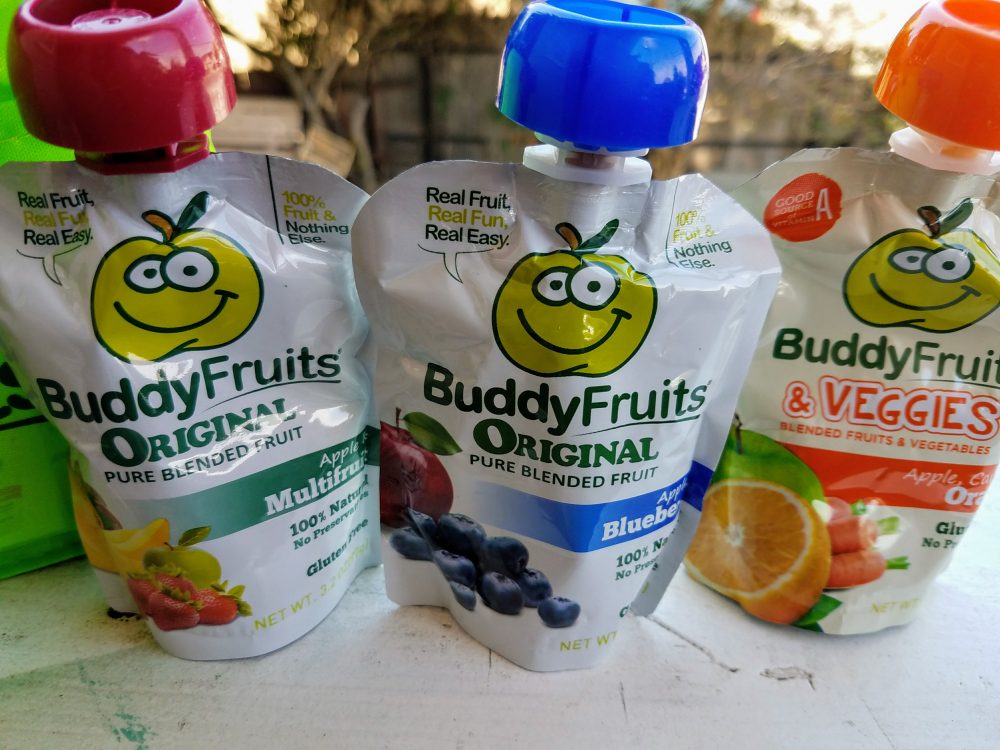 Each pouch or tube is packed with a variety of all-natural blended fruits and veggies that easily fit into a lunchbox or backpack. The company proudly uses USDA-certified Grade A fruit that is responsibly sourced from family-owned orchards, and every product is free of preservatives, artificial ingredients, and harmful GMO's. In a continued effort to help transform how people snack, Buddy Fruits also offers a larger pouch with a full serving of fruits, which is sold at select school lunchrooms across the country. The company is committed to making a difference in the customer's health, along with forging partnerships with brands that focus on giving back to the community.
My daughter loves the tube for lunches and the pouch for breakfast. The other day she had 3 Buddy Fruits- in the morning, lunch and one when she got home. She says they are very yummy and addicting! They are very convenient to pack in lunches!
Buddy Fruits wanted us to share some amazing news and giveaway:
Schools across the nation are faced with the challenge of supplying students with healthy snacks that are convenient to serve," said Scott Allshouse, CEO of Buddy Fruits. "We're
offering schools the optimal solution to help kids eat more fruit. Additionally, schools are saving time on preparation and money from food that gets thrown away.
Buddy Fruits is also collaborating with Crayola for a multifaceted back-to-school campaign including:
Crayola-inspired coloring templates available on Buddy Fruits website where kids are encouraged to embrace their creativity for a chance to win weekly prizes.
A sweepstake that participants can enter to win a year's worth of back-to-school supplies for the classroom.
Dump-bins with Buddy Fruits' products available in the produce section in most supermarkets nationwide.
To download and print the coloring sheets, visit http://www.buddyfruits.com/color/#weekly_prizes and share the finished product on social media using the hashtag #B2SWITHBUDDY.
To enter the back-to-school sweepstakes, sign up via www.buddyfruits.com/color.
To learn more about the back-to-school initiatives, follow Buddy Fruits on Facebook, Instagram and Twitter @BuddyFruits.
Buddy Fruits can be purchased in major national supermarkets.
We hope these products help you step up your lunch packing skills this year. Let us know if you like any of these products!
Make sure to check out all our Back To School products in our GUIDE