Take a moment to think about some of the things we often find ourselves tackling throughout life.
That list can turn out to be quite long if you actually made one.
Every day we are faced with a number of challenges whether they are big or small. Even the simple challenges tend to be a bit fustrating sometimes.
Like when it comes to our clothes and keeping them as clean as possible.
Think about it, there are going to be days where the inevitable happens and you end up with a stain on your favorite article of clothing. Let's be honest here, that moment you see a stain hearts the soul just a little bit.
While dealing stains isn't completely completely difficult, it can be pretty challenging.
Therefore you're going to want to have something that can help you tackle stain without the hassle.
What if I told you that all your need is a pen?
Make This Your Go-To Stain Remover
There are many great feelings in the world, but that feeling you get when you get rid of a stain is simply amazing.
Stain fighting doesn't have to be hard as long as you have the right tool.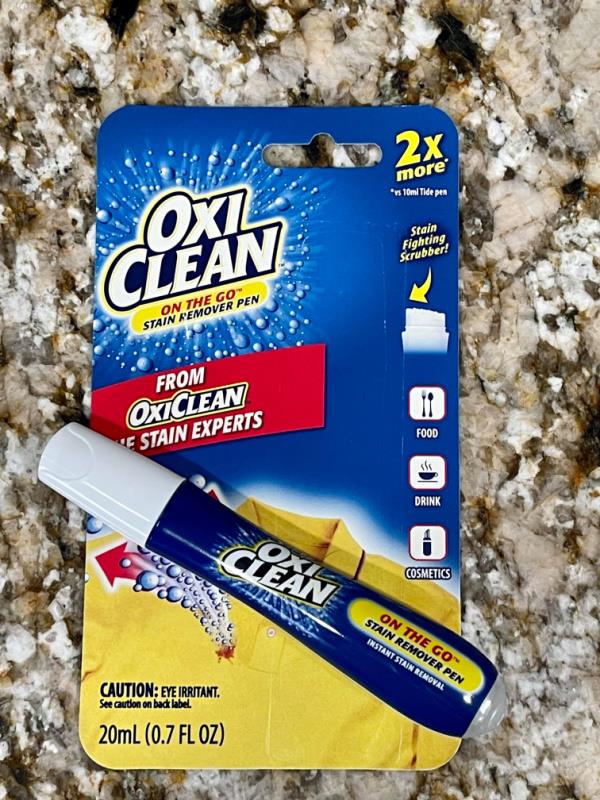 In this case, all you really need is a pen, the OxiClean™ On the Go™ Stain Remover Pen!
Now you may be thinking, "What exactly does this pen have to offer me?"
Well, the OxiClean™ On the Go™ Stain Remover Pen is the best portable instant stain remover on the market.
For starters, the fact of it being portable is just the start of its greatness. You can take this pen everywhere you go even if you are just headed to the grocery store.
I was able to try this stain remover pen and it is so handy!
Honestly this is a pen that everyone should keep on them at all times.
Not only can I pretreat or, in some cases, entirely remove the stain, I can also properly scrub!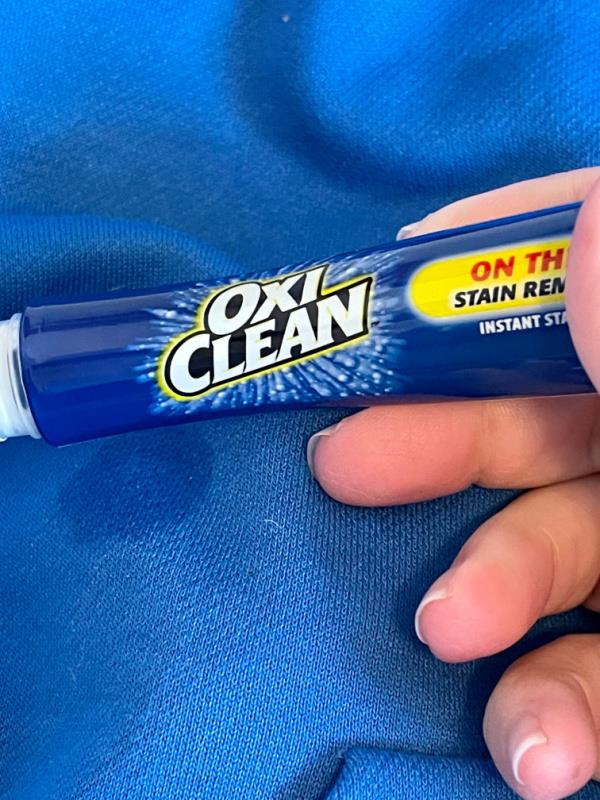 This pen work wonders because it is designed with a unique applicator with a Stain Fighting Scrubber tip.
It has the power to rid of a variety of stains like lipstick, chocolate, drinks, and more.
The toughest stains that you can think of don't stand a chance. Some more details about this product include the following:
Instant – Removes fresh stains in 2 easy steps.
Effective – Out-cleans other stain pens on tough stains and contains 2x more!
Convenient – Take it everywhere. Great for food, drink, and makeup stains!
I love how well this product works and was impressed with what this pen is capable of.
Having a product that so reliable as well as portable has so many great benefits. Plus, you never know when you may run into a stain problem.