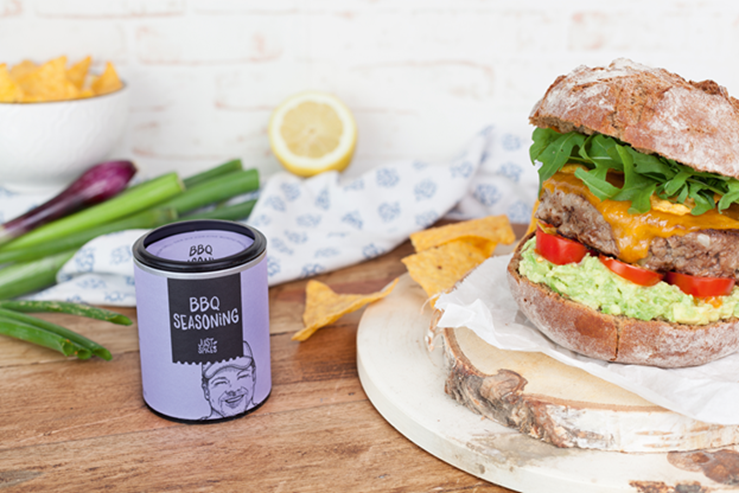 Summer Time is BBQ Time!
During the summer we BBQ 2-3 times a week because it saves the house from unnecessary heat and BBQ food is the best. Father's Day is fast approaching too, and my hubby wants to have friends over for a Dad's day. So guess what, a couple of us wives are going to try to barbecue a lunch for the dads. We have decided on burgers, chicken, and hot dogs plus side dishes. When I cook, I love to use spices, because it adds so much flavor to the food.
I've been introduced to Just Spices which is a brand new to the U.S. spice company with 20 organic spice blends and two everyday essentials, available exclusively through its website, justspices.com. All Just Spices products are certified USDA organic, with no flavor enhancers, each a standard 100 milliliters and ranging from $5.99 – $7.99.
Let's try this RECIPE:
BBQ Burger with Guacamole
Ingredients for 2 Burgers:
2 Burger rolls (e.g., rye bread rolls)
Ground beef
Just Spices BBQ Seasoning
1 tomato
Guacamole

2 slices of cheddar
Directions:
1. Season the ground beef with the BBQ seasoning. Form 2 patties with the help of a cookie cutter or a glass.
2. Now cut the tomatoes into thin slices.
3. Heat a skillet with oil. Grill the meat patties from both sides at high heat. Place 2 cheddar slices on each burger patty.
4. Cut the buns in half. Spread the lower half with guacamole, layer the tomato slices, then a meat patty, top with bun.
Why not SPICE up the PIZZA!
Do you make HOMEMADE PIZZA? We do all the time, so this is going to come in handy! This new Pizza Seasoning will make your kitchen smell incredible with mouthwatering aromas of fresh oregano, herby basil, tangy marjoram, chopped onions, and sharp garlic. Sprinkle some on your dough before you add the cheese and let the flavors unfold as it cooks in the oven. Also try the pizza spice on garlic bread, bruschetta, and can even improve the flavor of your standard frozen pizza!
Movie Night Goodness!
Popcorn is essential on Family Movie Night! Why not try something different. The BBQ Popcorn Seasoning creates the richest taste you will ever experience on popcorn, with chunky sea salt, savory tomatoes, aromatic garlic, and exotic paprika. They also added some classic Tellicherry pepper, herby coriander, and brown cane sugar to even out the blend with some sweetness. Movie nights will never be the same again with this delicious popcorn seasoning involved.
Here is a sweet popcorn recipe:
This is our favorite popcorn recipe, ready in just a few minutes!
Ingredients:
1/2 cup corn kernels
2 – 4 tablespoons butter
1/2 teaspoon BBQ Popcorn Seasoning (or even more to taste)
A pinch of brown sugar
Directions:
Heat half of the butter and half kernels of corn in a large covered stockpot over medium heat. When the kernels have popped, after 2-3 minutes, turn up the heat a little and add the remaining kernels, cover, and continuously shake the pot. I use pot holder-clad hands to simultaneously shake and hold the lid on.
Now it's important that you are fast: After the popping has slowed add the residual butter, wait a few seconds and then turn the popcorn into a large bowl. Season immediately and mix thoroughly. In case you are on a strict diet feel free to ignore the brown sugar.