This is a sponsored conversation written by me on behalf of McCain Foods. The opinions and text are all mine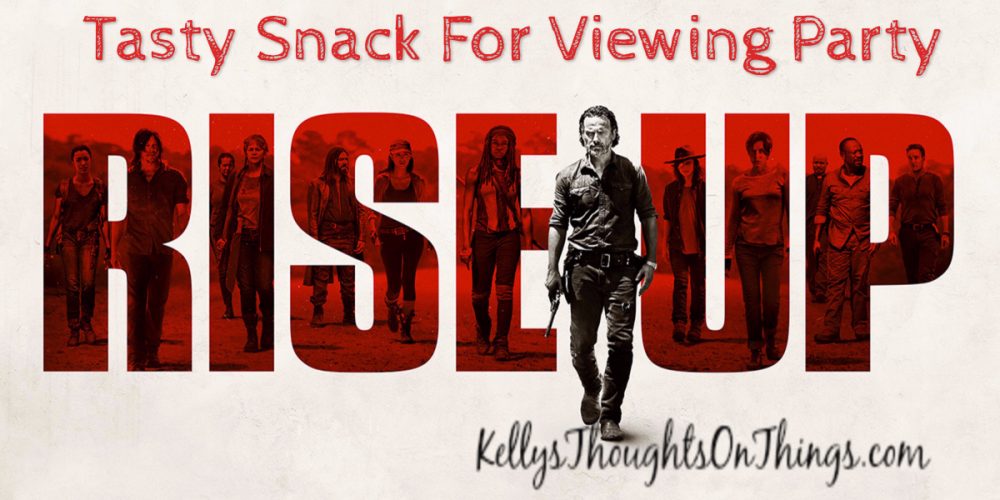 Watching TV and eating are two of my favorite things to do! Oh, I also love to throw parties, so in February I'll be hosting a Walking Dead Viewing Party! On February 12th, The Walking Dead returns to finish off the rest of the season. I need my weekly dose of The Walking Dead, so I'm super excited to have the show back on!
I want to serve FUN but simple snacks. For a viewing party, you need food that people can just grab and munch on! Bacon, potatoes, and cheese is always a hit, so I'm going to make Waffle Potato Cheesy Bacon Bites. When my kids first ate these bites they called me a GENIUS! Oh yeah, they are that good. What I love about this recipe is how easy it is to make.
I always use McCain's Seasoned and Craft Beer Fries because they are so delicious, so I know everyone will love them. They are made with real potatoes and unique flavorful seasoning. I'm able to buy all the recipe ingredients at my local retailer; I love a one stop shopping recipe.
What you need:
One bag of

McCain Seasoned Waffle Fries

Container of Cream Cheese- I got the flavored kind, but plain is fine

1 cup sharp cheddar cheese

One package center cut bacon slices, cooked
Directions:
Preheat oven to 400 degrees

Place the frozen waffle fries in a single layer on foil or oiled pan

Bake fries as directed on package.

Start cooking the bacon; you want it crispy

While the fries are cooking, combine the cream cheese and cheddar until well combined. We used a food processor. You can add more cheese if you want more of a bold taste.
When the fries are done, take them out and then place a dollop of cheese mixture on top of fries.

Now lower the oven heat to 350 degrees.

Bake the cheese fries for 3-5 minutes or until cheese is melted.

Remove fries from oven

Place a slice of bacon on top of each fry, make sure cheese is hot

Serve with a side of sour cream and hot sauce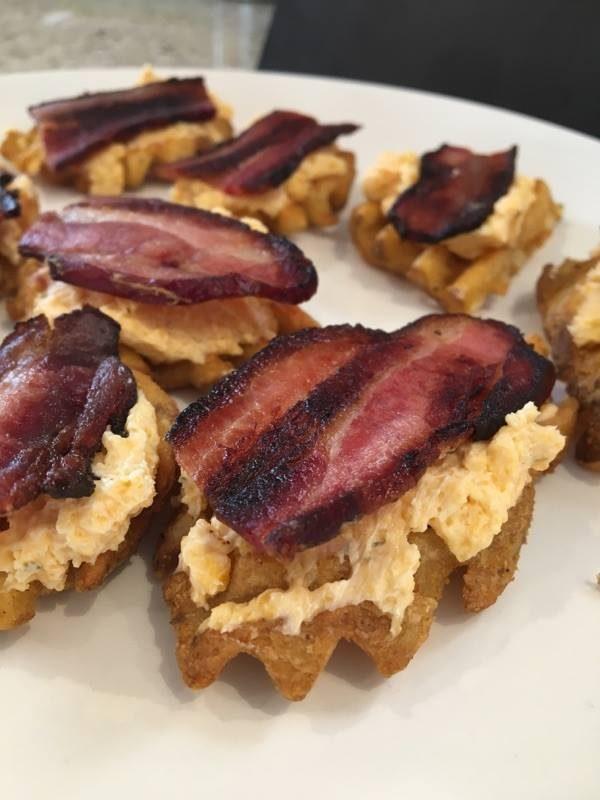 Okay, so now that we have a fabulous snack let's talk THE WALKING DEAD! So this season started off just crazy. I didn't watch the first episode of this season until the next day, but I saw all the uproar on Facebook and Twitter and was very intrigued on what the heck happened. Yes, this season brought a lot of violence, and there were so many times I wanted to throw something at the TV then yell….it's one man against all you, take him out!
Negan is a big bully, and he is making everyone's life unbearable. Stand up, people! I have hope that Negan will get his because at the end of the mid-season show episode Rick, Michonne, Tara, Rosita and Carl turned up at The Hilltop to tell Maggie that they were ready to fight, and who was there but Daryl, back with Jesus. So I can't wait to see what happens next! I've wanted to shake Rick all season, but there was a lot of turmoil that happened, and I understand he doesn't quite know what to do, but hopefully we see our team back and kicking butt!
We now have scrumptious snack food, thanks to McCain Potatoes which remember you can get at your local retailer. We hope you enjoy our recipe and will make it for any of your parties you throw in 2017. Having family and friends over while enjoying your favorite show is so much fun. I even made invites for my party, so I'm ready to get this PARTY started.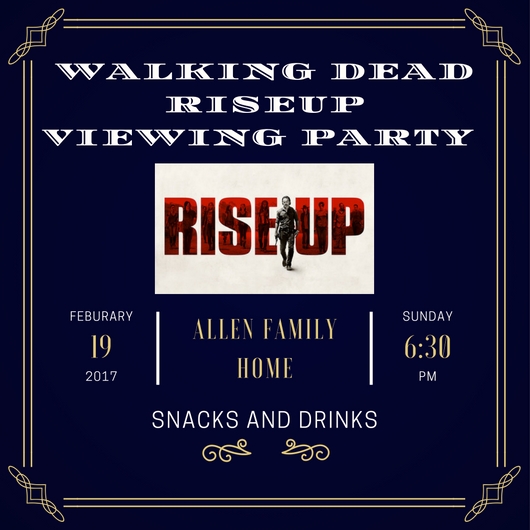 Do you have any tips for making sure your viewing parties are unforgettable?
#JoyintheKitchen