Tending to your personal items can sometimes come as a struggle. Everyone has a lineup of items that they need to take with them every day. More than likely these items offer great importance to an individual's everyday life. Believe it or not, there are just something you just can't go without.
Now ask yourself this, "what the best way for you to keep all your things together?" Well, have you ever considered that having a wallet is all you need? You don't want to just carry your free cards in your pocket with the chance of you losing them. You are going to need a wallet that can be trusted, and I have just what you need. So check out all the information I have for you below.
Never Lose Anything Again
With so many brands in the wallet category, making a decision won't be so easy. Not only do you want to make sure all your things are secure, but you also want it to be permanent. So how about you take a look at the following options I have for you below:
Minimalist Wallet – with this particular item you won't have to worry about a thing. The Minimalist Wallet is unique thin men's front pocket wallet. It's made of a premium elastic material that also features a unique metal key chain too. It features two card slots, one money compartment, and a coin slot! There are other features of the Minimalist Wallet including:

Can hold 8-12 cards including credit cards, ID Card, etc. and a key attached to key chain with ease
Fits perfectly in front/back pocket, bags or purse, hold the cards tightly/securely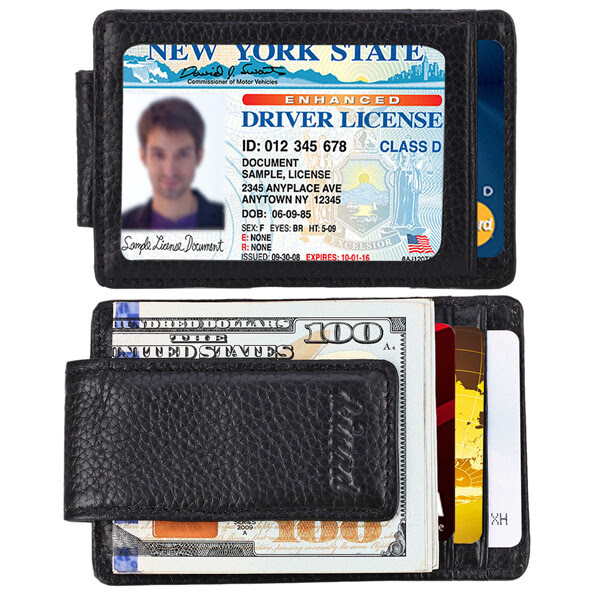 Lichee Pattern Magnet Money Clip – if it's money you are worried about, then this is the item for you. With the Lichee Pattern Magnet Money Clip, you won't have to worry about a thing. It's made with an exclusive soft embossed full-grain leather. On top of that, it would work perfectly for replacing a bulky wallet. Some other key details include:

3 Card Slots,1 ID Display Window, 1 Change pocket, 1 Strong Magnetic Money Clip
Keeps your vital information in cards from being stolen. Does Block 13.56 MHz Frequency (Credit cards, debit cards, driver license and ID cards)
Powerful Magnetism: With 4pcs Strong Magnets, Can Hold Plenty of cash and cards; better than standard ones which are Only 2pcs Magnets.
Slim Wallet – now this selection might be the one for you. The Slim Wallet is made of 100% genuine napa leather! This particular material is softer, more breathable, and glossier than other ones. It has the ability to keep all your vital safe and secure. Other details include:

Six card slots, 1 ID window, and one money or receipt pocket
Minimal & Compact Design, Ultra Slim, makes it easy to slide into your front or Back pocket. The bill slot with small opening, very convenient for money/receipt in and out
These are just a few options that you just have to consider. If you want to keep all your items in check picking one of these is a must. So go ahead and check out all the information I have for you above.
Connect with Kinzd: Site | Facebook | Twitter | Instagram