Warner Bros. Home Entertainment provided me with a free copy of the DVD I reviewed in this blog post. The opinions I share are my own. Everyone's favorite Great Dane is back for an all-new, action-packed, culinary mystery adventure with the release of Scooby-Doo! And the Gourmet Ghost. Scooby-Doo is joined by Bobby Flay, Giada De Laurentiis, and Marcus Samuelsson on this mystery adventure. The rest of the gang will be there, too!
This 5-star meal of a mystery, takes the Mystery Inc. gang on an unforgettable adventure to Rocky Harbor Culinary Resort for a cooking retreat. There, they meet Fred's uncle, world-famous chef Bobby Flay. The crew quickly learns that this new state-of-the-art culinary resort is haunted. It used to be a historic colonial inn where they discover the legend of the Red Ghost. It's this connection to the disappearance of Bobby Flay's great ancestor chef which fuels the gang to dig for clues and solve a mystery. Pull up a chair, tuck in your napkin and get ready to laugh and scream with this fun family flick.
Scooby-Doo! And the Gourmet Ghost features the voice talents of internationally acclaimed celebrity chefs, Bobby Flay (Beat Bobby Flay), Giada De Laurentiis (Giada in Italy) and Marcus Samuelsson (Chopped). The movie also contains the familiar voice talents of Frank Welker as Scooby-Doo/Fred Jones, Grey Griffin as Daphne Blake, Matthew Lillard as Shaggy Rogers and Kate Micucci as Velma Dinkley. The film was executive produced by Sam Register, written by Tim Sheridan and directed by Doug Murphy.
Bonus Episodes
What's New, Scooby-Doo? "Recipe for Disaster" — Shaggy wins a tour of the Scooby Snacks factory, where a sludge monster is on the loose.
A Pup Named Scooby-Doo, "Wanted: Cheddar Alive" — A "cheese monster" frightens away all the workers at the Scooby Snack factory, so no more Scooby Snacks can be made. But without a Scooby Snack, Scooby won't pursue the monster. The kids convince Scooby to help unmask the bad guy and reopen the factory.
Scooby-Doo! Mystery Incorporated, "The Devouring" — Dr. Rick Spartan returns to Crystal Cove to stop a gluttonous monster who is devouring people whole.
Total Runtime: 77 minutes
$19.98 SRP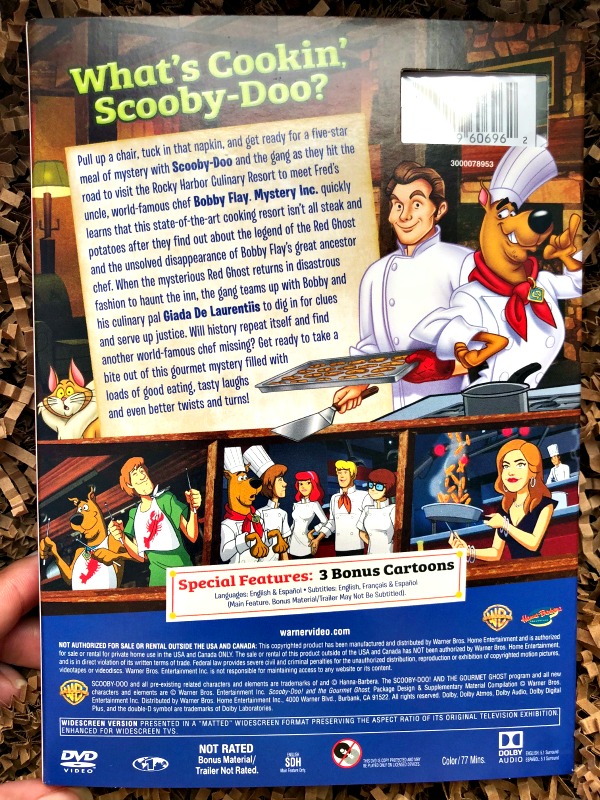 Digital
Scooby-Doo! And the Gourmet Ghost is available to own now on Digital. Digital allows consumers to instantly stream and download all episodes to watch anywhere and anytime on their favorite devices. Digital is available from various retailers including Amazon Prime Video, iTunes, PlayStation, Vudu, Xbox and others.
About Warner Bros. Home Entertainment Inc.
Warner Bros. Home Entertainment (WBHE) brings together Warner Bros. Entertainment's home video, digital distribution and interactive entertainment to maximize current and next-generation distribution scenarios. An industry leader since its beginning, WBHE oversees the global distribution of content through packaged goods (Blu-ray Disc™ and DVD) and digital media.
Check out the official site: Site | YouTube